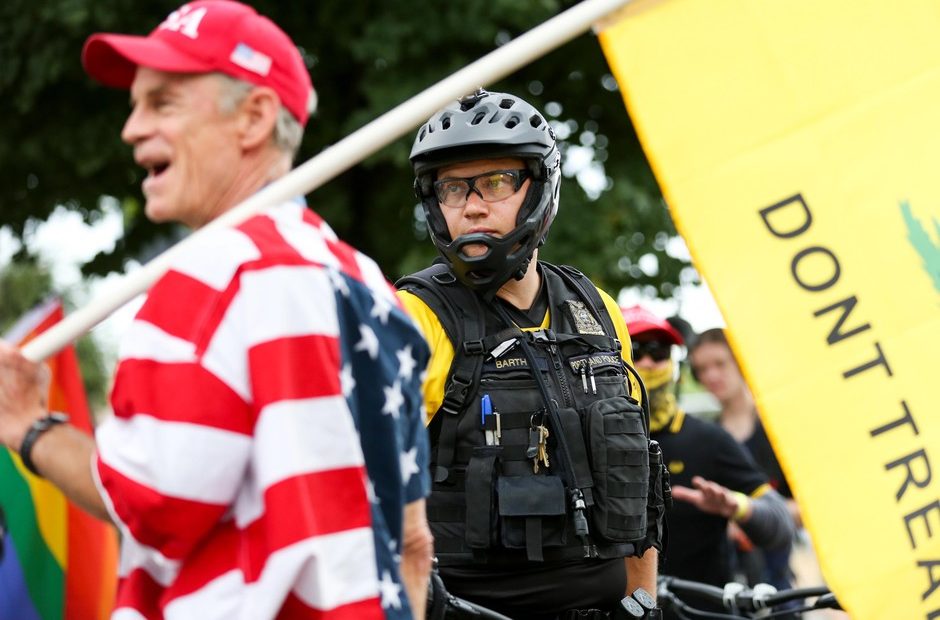 Police Arrest At Least 13 After Portland Demonstrations Bring Out Groups With Opposing Ideologies
BY MEERAH POWELL, DIRK VANDERHART & RYAN HAAS / OPB
Demonstrations in downtown Portland remained largely non-violent Saturday as the two opposing groups stayed mostly separated.
The groups wandered across central Portland for hours, with counter-protesters crossing the Burnside Bridge, spilling onto Southeast Grand Avenue and impacting traffic.
Interactions became tense with police as counter-protesters tried to head back to the south waterfront area to confront the Proud Boys, a fraternity that describes itself as "western chauvinist" and espouses parts of white supremacist ideology.
Early in the demonstration, at the request of the Proud Boys, law enforcement allowed the group to cross the closed Hawthorne Bridge. As the group moved to Portland's east side around 1 p.m., the Oregon Museum of Science and Industry was briefly put on lockdown to ensure no protesters would enter.
At a media briefing Saturday, Portland Police Chief Danielle Outlaw rejected claims that police provided the Proud Boys with preferential treatment by allowing the group to cross the closed bridge.
"We determined it would be in the interest of everyone's safety to allow them to remove themselves from the area. We did not show preferential treatment, but rather facilitated a de-escalation of potential conflict," said Outlaw.
The Proud Boys later marched back into downtown Portland after walking across the Tilikum Crossing.
The groups ultimately reunited in downtown Portland, but police effectively kept the two groups separated for the duration of the demonstration. Crowds had dwindled significantly by 3 p.m. Saturday when the Proud Boys left for a barbecue in Vancouver, Washington.
Tensions increased between counter-protesters and police just before 4 p.m. as masked demonstrators blocked traffic downtown and threw water bottles at officers. Portland Police declared the event a "civil disturbance" and told protesters to vacate the area.
The "End Domestic Terrorism" event in downtown Portland had been billed as a rally against antifa, a far-left, anti-fascist group that has engaged in violence.
A former staffer for the conspiracy theory website Infowars organized the gathering along with members of the Proud Boys.
An estimated 200 people gathered with the Proud Boys group, many of them in the group's signature yellow and black Fred Perry shirts.
Members of the Proud Boys said Saturday afternoon that they plan to return to Portland.
At a media briefing Saturday, Portland Mayor Ted Wheeler criticized Proud Boys organizer Joe Biggs for instilling a sense of fear in the city.
"In this national environment, where we've had some mass shootings just a little over a week ago, there is an environment of fear," he said. "Mr. Biggs and others saying that they're going to come here, that feeds into that sense of fear. So I want to be very clear: We do not want him here in my city — period."
"We need to continue to confront … the reality of the growing white nationalist movement and white supremacy in the United States," Wheeler continued. "And Portland, being a very progressive community, is always going