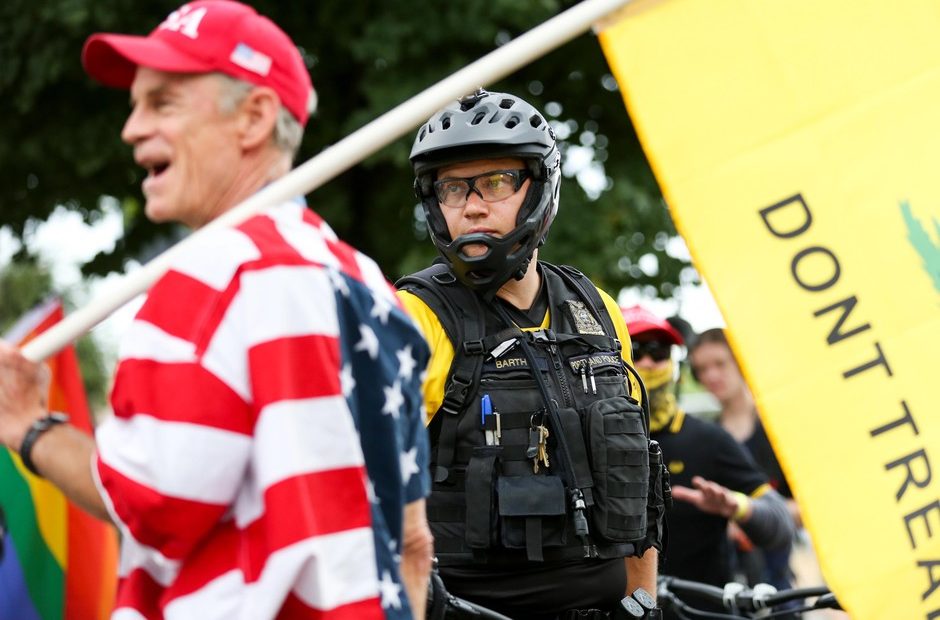 Police Arrest At Least 13 After Portland Demonstrations Bring Out Groups With Opposing Ideologies
BY MEERAH POWELL, DIRK VANDERHART & RYAN HAAS / OPB
Demonstrations in downtown Portland remained largely non-violent Saturday as the two opposing groups stayed mostly separated.
The groups wandered across central Portland for hours, with counter-protesters crossing the Burnside Bridge, spilling onto Southeast Grand Avenue and impacting traffic.
Interactions became tense with police as counter-protesters tried to head back to the south waterfront area to confront the Proud Boys, a fraternity that describes itself as "western chauvinist" and espouses parts of white supremacist ideology.
Early in the demonstration, at the request of the Proud Boys, law enforcement allowed the group to cross the closed Hawthorne Bridge. As the group moved to Portland's east side around 1 p.m., the Oregon Museum of Science and Industry was briefly put on lockdown to ensure no protesters would enter.
At a media briefing Saturday, Portland Police Chief Danielle Outlaw rejected claims that police provided the Proud Boys with preferential treatment by allowing the group to cross the closed bridge.
"We determined it would be in the interest of everyone's safety to allow them to remove themselves from the area. We did not show preferential treatment, but rather facilitated a de-escalation of potential conflict," said Outlaw.
The Proud Boys later marched back into downtown Portland after walking across the Tilikum Crossing.
The groups ultimately reunited in downtown Portland, but police effectively kept the two groups separated for the duration of the demonstration. Crowds had dwindled significantly by 3 p.m. Saturday when the Proud Boys left for a barbecue in Vancouver, Washington.
Tensions increased between counter-protesters and police just before 4 p.m. as masked demonstrators blocked traffic downtown and threw water bottles at officers. Portland Police declared the event a "civil disturbance" and told protesters to vacate the area.
The "End Domestic Terrorism" event in downtown Portland had been billed as a rally against antifa, a far-left, anti-fascist group that has engaged in violence.
A former staffer for the conspiracy theory website Infowars organized the gathering along with members of the Proud Boys.
An estimated 200 people gathered with the Proud Boys group, many of them in the group's signature yellow and black Fred Perry shirts.
Members of the Proud Boys said Saturday afternoon that they plan to return to Portland.
At a media briefing Saturday, Portland Mayor Ted Wheeler criticized Proud Boys organizer Joe Biggs for instilling a sense of fear in the city.
"In this national environment, where we've had some mass shootings just a little over a week ago, there is an environment of fear," he said. "Mr. Biggs and others saying that they're going to come here, that feeds into that sense of fear. So I want to be very clear: We do not want him here in my city — period."
"We need to continue to confront … the reality of the growing white nationalist movement and white supremacy in the United States," Wheeler continued. "And Portland, being a very progressive community, is always going to be at or near ground zero when it comes to this battle."
Among the crowd was Vancouver-based Patriot Prayer group leader Joey Gibson. Patriot Prayer is a far-right group that attracts white supremacists and has engaged in violence.
Gibson was charged with inciting a riot from alleged fights at a May Day event at Portland Cider Riot. He was released on bail late Friday after turning himself over to authorities Friday afternoon.
Portland Police estimated 1,200 people were in attendance at the peak of the demonstration. Police reportedly seized weapons from both sides including bear spray, shields and metal and wooden poles.
Police said 13 people were arrested for a variety of charges including disorderly conduct, interfering with police, and weapon-related charges.
There were an estimated several hundred people among counter-protesters in attendance — some in all-black "black bloc" attire, others wearing inflatable unicorn costumes and banana costumes.
Chief Outlaw said there were six reported instances of officers using force against protesters and once instance where an on officer used pepper balls against protesters.
Antifa's presence at the event attracted the attention of President Trump, who tweeted that "major consideration" is being given to naming the group an "organization of terror."
On CNN, Portland Mayor Ted Wheeler responded to President Trump's tweet.
"I'm not concerning myself with tweets coming out of Washington, D.C., and frankly, it's not helpful," Wheeler said. "This is a potentially dangerous and volatile situation."
Wheeler later tweeted that, after preparing for the worst, he was relieved "no lives were lost" and weapons were quickly seized.
Outlaw said more than 700 officers worked in different capacities during Saturday's demonstrations. Wheeler said the response cost the city "millions of dollars."
"Those are resources that could go to other top priorities in the community," Wheeler said at Saturday's media briefing.
Partner law enforcement agencies from around the region and nation — including the Federal Bureau of Investigation, United States Marshals and Oregon State Police — assisted PPB in planning, preparation and operations related to the event.
Copyright 2019 Oregon Public Broadcasting. To see more, visit opb.org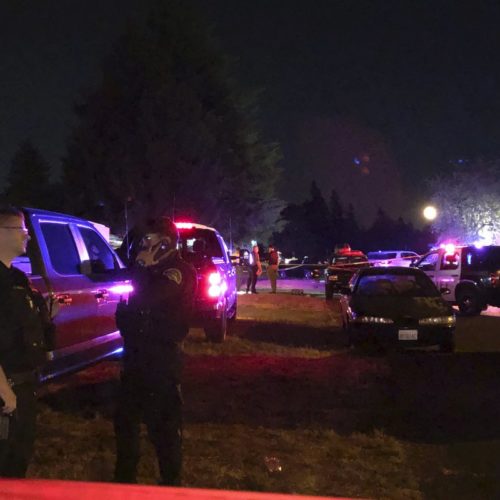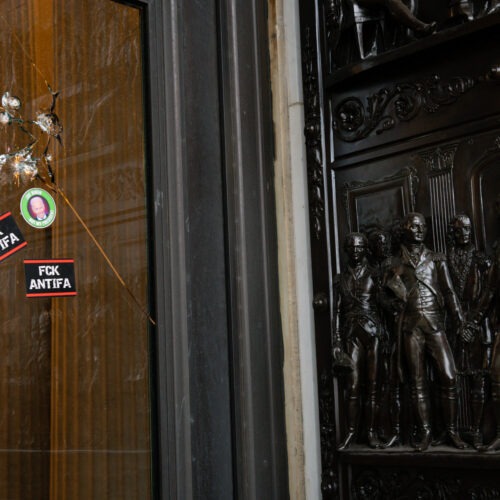 But an NPR analysis of more than 280 people charged in the Capitol insurrection reveals a far different picture of the attack than the one painted by this baseless conspiracy theory — and it comes from the perspective of the rioters themselves. The individuals charged for their alleged involvement on Jan. 6 show a dogged fixation on antifa, not unlike the right-wing media. More than 1 in 10 specifically mentioned antifa by name regarding Jan. 6 at some point before, during or after the riot, according to court documents. They spoke of antifa to law enforcement but also in text messages, on Facebook, Twitter and Parler, and to some of the people who ultimately turned them in to the FBI. Continue Reading No, Antifa Did Not Storm The Capitol On January 6. Just Ask The Rioters.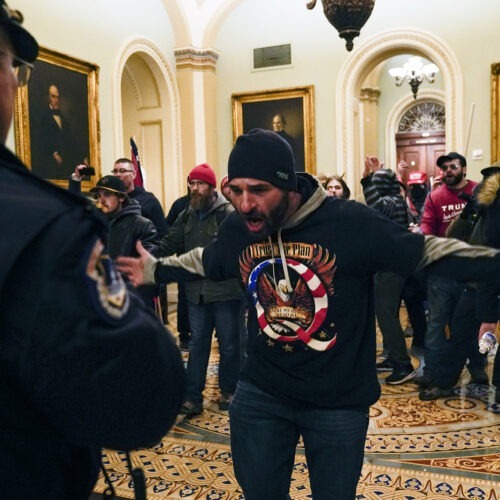 The precise composition of the mob that forced its way into the Capitol on Wednesday, disrupting sessions of both houses of Congress and leaving a police officer and four others dead, remains unknown. But a review by a ProPublica-FRONTLINE team that has been tracking far-right movements for the past three years shows that the crowd included members of the Proud Boys and other groups with violent ideologies. Videos reveal the presence of several noted hardcore nativists and white nationalists who participated in the 2017 white power rally in Charlottesville, Virginia, that President Donald Trump infamously refused to condemn. Continue Reading Several Well-Known Hate Groups Identified At Capitol Insurrection