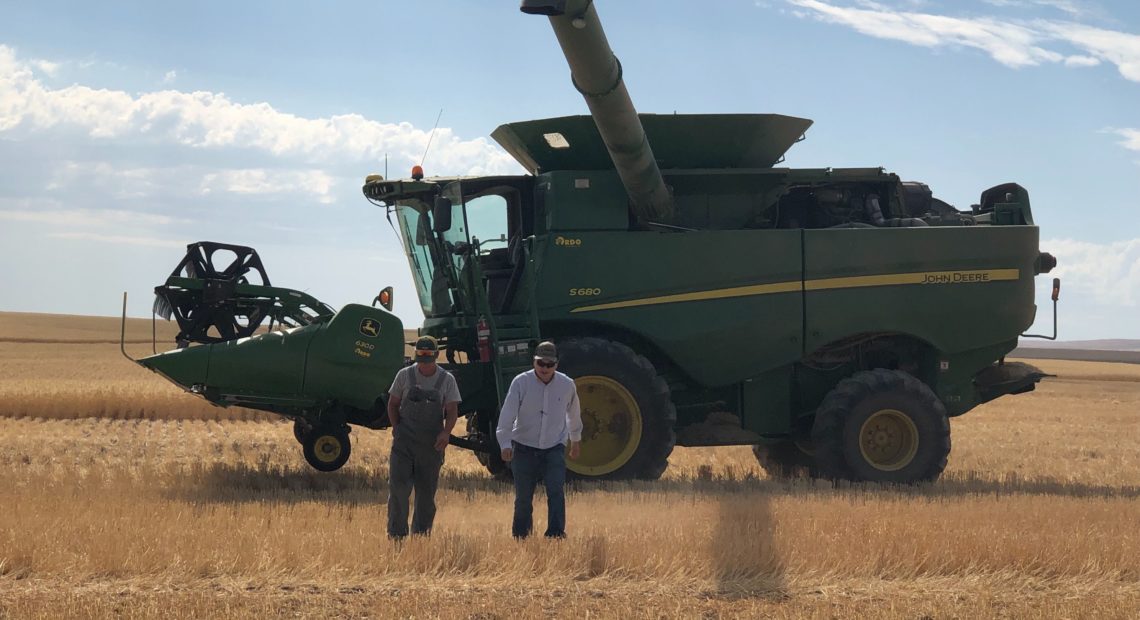 'You Have To Remain An Optimist.' Northwest Farmers Wrap Wheat Harvest As Prices Depress
There's a lot of time to think while sitting behind the wheel of a combine. 
Right now, Northwest wheat farmers are wrapping up their harvest in many areas. But across the country, farmers are losing money on every load of that golden grain. 
"You have to be wired differently to do this work," says farmer and grain consultant Kevin Duling, of Maupin, Ore. "It's very frustrating. It's very stressful." 
The wheat price was already suffering under President Donald Trump's trade wars and robust global competition. The Northwest used to export the vast majority of its grain, largely to Pacific Rim countries and China, according to the Washington Grain Commission. The National Association of Wheat Growers estimates that since last year, U.S. wheat farmers have lost about $430 million in trade to China. 
But then, the U.S. Department of Agriculture released a report that said farmers are expected to harvest a lot of corn and wheat this season. The corn futures market dropped 25 cents a bushel the day the report came out, according to Nels Solberg, a grain merchandiser with Tri-Cities Grain. He says then futures on white and red wheat both dropped about 30 cents. 
"The best advice I was ever given was back when I was still a teenager, and that was, 'The market can remain irrational longer than you or I can remain solvent,'" says Brent Cheyne, a wheat farmer in north-central Oregon and the secretary for the National Association of Wheat Growers. "When the market is at a place where you can make a profit — I try to make a sale."
Cheyne says there's not much he can control, so he can't worry too much. "Just cut back on expenses," he says. 
Many farmers have bins full of last year's grain waiting for trade to improve. Now, farmers will have to decide whether to claim insurance, take loans and wait, or sell at a loss. 
Kevin Duling is a consultant for many growers around the world. He's advising clients to sit on their grain for a little while.
"For right now, if you need money, get the loan," Duling says. "Let's wait until we see what the corn yield is before we make any decisions."
Duling says he thinks the federal government has overestimated the amount of corn that will actually be harvested as grain. He says a lot of the corn in the Midwest was planted late and can't catch up, and will go for silage, or chopped up green for animals to eat. That's because heavy rain and flooding in the Midwest pushed back planting.
If the corn crop yields are really significantly smaller, the price will go up. And the price of wheat often follows corn and soybean prices. 
Many still support the Trump administration, despite the worry and frustration.
Mark Schoesler is a Republican Washington state senator and fifth-generation wheat farmer outside of Ritzville. He says it's not just rural parts of the country that will feel the pinch of low wheat prices. 
"When our wheat industry struggles our neighbors in the city feel the effects too," Schoesler says. 
And he's not ready to give up on Trump. 
"We remember all too well what President Jimmy Carter did to us," Schoesler says, referring to when the Democratic president enacted a grain embargo against the Soviet Union in reaction to its invasion of Afghanistan. "There's never a good time for low prices, but you have to remain an optimist or you wouldn't be here."
But some farmers are starting to turn. Grain expert Dana Herron owns Tri-State Seed in Connell, Wash. He says he's hearing some grumbles in wheat country.
"Yes, they've hung in," Herron says of farmers. "But loyalty has a limit, and it starts with a checkbook."