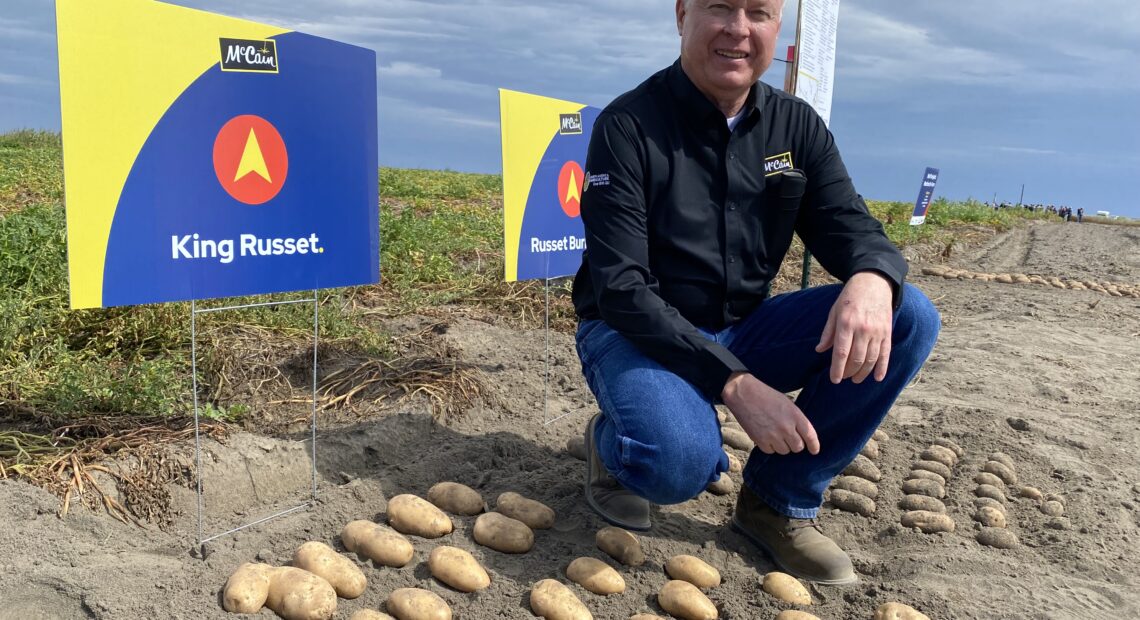 Fries of the future could use less pesticides, water and be more resilient to climate change
At a recent "field day," about 100 Northwest farmers and scientists from across Washington and Oregon scuffed through sand, walking between piles of potatoes in the Black Sands area near Quincy, Washington.
"Coming from a family farm, we kind of grew up in a bubble in a sense," said Adam Weber, a third-generation, Quincy-area potato grower. "This exposes us to other operations and see what other growers are doing."
The farmers are coming to this test field, divided into many subplots, to see how different potato varieties perform under different levels of fumigation. Fumigation kills pathogens and insects under the ground that cause disease or blemishes in the spuds.
The Pacific Northwest makes about 25% of the world's frozen potato products, said Dale Lathim, executive director of the Potato Growers of Washington. Northwest-grown spuds are prized for their golden consistency, quality and plentiful tonnage.
But those delicious Northwest fries are in danger: Climate change, growing populations, loss of ag lands, and restrictions on pesticides and water use all threaten the industry.
So, the farmers and scientists were keen to investigate the different varieties of potatoes and various management systems for growing them. Some plots used conventional amounts of fumigation, others less fumigation while some potatoes are grown with no fumigation at all.
"I've not met a grower yet who doesn't want to improve their soil health," said Daniel Metheringham, a VP of Agriculture with McCain Foods. "They maybe don't have the how. That's what the innovation hub [test field] is about, working out the how."
McCain is repeating this intensive study model throughout several American and Canadian growing regions – each with their own challenges, Metheringham says.
The varieties tested have noble-sounding names, like: Lady Alba, Caribou Russet, Teton Russet, King Russet and Russet Burbank.
McCain Foods organized the grower field day. The company is the largest potato processor in the world – neck-and-neck with competitor, Lamb Weston. Ken Luke is an Othello-based manager with McCain.
"Can we get to where we have other options, less chemical, less inputs that still provide quality fries for the QSRs – the McDonalds, the Burger Kings of the world?" asked Luke.
Luke says the real test will come in mid-September when the full field is completely dug and tallied. He says it's important to convince growers to start trying some of these techniques now, for future fries' sake.