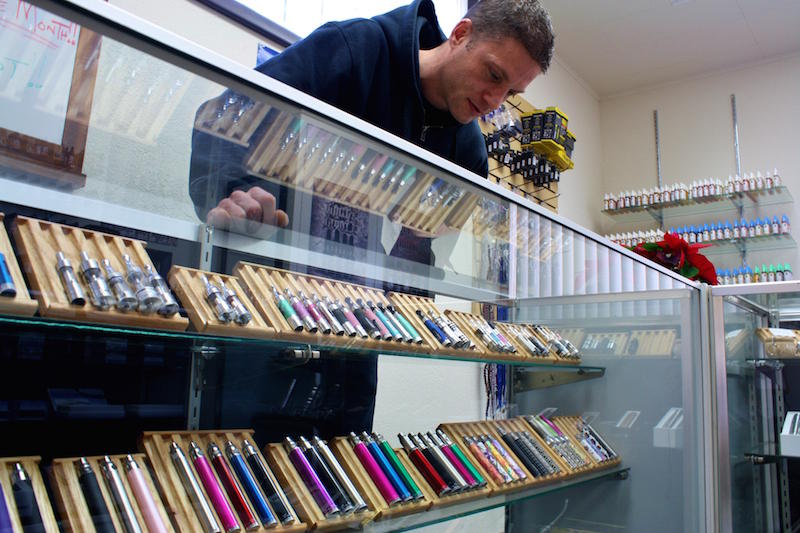 Jay Inslee Announces Washington Ban Of Flavored Vaping Products
BY PAIGE BROWNING / KUOW
After a statewide outbreak of vaping related lung disease, Washington state will ban flavored vapor products by mid October.
Governor Jay Inslee, in an executive order, says "no one substance has been identified as the cause of these vaping-related lung injuries" in the state, and that it is imperative that the state respond "to address this public health crisis."
Takeaways from the executive order:
It is intended to reduce vaping among youth. Preliminary results from the 2019 National Youth Tobacco Survey reported that of high-school students who vape an overwhelming majority report use of fruit, menthol, or mint flavors.
It will take effect October 9, at the earliest. Inslee directs the state Board of Health to set the rules on that date.
Another ban will come if officials can identify the cause of vaping-related lung injury. The executive order states, "Once the sources… are identified, take immediate action to ban products containing those identified sources from sale, and… remove those products from retail stores."
Health officials still do not know what is making people sick, whether it be a specific product or substance, prolonged use, or other causes.
Disagreement over regulation
The order comes as states across the nation are reporting hundreds of cases of severe lung disease linked to the use of vaping products. Washington state has seven cases of vape-related lung illness, in five different counties.
While smoking rates have gone down, e-cigarette and vape pen use is rapidly growing among youth. One in five high schoolers in the U.S. report using e-cigarettes in 2018, and that's up from one in ten in 2017. Many of them (27.7%) vape on at least 20 days each month.
Inslee spelled out in his address what motivated the directive. He calls this an issue "both about a dangerous product from a toxicological standpoint, that is a serious health crisis, and a problem with lifetime nicotine addition that an industry is trying to hook our children on for life."
This and similar bans are facing backlash from industry leaders in vaping, and consumer health organizations working to help people quit smoking.
The Vapor Technology Association says flavor bans are the wrong move and will have adverse impact on the economy. The association recommends, instead, that states implement strict marketing standards to keep nicotine and THC out of the hands of youth. It also recommends a ban on vaping sales on third-party sites like Amazon and Ebay, and a tax on vaping products to raise money for education.
The Vapor Technology Association also supports raising legal age for nicotine and tobacco to 21, which Washington state is already preparing to do in January, 2020.
Many health clinics and tobacco cessation programs have promoted vaping as a tool to quit smoking. Inslee's Friday announcement was interrupted by crowd members who proclaimed that the flavor ban is a "disservice to people trying to quit smoking".
The Consumer Advocates for Smoke-free Alternatives Association contends the illnesses are due to illegal street drugs, and that flavor bans take advantage of that " to ban unrelated nicotine products helping adult smokers".
Washington's Department of Health recommends: "if you continue to use vaping devices, you should monitor yourself for symptoms (e.g., cough, shortness of breath, chest pain) and promptly seek medical attention if you have concerns about your health".
The U.S. Army, Air Force and Navy plan to stop selling e-cigarettes at on-base stores by the end of the month.
Massachusetts has a four-month ban on the sale of all vaping products in the state, announced September 24.
Copyright 2019 KUOW. To see more, visit kuow.org