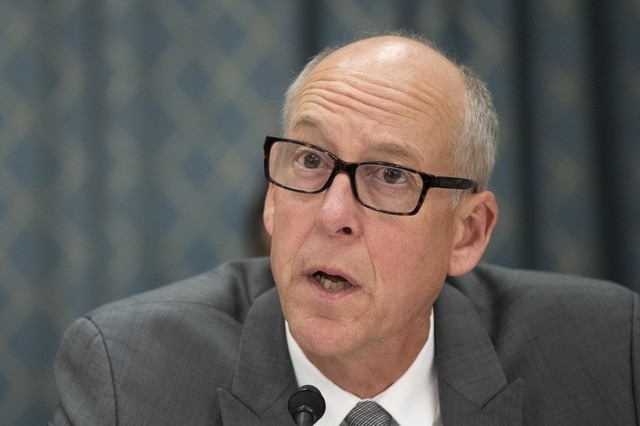 Greg Walden, Oregon's Sole Republican In Congress, Won't Run For Reelection
Oregon's only congressional Republican is calling it quits.
U.S. Rep. Greg Walden announced Monday morning that he won't run for reelection in 2020, possibly putting a close to more than two decades in the U.S. Capitol Building.
"At the end of this term, I will have devoted 30 years to the important calling of public service; of helping bring people together to solve problems and leave our communities, our beautiful state and our great nation better off for the next generation," Walden said in a statement. "For me, the time has come to pursue new challenges and opportunities."
Walden's decision had been rumored in recent days, but it is likely to come as a surprise to many in Oregon's Republican establishment, some of whom expressed doubts last week when asked about the move. The decision also marks a turnaround for a successful politician who earlier this year said he was focused on winning reelection and helping Republicans reclaim a majority in the U.S. House of Representatives.
It's also almost certain to set off a dogfight among Republicans over who might replace Walden in the state's only reliably Republican district, and it will likely have Democrats viewing the seat with fresh interest.
Since first winning his seat in 1998, Walden has twice led House Republicans' campaign operations — in the 2014 and 2016 elections. He's served as chairman of House leadership under former Speaker John Boehner, and he has been tapped chairman of the powerful House Energy and Commerce Committee. In the latter role, Walden wielded influence on a wide array of issues, including health care, energy policy and the internet.
For nearly all of his time in Congress, Walden has served in the majority party. Prior to 2019, Democrats had led the chamber for just four years of his tenure. When Republicans lost control of the House after the 2018 election, Walden's committee chairmanship went with it.
Earlier this year, Walden dismissed speculation that he might be looking for the exit from Congress in an interview with Politico. Instead, he suggested he was bent on helping Republicans win back power — and in rekindling his own influence.
"I'm a chairman in exile," Politico quoted Walden as saying. "I've got two more years as chairman. That's my focus."
Even so, speculation has continued. As a mounting number of Republicans have announced they will not run for reelection in what could be a difficult 2020 race, Walden's name has surfaced as a political moderate who could be ready to call it quits.
"About a month and a half ago there was an article" speculating on Walden's retirement, said state Sen. Cliff Bentz, who, like Walden, represents a wide swath of eastern Oregon. "I saw it, and people began calling me. I said, 'Call Greg.'"
The rumors circulated despite the political realities of Walden's district, which the congressman has always won handily. The sprawling district, nearly twice the size of Maine, spans more than 70%t of the state, but it contains few urban areas likely to go for more liberal candidates.
Even facing an energetic challenge from Democrat Jamie McLeod-Skinner in 2018 — and facing blowback for his role in trying to overturn the Affordable Care Act — Walden won the rosy-red district by 17 points. Republican voter registrations in the district outstrip Democrats' by 8 percentage points.
One sign of Walden's sure footing: His name doesn't appear on a "retirement watch list" created by the Democratic Congressional Campaign Committee. Growth in cities like Bend, Ashland and Walden's home of Hood River is not making prospects easier for the politician. As he acknowledged to Politico this year, the district "sure as heck ain't getting any redder."
In his statement Monday, Walden said he believed he could continue his string of victories.
"Based on recent polling, strong fundraising, and the backing of my wife and family, I am confident I could earn the support of 2nd District voters for another term," the statement said. "I'm also optimistic that a path exists for Republicans to recapture a majority in the House, and that I could return for two more years as chairman of the House Energy and Commerce Committee."
Walden's departure from Congress could mark the end of 30 years in elected office that began when he won a seat in the Oregon state House of Representatives in 1988. Even then, at 31, Walden was steeped in Republican politics. He'd spent six years as an aide to Republican Oregon Rep. Denny Smith prior to his own run for the state house.
Walden quickly ascended to a leadership role in Oregon's lower chamber — and even