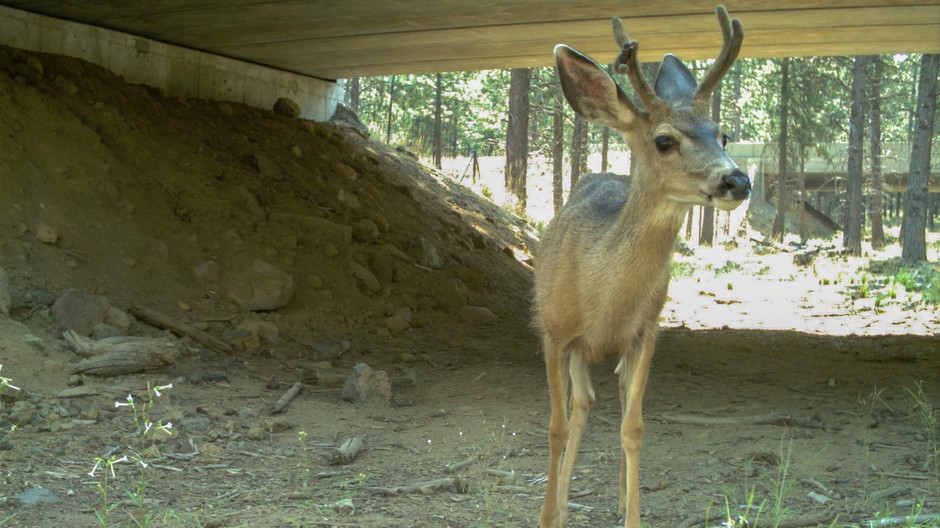 Oh, Deer! Washington Wildlife Officials Warn Of Increased Vehicle Collisions During Mating Season
Driving down a dark road in the Northwest can be dangerous this time of year. There are more deer-vehicle collisions as it gets dark earlier and as deer start to move in a little more differently than normal during mating season.
"That makes deer a lot less cautious," said Staci Lehman with the Washington Department of Fish and Wildlife. "They've got one thing on their mind, and they're not looking out for cars and things like that."
State wildlife officials are asking that you slow down, don't drive distracted, use your high beams when you can, and brake a little longer if you see just one deer, since often more deer will follow.
"Just because one deer runs across and you think, 'Wow, I missed that.' It's a good idea to either slow down and stop and wait to see if more will pass," Lehman said.
People in north-central Washington are pretty used to watching for deer as they drive. A 12-mile stretch of U.S. Highway 97 is one of the most dangerous corridors for wildlife collisions in the state. More than 350 deer are hit each year along the north-south road between Riverside and Tonasket.
That's something people are hoping to change. 
"Just south of Janis Bridge (south of Tonasket) has a very high kill rate. There's an alfalfa field on the east side and a crop field on the west side," according to Jay Kehne with Conservation Northwest. "The deer go back and forth there and just get whacked."
Several groups, including Conservation Northwest and the Okanogan Mule Deer Foundation, are working to raise funds for wildlife underpasses at strategic spots along the road. They had sought $4.3 million of transportation funds in the Washington state budget to complete the first phase of the project.
That funding didn't pass in the 2019 legislative session, but the groups raised around $170,000 to build fencing along one of the most treacherous stretches of highway, Kehne said. 
"There's already pictures come in of deer standing on the other side of the fence, not being able to cross," Kehne said. "You look at that, and you go, 'Well, we probably saved a bunch of their lives already.'"
The deer are then funneled under the highway via a nearby bridge. So far, they've put in about a mile of posts and have set up about a third of a mile of fence, Kehne said. Now, they're raising funds to build cattle guards before finishing the rest.
Other areas around the Northwest have seen dramatic decreases in vehicle-wildlife collisions once under- or overpasses were installed.
In Bend, Oregon, collisions were reduced by about 85% once crews finished an underpass along a stretch of Highway 97. The Oregon Department of Transportation has plans to begin another underpass along the highway in 2020, according to the Bend Bulletin. 
Kehne said groups in north-central Washington will continue to ask the legislature to fund the area's safe highway project. 
"The whole 12-miles needs to be protected, but we've got some of it built," Kehne said. "Each vehicle accident costs the public about $6,000 to $7,000 in repairs and hospitals and bills. It doesn't take long. If we save 100 deer this year on this section of highway we're protecting, that's half a million dollars in savings."