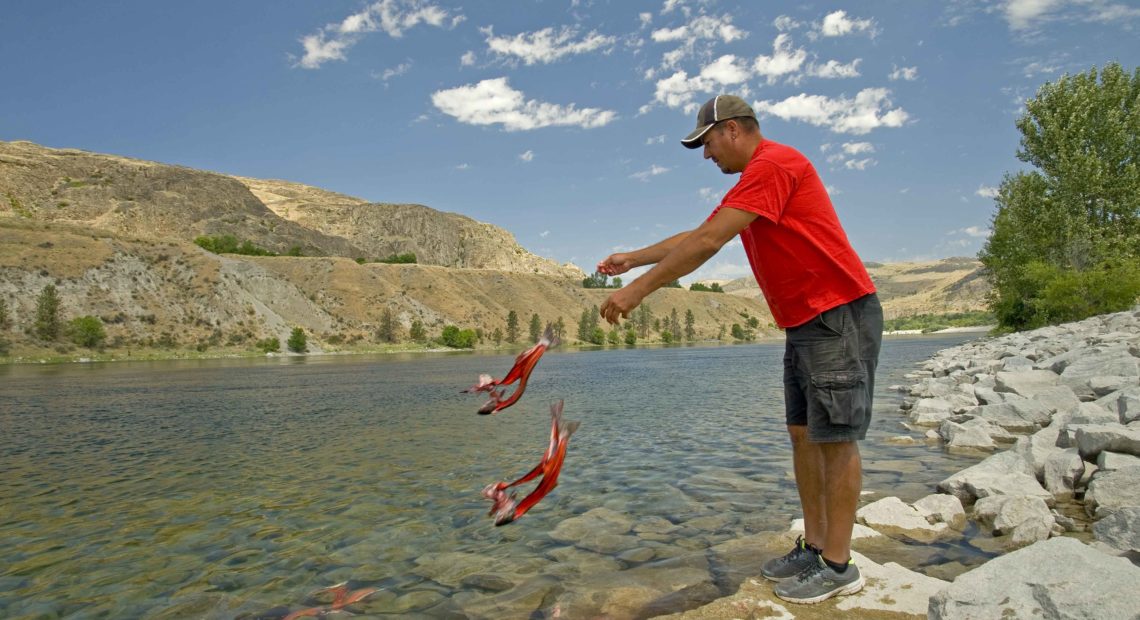 'Do Something Big': Photographer Helps Tell Columbia River History In 'Healing The Big River' Book
UPDATE: Dec. 16, 2019: This article has been updated to clarify "First Nations" as referring to groups in British Columbia and Canada, and for "tribes" to refer generally to those in the United States, since that is the more accepted terminology. Additionally, because of a transcription error in the section "On The Columbia River Treaty," the term "First Nations" has been changed to accurately show that Peter Pochocki Marbach said "firsthand" in referring to the U.S. State Department and tribes in the United States.
Standing on top of Oregon's Mount Hood, photographer Peter Pochocki Marbach looked down to the Columbia River, snaking its way through the gorge to the north.
He'd undergone open heart surgery eight months earlier. Hiking along the river's edge helped him recover.
He watched as the water stretched on forever.
"I made a promise that at some point I would do something to honor the Columbia and thank the river for its role in helping me heal," Marbach recalls. "So I said, 'Someday I'm going to do something.' But that someday took a long time."
It took him more than 10 years to "do something big" and finish his book Healing The Big River: Salmon Dreams and the Columbia River Treaty. In that time, he's traversed the Columbia, from its headwaters in British Columbia …
"I just about passed out with joy because it's so unbelievably beautiful. It's like this is the scene out of out of a dream, with this river running wild and free," he says.
… to its mouth at the Pacific Ocean.
Marbach says he wanted to use his photography to tell the story of the river, to move from purely landscape images to a more social justice-driven book. To do that, he needed help.

"I want this to be told primarily from tribal and First Nations perspectives. One by one, I started asking people, and it just worked out," Marbach says. "It represents people from the headwaters all the way down to the ocean."
In the book, Marbach called on 12 contributing authors to write about their hopes for the Columbia, especially in light of the ongoing negotiations of the Columbia River Treaty. 
The treaty was originally signed in 1961. It coordinates hydropower and flood control between the U.S. and Canada. For both the original negotiations and these most recent meetings, tribes in the U.S. have been left out of official meetings. They've met with officials separately to push for the treaty to include protections for salmon.
Essays in the book detail the importance of salmon and the river and how that all ties into the treaty.
One essay by DR Michel, executive director of the Upper Columbia United Tribes, tells of recent ceremonial releases of salmon into the upper portion of the river, where salmon hadn't swam for almost 80 years.
Michel helped release salmon at Kettle Falls in August 2019.
"For one day, my fellow tribal citizens and I were able to truly give back and carry forth our responsibilities to those salmon spirits. Through work of generations of people to bring salmon back to their historic habitats, we were able to realize a small part of the overall goal of a healthy and sustainable salmon run back to their home where they belong," Michel writes.
In an interview, Michel said this new treaty needs to include protections for salmon, especially in the face of climate change, which is expected to continue to warm waters and impact river flows.
"Those processes have provided us opportunities to step back and take a different look at the system and how we can all better use those waters and those resources," Michel said.
He said it doesn't have to be an "either – or" situation.
"We can have fish passage and good, clean functioning ecosystems. We can provide power, and we can protect those folks who continue to build in the floodplain," Michel says.
To Michel, things have changed since the treaty was originally negotiated, and the treaty should change with them.
"I think it's important to listen to folks and try to understand where they're issues are and where coming from," Michel says. "To work with them to see if we can come to some understandings and mutual benefits. We're all going to have to give a little bit in this process."
But h