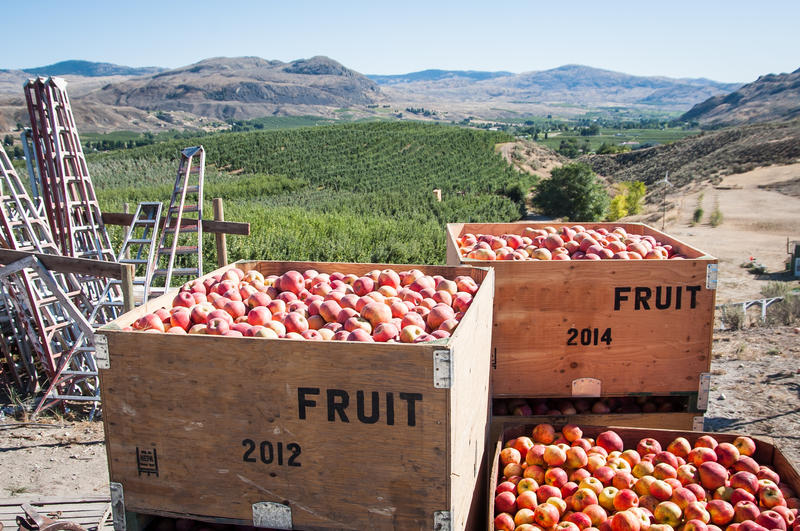 Group Aims To Address Pesticides In Central Washington's Soil
EDITOR'S NOTE:  Feb. 6, 2020: The original headline to this story included the line "Want Some Arsenic With Your Apple?" That reference has been removed to avoid confusion and misinformation. Arsenic and lead, present as "legacy pesticides" in soil where orchards previously were, are being addressed with this current workgroup, as the story describes.
As more old orchard land in central Washington is converted into housing developments and schools, there are concerns over legacy pesticides in the soil where children play and families live. That's especially true in Wenatchee and Yakima.
The Washington Association of Counties asked to form a workgroup with the Department of Ecology to better understand the scope of the lead arsenate problem.
"As those communities grow and develop, they're starting to actually grow into lands that were formerly agricultural land," said Paul Jewell, the association's policy director. 
"Pick your fruit, right? At some point in the 1940s, 1950s, 1960s there were some things that were being used for a variety of different reasons that ended up not being as safe as we thought they were at the time," Jewell said.
Lead arsenate breaks down to lead and arsenic, which can persist in soil for decades.
In the early 1900s, apple growers used lead arsenate to control pests that would turn crisp apples to mush. Little did they know that 100 years later lead and arsenic would still remain in the top layers of soil. It was eventually replaced by the insecticide DDT, which the U.S. banned in 1972.
Many of those former orchards have now been developed: turned into schools, daycares and subdivisions. 
State health officials say the contamination is especially concerning for children. Long-term exposure to lead and arsenic can lower children's IQs, cause behavioral issues or increase cancer risks later in life.
The state has funded the cleanup of 26 public schools and two parks, according to Department of Ecology spokesperson Joye Redfield-Wilder. Other schools may have been cleaned up without state funding, she said.
Lead arsenate was applied legally at the turn of the century, so the state cannot force current growers to pay for cleanup. That leaves many potentially expensive fixes up to developers, residents and business owners. State officials said these land-use decisions are made at the county level, which means the state can't intervene.
Many county officials became aware of the problem recently, the association of counties' Paul Jewell said. The Department of Ecology notified them it would comment on legacy pesticides during state environmental reviews for project permit applications. 
Jewell said many county officials didn't know about potential lead arsenate problems, in spite of a 2003 task force that studied the contamination from smelters west of the Cascades and legacy pesticides east of the mountains. Regarding legacy pesticides, that group faced resistance from politicians and industry groups before the study was finished.
The task force recommended the cleanup of daycare centers and more study of lead arsenate exposure to better understand the risks, among other suggestions. Those tasks have yet to be completed. Residents and scientists have criticized the lack of results.
Redfield-Wilder said these new workgroup will help make decisions on this "unfinished business."
The Department of Ecology announced the new working group in a Jan. 27 blog post. 
The first meeting, Feb. 6 in Yakima suburb of Union Gap, isn't open to the general public, but tailored for developers, planners and county officials. A second meeting is planned for March in Wenatchee. 
The group is expected to have several closed-door meetings, with future meetings potentially open to the public and news media.