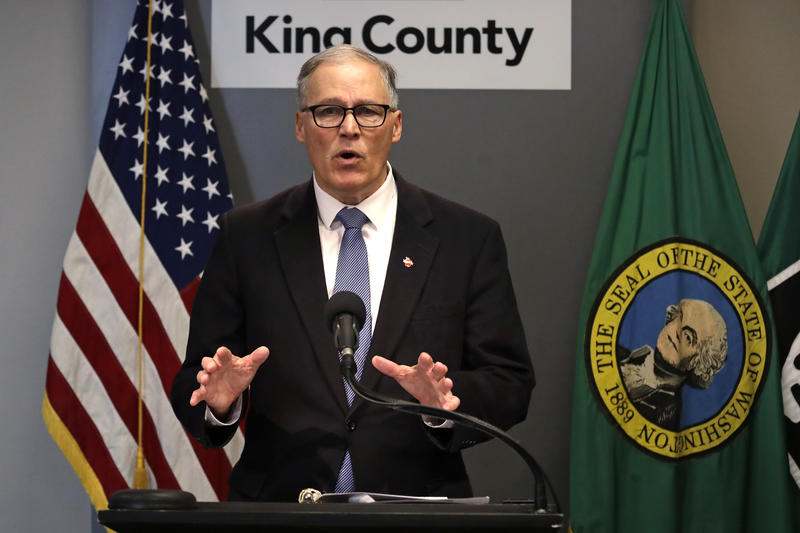 'Hours Count.' Governor Officially Orders Washington Businesses Close; Counties Adapt To Help
BY KARI PLOG, NICHOLAS DESHAIS & SCOTT LEADINGHAM
Gov. Jay Inslee made it official Monday: any businesses that aren't essential retailers, such as grocery stores or pharmacies, are shutting down for at least two weeks to prevent the spread of the novel coronavirus.
That means everything from restaurants and bars to nail salons and bowling alleys will cease operations starting at midnight. Pick-up or delivery services are still allowed.
(Read the proclamations: statewide restaurants/bars; size of gatherings; school closures;)
The closures are slated to last until March 31, but Inslee acknowledged that could change depending on how the weeks ahead unfold.
"All of us have to recognize for the next several weeks — normal is not in our game plan," Inslee said during a live-stream news conference, during which most reporters called in to practice social distancing.
Officials in King County, where the outbreak has hit hardest, issued a similar order in the same breath — stressing in no uncertain terms that individual actions now are vital in the collective effort to save lives and prevent overwhelming the health care system.
"We expect the cases to continue to double every five to seven days unless we take significant action to reduce community spread," said Dr. Jeff Duchin, the county's chief health officer.
The cooperative order is the latest extraordinary step to limit social interaction in hopes of slowing the spread of COVID-19, the disease caused by the new strain of coronavirus. Previous measures included statewide school closures and prohibition of large gatherings.
"Hours count," Inslee said. "This is the only weapon available to us right now."
Inslee first announced the business closures late Sunday. In a statement, he said the emergency order applies to restaurants, bars, and entertainment and recreational facilities. Grocery stores and pharmacies are exempt, though other retail outlets will have reduced occupancy.
The restrictions in Washington state follow similar orders affecting the states of California, Illinois, and Ohio, and New York City.
Inslee also expanded the restrictions on public gatherings — now, any events with 50 or more participants are prohibited. That aligns with the new guidelines released by the Centers for Disease Control and Prevention on Sunday. President Donald Trump took that a step further Monday, advising people nationwide to avoid congregating in groups larger than 10.
Regional officials didn't mince words during the news conference in Washington state Monday, as they came together in a collective voice to stress the importance of individual cooperation.
"If you see someone doing something stupid, say something," Snohomish County Executive Dave Somers said.
The severity of the tone of these press briefings have intensified day by day, as officials brace for weeks or even months of effects from the coronavirus outbreak.
"Never since World War II have we faced a situation like this," Inslee said. "This is bigger than all of us."
Monday afternoon, Inslee said health officials were scheduled to talk with leaders at local hospitals to discuss delays of non-essential medical procedures. And the governor is urging the federal government to make regulatory adjustments so personal protective equipment stockpiles are accessible as Washington's health care system prepares for a surge in patients.
Actions In Spokane County
Seattle and King County are the epicenter for the nation's COVID-19 outbreak, and their actions are setting the pace for the rest of Washington.
Spokane, the state's second-biggest city, is not far behind.
Two days after Seattle halted evictions for people behind on rent during the crisis, Spokane County sheriff Ozzie Knezovich recommended the same at a news conference Monday.
"We are looking at the possibility of suspending those evictions until this situation is calmed down enough, Knezovich said. "Because I really don't want to put people out on the street and cause more of a homeless issue for our citizens at a time when our homeless population is the most impacted or potentially one of the most impacted."
Joining Knezovich were other regional officials, including eastern Washington Congresswoman Cathy McMorris Rodgers and the mayors of Spokane, Spokane Valley and Liberty Lake.
Spokane Mayor Nadine Woodward said the city is making sure water is not shut off and garbage is picked up even if people get behind in their bills.
Dennis Vermillion, CEO of Avista, oversees the region's largest utility company.
"The power will stay on. The gas will continue to flow. And I also wanted to let you know that at this time we have stopped all utility disconnects, Vermillion said. "I want to reinforce: If customers are facing financial hardship, we want them to get in touch with us, give us a call."
Spokane County Commissioner Al French sounded a call for calm.
"For the most part, this is a bump in the road. We will get past this. I know that there's a sense of crisis out there, but we are not in a crisis. We are in an event."
In the Monday news conference with other regional officials, Spokane County Sheriff Ozzie Knezovich warned people to prepare for several months of disruptions to their normal lives.
Idaho Governor Resists Statewide Schools Closure
Though Washington and Oregon have taken sweeping measures to address the spreading COVID-19 outbreak, neighboring Idaho has been more reserved. As of Monday, March 16, there were at least five confirmed cases in the state. But wider statewide measures to close schools have not come down from Republican Gov. Brad Little.
That is likely because of two big factors. First, there are simply fewer cases in Idaho to this point – and it hasn't resonated as much as in Washington or Oregon. Second, Little is acting more like a traditional Republican in that he's deferring more to local authorities to make those decisions. That's exactly what he said he was doing Sunday. So instead individual school districts like Moscow, Lewiston, Coeur d'Alene and Boise closing for several weeks.
Also unlike in Washington, there's been no statewide mandate for online-only instruction at colleges and universities. But the University of Idaho and Boise State University said over the weekend they will go to online-only classes. UI will begin that March 23 after its spring break, and go "indefinitely."  Boise State began online classes Monday, March 16, and will continue through at least the current semester.
Kari Plog is a reporter and digital editor for KNKX Seattle/Tacoma. Nicholas Deshais is the Inland Northwest correspondent for the Northwest News Network. Scott Leadingham reports and oversees news coverage for Northwest Public Broadcasting.