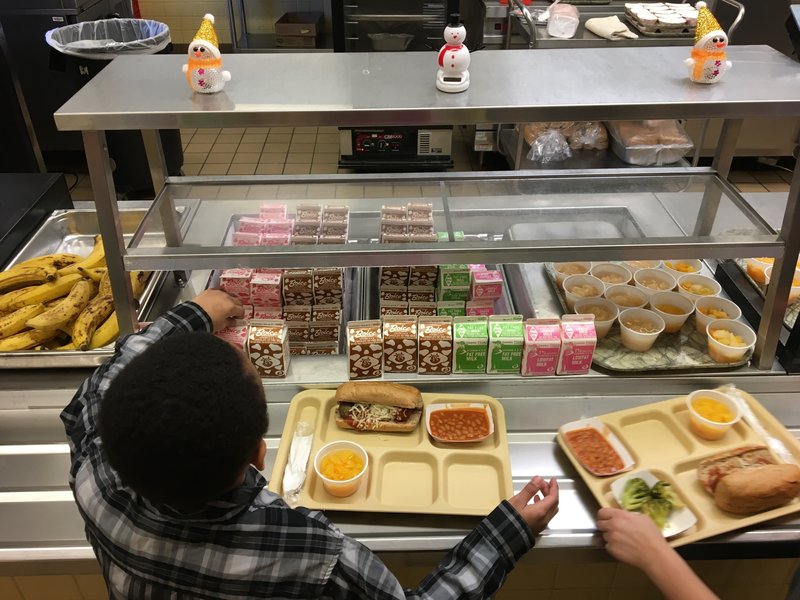 How Some Northwest School Districts Are Feeding Students During Coronavirus Closure
Washington school districts — and some in Idaho — have closed their doors for the foreseeable future, due to coronavirus precautions. But most are providing free meals to students and non-students alike.
Here is a round-up of what some Inland Northwest districts are doing. Email NWPB here to submit information about another district.
PALOUSE / LEWISTON-CLARKSTON REGION
Pullman Public Schools: Food service continues, and each school is open for students and families to pick up breakfast and lunch. The district has also set up locations for pick up.
For more information, visit PullmanSchools.org.
Moscow (Idaho) School District: Anticipates starting a breakfast and lunch program on Monday. Any school-aged child can grab a meal at either Lena Whitmore or West Park elementary schools. Visit msd281.org for more.
Clarkston School District: Breakfast and lunch is available to all children below 18.
Meals are available at Clarkston High School and Grantham Elementary between 7:30 and 9:00 a.m., and 11:30 a.m. to 12:30 p.m. For more info, visit csdk12.org.
Lewiston (Idaho) School District: Food services available at Jenifer Junior High and Sacajawea Junior High for any district student and members of their household ages 18 and younger. Offered 11 a.m. to 1 p.m. until March 20, unless closure is extended.  More info: lewistonschools.net
TRI-CITIES / YAKIMA
Kennewick School District: Meals served 11 a.m. to 12:30 p.m. at the following school sites: Amistad, Amon Creek, Canyon View, Eastgate, Lincoln, Park, Ridge View, Southgate, and Vista.  For more information visit ksd.org.
Pasco School District: Meals for students can be picked up between 11 a.m. and 12:30 p.m., Monday through Friday, at any school in the district. The district will begin delivering food to students in geographically isolated areas. Students and families will be notified through the District Notification System about meal pick-up times and locations.
Richland School District: Any child 18 and younger can receive free meals at Richland schools or through delivery at certain locations. For more information, visit rsd.edu
Yakima School District: Grab-and-go meals are available on weekdays in the parking lots at all Yakima schools between 10:30 a.m. and 12:30 p.m. for anyone 18 and younger. Each meal contains one lunch and one breakfast per day.  Visit yakimaschools.org for more.
WENATCHEE VALLEY / OKANOGAN REGION
Wenatchee Public Schools: Pre-packaged breakfast and lunch available Monday to Friday, 11 a.m. to 1 p.m. at multiple school locations (see list here). Meals available by drive-up and pick-up methods at school locations. For more information, visit wenatcheeschools.org
East Wenatchee (Eastmont) Schools: Free meals to all people age 18 or younger, regardless of whether they are enrolled in the Eastmont School District. Monday to Friday, 11:30 a.m. to 1 p.m. at Rock Island Elementary, Clovis Point, Sterling and Lee schools. People cannot pick up meals for someone else.  For more information, visit eastmont206.org.
Cashmere School District: Free breakfast and lunch grab-n-go meals for all youth 18 and under, regardless of district enrollment. Distribution via bus route transportation. The district will also distribute meals, curbside at Vale Elementary, in the bus lane, from 10:00 -11:00 am. The district asks those interested in participating to contact the school at which a person is enrolled. For more information, visit cashmere.wednet.edu
Cascade School District (Leavenworth area): Free sack lunch meals for students. District asks to complete a survey to plan ahead. en español
– Beaver Valley School, Plain 8:45-9:45 am
– Blewett Fire Station, Blewett (Valley Hi) 8:40-9:40 am
– Cascade High School, 8:15-9:15 am
– Dryden Softball Field Park, 8:50-9:50 am
– Nason Creek Rest area, Merritt 8:45 – 9:45 am
– Peshastin-Dryden Elementary School, 8:30-9:30 am
For more information, visit the district's Facebook page.
Okanogan School District: Free meals available Monday to Friday for pick up for anyone 18 or younger.
-Virginia Grainger, 11 a.m. to 1 p.m.
-Okanogan Middle/High School Cafeteria entrance, 11 a.m. to 1 p.m.
-Malott Improvement Club, 11:30 a.m. to 1:30 p.m.
If you cannot access a location, please call the district office at 509-422-3629.
Omak School District (en español):  Breakfast and lunch "to go" options available 7 a.m. to 1 p.m. Monday to Friday for all students age 18 and under (district enrollment not required). Locations: North Elementary, East Elementary, Omak Middle/High School cafeteria. For more information, see the district page here.
Tonasket School District: Meals delivered to all school bus stops. All district students are encouraged to participate. Buses will leave the school at 8:25 a.m., with stop times running seven hours earlier than the afternoon stop times. For example, if your afternoon stop time is 3:40 p.m., the new morning stop time is 8:40 a.m. Meals also available for pick up in front of the high school, 7:30 to 10 a.m.
For questions and more information, contact Jack Denison at email [email protected] (preferred) or call 509-486-2665. For more information, visit the district's info page here.
SPOKANE AND COLVILLE TRIBES
Wellpinit School District: A meal program is being set up. It will provide breakfast and lunch, and is anticipated to begin Monday. Visit wellpinit.org for more.
Paschal Sherman Indian School: Lunch and breakfast is provided for all school-aged kids, and are being delivered to homes by school employees. Visit psischiefs.org for more.
SPOKANE – COEUR D'ALENE REGION
Spokane Public Schools:  On Thursday, March 19, SPS will begin offering grab-and-go, breakfast and lunch meals for any child below the age of 18, or currently enrolled in high school and under the age of 21.
Meals will be available from 11 a.m. to 1 p.m. at 16 locations: Arlington, Balboa, Finch, Garfield, Hutton, Lidgerwood, Lincoln Heights, Longfellow, Moran Prairie, Mullan Road, Ridgeview, Roosevelt, Shaw Middle School, Rogers High School, Shadle Park High School and Ferris High School. Visit SpokanePublicSchools.org for more.
Central Valley School District: Breakfast and lunch meals are available for any child under the age of 18.
They are available weekdays from 10 a.m. to 1 p.m. at 11 locations: Bowdish, Broadway, Evergreen Middle School, Opportunity Elementary, Pavillion Park, Pope Francis, Progress Elementary, Riverbend, Selkirk Middle School, University Elementary and University High School.
More locations will be added. Visit cvsd.org for more.
Mead School District: Breakfast and lunch will be provided starting March 23.
The meals will be delivered to various locations through the district, but the district hasn't finalized them yet.  Visit mead354.org
Coeur d'Alene (Idaho) School District: Meals are being handed out at eight locations for school-aged children. For details, visit cdaschools.org/grabandgo.