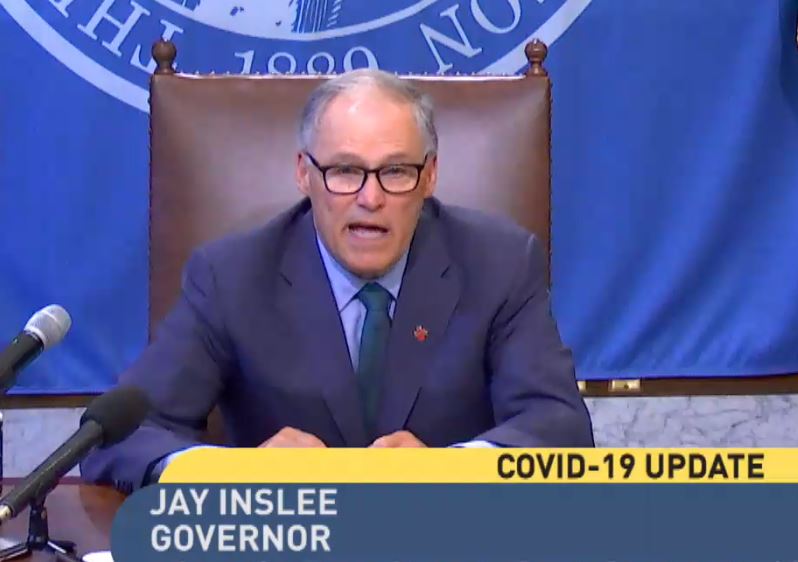 Jay Inslee Extends Coronavirus Closures Through May, Outlines Phased Plan To Reopen
Updated May 4, 2020, 1:50 p.m. PT
QUICK LINKS:
–Washington's Full Phased-In Recovery Plan (PDF)
–Washington Coronavirus Updates And Official Information
–State Department of Health Tracking Page
–Unemployment Filing For: Washington / Oregon / Idaho
BY LIZ BRAZILE, PAIGE BROWNING, KARI PLOG & AUSTIN JENKINS
Washington's "stay home, stay healthy" order will extend until at least May 31. On Friday, Gov. Jay Inslee announced the new time-frame and that businesses will be able to open over four phases.
The state is now in phase one, and won't reach phase four for at least 9 weeks.
"I would like to tell you that we would all be able to make reservations on June 1, but I cannot … as the conditions allow," Inslee said.
ALSO SEE: Coronavirus News, Updates, Resources From NWPB
Inslee said that by mid-May, retail stores will be able to offer curb-side pickup, and carwashes, auto sales, and drive-in spiritual services can occur.
(See the full four-phase plan as outlined by the Governor's office on May 4, 2020.)
Phase two will allow a few customers at a time at retail, salon and restaurant businesses. Phase three will allow non-essential travel and events under 50 people, and phase four allow public events.
Inslee says there will be three weeks, at least, between each phase. The beginning of each new phase will depend on data on new infections and hospitalizations, and won't be tied to specific dates at this time.
And he warned the fight against COVID-19 has not been won.
He added that smaller counties with less of a COVID-19 impact may be permitted to reopen earlier than larger ones or those considered to be hot spots.
The plan gives 10 counties the option to ease restrictions sooner, pending approval from the state Department of Health. Those counties have "extremely low numbers of cases" of COVID-19, Inslee said in his address Friday, and they represent less than 3 percent of the population.
"I am very mindful of regional differences and impacts across the state with regard to the spread of COVID-19 and our response," Inslee said. "Not every part of our state is experiencing this pandemic in the same way."
Counties eligible for variance from state order:
-Columbia
-Garfield
-Jefferson
-Lincoln
-Pend Oreille
-Skamania
-Wahkiakum
-Kittitas
-Ferry
-Grays Harbor
Inslee noted that these counties should expect "broad acceptance" from the health department upon applying for variance, since they were essentially "pre-screened" for eligibility. "I don't expect that process will take long at all," he told reporters. 
However, Inslee reiterated that "our return to normal will still not look the way they did before this virus hit us until we have pharmaceutical interventions, such as a vaccine."
Statewide, residents already are experien