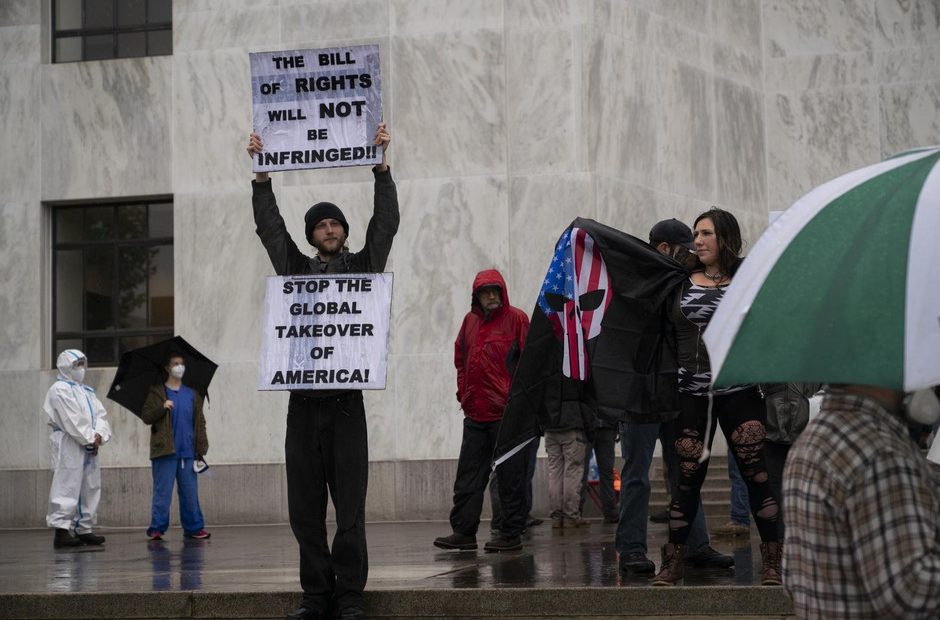 Oregon Emergency Measures Back On As State Supreme Court Holds Judge's Ruling To Overturn
Updated May 18, 2020, 11:15 p.m. PT
Executive orders mandating business closures and enforcing social distancing throughout Oregon will remain in place while the Oregon Supreme Court takes up legal challenges to Gov. Kate Brown's emergency authority.
Just hours after a Baker County judge invalidated more than 20 executive orders Brown has issued since early March, the Supreme Court on Monday evening granted an emergency stay on that ruling. In doing so, the court appeared to agree with the state of Oregon's position that abruptly ending the emergency orders amid a pandemic could have serious health impacts, and should not be taken without a more-thorough consideration of the law.
"Following swift action by the Oregon Supreme Court, my emergency orders to protect the health and safety of Oregonians will remain in effect," Brown said in a statement following the order, issued by Presiding Justice Thomas Balmer at 7:45 p.m. "There are no shortcuts for us to return to life as it was before this pandemic. Moving too quickly could return Oregon to the early days of this crisis, when we braced ourselves for hospitals to be overfilled and ventilators in short supply."
The whiplash ruling capped a day in which the tenets of Oregon's months old social distancing restrictions were thrown into brief chaos, restoring the state — for now — to the phased in reopening plan that Brown began last week.
Shortly after 11 a.m., Baker County Circuit Court Judge Matt Shirtcliff ruled that Brown had overstepped her authority to declare an emergency under state statute. Under Shirtcliff's analysis, the governor's authority to limit restaurant activity and prevent large gatherings could last a maximum of 28 days, not the 120-day limit Brown has thus far placed on the state of emergency.
The ruling was immediately criticized by Brown and Attorney General Ellen Rosenblum, who feel that the governor's power in an emergency extends beyond what the judge had ruled. Hours after the ruling, the Oregon Department of Justice filed an emergency motion with the Supreme Court asking justices to halt the lower court's order while they looked into the facts of the case.
Whether the court challenge to Brown's emergency authority — brought by an group of churches in the state — is ultimately successful still remains to be seen. Balmer's order directed attorneys on to file arguments with the court by Friday.
Ray Hacke, the attorney representing faith groups in the court challenge, said Monday night he was disappointed but not necessarily surprised. 
"The way I see it, the lower court found that the governor's actions have irreparably harmed the religious people of this state," Hacke said. "Basically she turned around and asked the Supreme Court: 'They've already been irreparably harmed for the last three months, a couple more days won't hurt.'"
Original Story:
The state of Oregon is open for business again, but not in the way Gov. Kate Brown hoped.
A Baker County judge has invalidated Brown's restrictions on businesses and social gatherings, along with every other executive order Brown has issued under a state of emergency she ordered due to the COVID-19 pandemic.
Finding that Brown exceeded her statutory authority in extending that state of emergency, Baker County Circuit Judge Matthew Shirtcliff granted a preliminary injunction Monday on more than 20 orders dating back to March 12.
The judge declined to stay the order pending the review of a higher court, meaning it took effect immediately, according to Ray Hacke, the attorney who brought the challenge on behalf of faith groups.
"As of now, the orders are no longer in effect," Hacke said Monday, arguing that was proper. "The whole point is our clients have been irreparably harmed and they are being irreparably harmed every day they cannot practice."
In a statement, Brown responded, "Today's ruling from the Baker County Circuit Court will be appealed to the Oregon Supreme Court within hours to keep my emergency orders in effect." She continued, "This will ensure we can continue to safeguard the health of all Oregonians — including frontline health care workers, those living in nursing homes, workers in agriculture and food processing plants, and Oregonians with underlying health conditions — while the legal process moves forward."
The Oregon Department of Justice filed a motion with the Supreme Court on Monday afternoon, calling on justices to immediately halt Shirtcliff's ruling. 
"The preliminary injunction takes effect immediately and will allow the sort of large gatherings that are likely to spread the novel coronavirus that causes COVID-19—a fact that plaintiffs have not disputed in this litigation," the motion read. "To minimize that risk, defendants respectfully request at least a temporary stay while the court considers the motion no later than today, May 18, 2020."
It was unclear whether justices would accede to that timeline. 
Wrapped up in the case are executive orders mandating business closures and prohibiting dine-in service as bars and restaurants throughout the state. Prohibitions on large gatherings like festivals and sporting events have also been tossed. Brown is expected to appeal the matter to the state's Supreme Court in the coming days.
At issue is the matter in which Brown invoked a state of emergency to respond to the coronavirus pandemic. Under state law, there are multiple pathways for doing so.
When she declared an emergency on March 8, Brown opted to use a provision in the statute that grants her broad authority in emergencies and does not expire until the governor or legislative assembly declares the emergency has passed.
But Shirtcliff found that aspects of Brown's emergency orders more closely resembled the provisions of another section of state law governing public health emergencies — a section that Brown has referenced in her orders. 
Those provisions grant the governor more specific powers to prevent citizens from moving around the state or gathering. But they also come with strict time limitations: They expire after 14 days unless the governor extends them by another two weeks. In no case can the public health provisions under this area of the law extend beyond 28 days, Shirtcliff ruled.
Brown also could have declared an emergency via a section of the state constitution that would have expired after 30 days, unless extended by a vote of the Legislature. She did not invoke that section.
The governor's initial emergency declaration lasted for 60 days. She extended it for an additional 60 days earlier this month. That was illegal, Shirtcliff found.
"Because the Governor implemented statutory provisions, she is bound by them," Shirtcliff wrote. "Thus, once the maximum 28-day time provisions… expired, the Governor's Executive Order and all other orders were rendered null and void."
In a statement Monday, Attorney General Ellen Rosenblum challenged the judge's reasoning. 
"We will argue that the judge erred in his construction of the relevant statutes and that he abused his discretion in issuing the preliminary injunction," Rosenblum said. "We will also be asking for an immediate stay of his order. I urge Oregonians to continue to comply with the measures in place."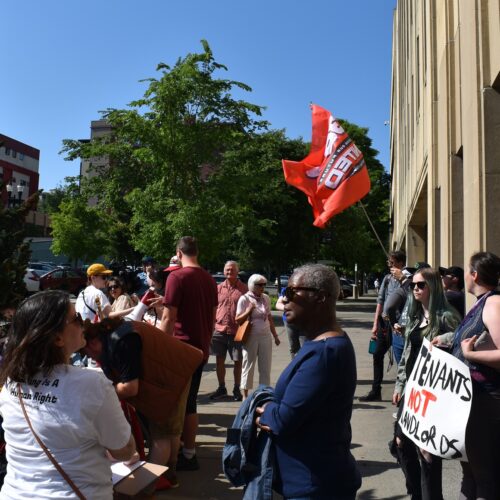 Organizadores del grupo de defensa de los derechos de los inquilinos Tacoma Para Todos, y quienes los apoyan, se reunieron con pancartas y megáfonos hace unas semanas para mostrarse en favor de una iniciativa, conocida coloquialmente como una declaración de derechos de los inquilinos, que Tacoma Para Todos espera poner en la boleta electoral para los votantes este otoño. Continue Reading Partidarios de declaración de derechos de inquilinos se hacen oír en Tacoma