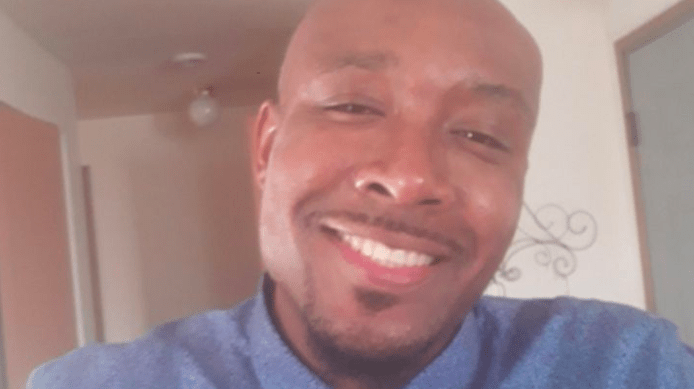 Governor 'Convinced' Manuel Ellis Death Case In Tacoma Must Be Handled Outside Pierce County
BY KARI PLOG / KNKX
Gov. Jay Inslee says he's convinced the Pierce County Sheriff's Department shouldn't lead the investigation into the killing of Manuel Ellis. He announced Wednesday that the state is reviewing how the investigation should proceed, including who will make charging decisions.
His announcement follows new information that a deputy from the sheriff's department was on scene when Ellis was killed in Tacoma police custody on March 3.
Ellis' death was ruled a homicide by the Pierce County medical examiner. It was caused by a lack of oxygen due to physical restraint. Records reviewed by KNKX Public Radio show Ellis said he couldn't breathe within two minutes of making contact with officers.
A home security video made public Tuesday shows what the family says is Ellis saying "I can't breathe, sir" in the final moments of his life.
The Pierce County prosecutor was scheduled to hear a briefing from investigators in the department Wednesday. That was canceled, after the new information about the sheriff's deputy's involvement surfaced.
Inslee says he came to the conclusion to move the investigation outside Pierce County in consultation with Attorney General Bob Ferguson.
"At this point we are working to determine who will conduct the independent investigation and who will make charging decisions," Inslee said in his statement. "That said, the state will ensure an independent investigation and independent prosecutorial review into the death of Manuel Ellis. We will ensure that the work is done free of conflicts of interest."
Inslee also noted that a Washington State Patrol trooper was called to the scene briefly while Ellis was still alive. It's unclear if that would disqualify the state patrol from assisting in an independent investigation. Inslee said the patrol is pursuing more details from the trooper who responded to the call.
The governor initially said the state would review the work of investigators and prosecutors in Pierce County after it was complete. Pierce County Prosecutor Mary Robnett has repeatedly urged the attorney general to work in tandem with her office, not review it after the fact. She said Pierce County Sheriff Paul Pastor is now on her side.
"Sheriff Pastor and I agree that this is the right thing to do," Robnett said in a statement. "We want this matter handled in the right way, so that the public has confidence in the investigation and the decision."
Ed Troyer, a sheriff's department spokesman, said in an email to KNKX that a deputy arrived on scene after the four Tacoma officers. He says the department fully agrees with the prosecutor's call for an outside investigation.
"While the involvement of the Deputy was minimal and was noted by our own documentation, we agree that the right thing to do is to hand off the investigation as the Prosecutor has recommended," Troyer wrote. "We will make all of our evidence and personnel available to the investigative agency."
Ellis' family and their attorney have called for a heavier hand from the state all along. They've repeatedly said the Pierce County Sheriff's Department is too close to scrutinize the Tacoma Police Department. They also have accused the sheriff's office of being evasive and misleading in the information provided to the family.
"We can't let offending agencies and their friends investigate each other," attorney James Bible said during a news conference Tuesday.
The Tacoma Police Department released a statement last week, largely summarizing the officers' account of what happened March 3. The four officers involved are on administrative leave: Christopher Burbank, 34; Matthew Collins, 37; Masyih Ford, 28; and Timothy Rankine, 31.
A medical examiner's report, obtained by KNKX Public Radio, says the officers reported that Ellis attacked their vehicle at about 11:21 p.m. At 11:23, after officers used a Taser and handcuffed him, Ellis said he couldn't breathe. After restraining his legs and placing a so-called "spit hood" over his mouth, officers requested medical aid at 11:25 p.m.
Ellis died shortly after midnight. The medical examiner's report also says drugs, including an "extremely high" methamphetamine concentration, and a dilated heart contributed to his death.
The governor ended Wednesday's statement by directly addressing Ellis' family, who say they have been waiting months for answers.
"I want to offer my apologies to Mr. Ellis' family who now will have to wait longer for the fair and thorough investigation this case demands and which they deserve," Inslee said.
They've waited 3 months, they're okay with waiting a little longer for a fair investigation. #JusticeForManuelEllis https://t.co/A908cRZvop

— Tacoma Action Collective (@tacoma_action) June 10, 2020
The activist group Tacoma Action Collective responded to the governor on Twitter, saying the family was willing to wait a little longer.
"They've waited 3 months," the group tweeted, "they're okay with waiting a little longer for a fair investigation."
Pierce County investigators were originally scheduled to share the findings from their monthslong investigation with prosecutors Wednesday. That was before Robnett's office learned late the night before that the sheriff's deputy was on the scene March 3.
For city, county and state officials, that meant the Pierce County Sheriff's Department no longer could be seen as an independent party capable of impartially investigating this case.
In a statement Wednesday afternoon, the attorney general said the sheriff's office didn't comply with the requirements of Initiative 940, which voters approved in 2018. The law requires that independent agencies investigate deadly use of force by law enforcement.
"To be blunt, the result is a totally unnecessary delay in the investigation of this case," Ferguson said. "Ultimately, Pierce County must answer for its failure to comply with I-940, issue an apology to the Ellis family, and immediately implement reforms to ensure investigations comply with the law."
Ferguson added that he's working with Inslee to guarantee a truly independent investigation of Ellis' death. "The Ellis family and the public deserve a process they can trust, and that is my priority right now."
In his email to KNKX, Troyer did not respond to questions about Ferguson's remarks.
Tacoma Mayor Victoria Woodards, who has called for the officers invovled in Ellis' death to be fired and prosecuted, said she was in full agreement with state and county officials calling for an outside agency to take the lead in the case. She stressed that a full and independent investigation is the city's "paramount goal."
"I am deeply troubled that the Ellis family will now endure additional delays while we all await a thorough accounting of the facts," Woodards said in a statement. "We continue to demand an impartial, just and timely process. And we will continue to strongly advocate for this outcome with the Governor's Office."
Copyright 2020 KNKX. To see more, visit knkx.org