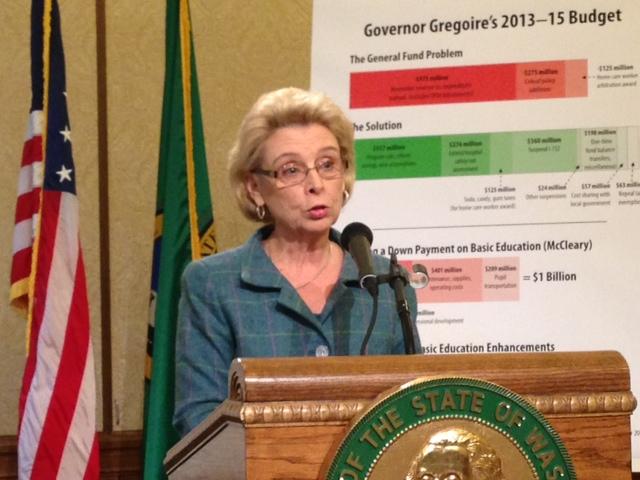 It's An Election Year. But That's Not Scaring Washington Democrats From Talking Taxes
As the state of Washington grapples with the economic fallout from the COVID-19 pandemic, lawmakers are bracing for a bleak revenue forecast on June 17 that could portend a $10 billion drop in state tax collections over the next three years.
Already, a preliminary forecast in May predicted state revenues would crater by $7 billion over that same time period. The official forecast is likely to be worse. The state's current two-year budget is approximately $53 billion.
"We know that we are faced with a big problem over the next few years," said David Schumacher, the governor's budget director, in a recent call with reporters.
But unlike during the Great Recession, when the budget was largely balanced through spending cuts, this time around majority Democrats and their allies, like labor unions, are already signaling that tax increases are almost certain to be part of any solution. 
"The idea of solving this budget problem with an all-cuts budget is not something this governor is interested in and I can't imagine he would sign such a budget," Schumacher said.
That's a frank statement coming in the midst of an election year when Inslee is seeking a rare third term and all House members and about half of state senators are up for reelection. But if taxes are generally a verboten subject during campaign season, 2020 may prove the exception.
Insulated By Recent Polls
Washington Democrats, who hope to strengthen their majorities in the House and Senate this year, may feel somewhat insulated by recent polls that show broad anti-Trump sentiment in the state along with strong support for taxing wealthier Washingtonians. 
"I think voters have responded favorably and want to have an honest conversation about what things cost and how to pay for them and how to make things more fair," said Democratic political consultant Christian Sinderman. 
Compared to a decade ago, it's also easier for Democrats and their allies to make taxes part of the equation because it no longer requires a two-thirds vote to pass revenue-related bills. In 2013, the Washington Supreme Court ruled that voter-approved threshold was unconstitutional.
"That is the fundamental difference between the current recession and every other recession since the 1990s," said Jason Mercier with the right-of-center Washington Policy Center.
Even then, the supermajority rule wasn't an insurmountable barrier to higher taxes. In 2010, majority Democrats temporarily suspended the two-thirds requirement and passed a $760 million tax package that included taxes on bottled water, candy and soda. But that November, Washington voters rejected those taxes when they overwhelmingly approved a repeal measure funded by the soda industry. Other parts of the tax package were left intact. 
Fallout From Cuts
Overall, between 2009 and 2011, lawmakers reduced state spending by about $10 billion, according to an analysis by the left-of-center Washington State Budget and Policy Center. 
While the economy and revenues eventually recovered, there was long-term fallout from those cuts.
In 2012, the Washington Supreme Court ruled the state was under-funding schools in violation of the constitution. The state also subsequently lost lawsuits over access to mental healt