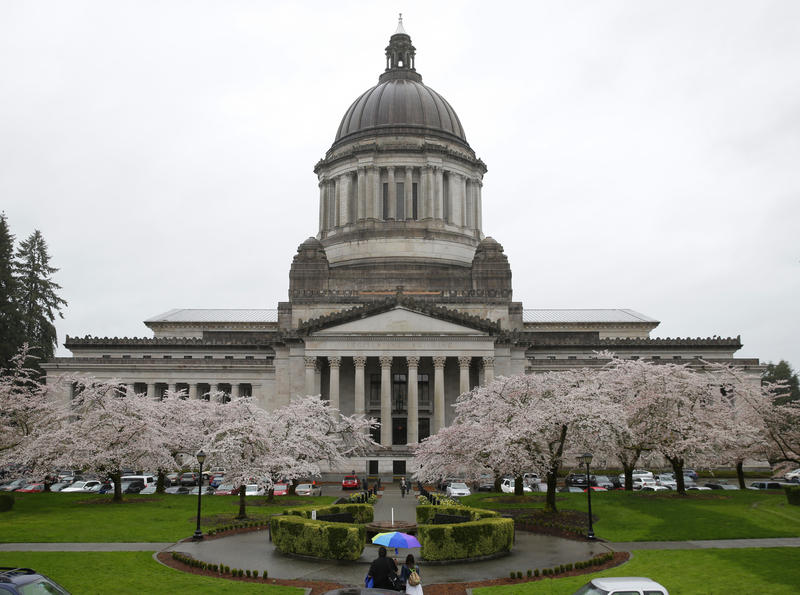 Washington Lawmakers Pass $52.8 Billion Budget, Raise Taxes, Approve Affirmative Action, Adjourn
Washington lawmakers adjourned at midnight Sunday after majority Democrats approved an initiative to restore affirmative action and passed a $52.4 billion, two-year state operating budget. The budget relies on an array of tax increases, including on businesses and real estate transactions, but doesn't impose a new capital gains tax as had been proposed. 
Passage of the budget capped a weekend of marathon floor sessions and last-minute votes as the clock ran out on the 105-day regular session. It was the first on-time adjournment of an odd-year, budget-writing session in a decade. 
Minority Republicans and open government advocates decried what they said was a lack of openness and transparency — "vampire" votes in the words of one — as Democrats fast-tracked tax bills and held overnight votes. But Democratic leaders said the pace was necessary to finish on time. In addition to taking tax votes in the early morning hours, when most people were sleeping, the House galleries were closed to the public on Friday and Saturday due to unspecified safety concerns. 
The budget vote marked the culmination of an action-packed, nearly four-month legislative session during which Democrats reasserted strong majority control of Olympia for the first time in six years. In doing so, they delivered Gov. Jay Inslee, who's running for president, a number of long-awaited wins on his signature issue of combatting climate change, including a new mandate that all electricity sold in Washington be carbon free by 2045. That was just one example in a long list of priority Democratic bills that passed this year. 
In a post-adjournment news conference, Inslee praised the session as "epic."
"There is a time to be humble and this is not one of them," a jubilant Inslee said.
This is the first year since he took office in 2013 that Inslee has enjoyed robust Democratic majorities in both the House and Senate.
The new state budget, which for the first time eclipses the $50 billion mark, dedicates more money to early learning, public schools, higher education and mental health. It also leaves nearly $2.8 billion in reserves. 
Among the spending items:
$3.9 billion to maintain current levels of K-12 funding, including salaries and cost-of-living raises.
$451 million to pay for state employee salary increases and health care benefits that were negotiated as part of union contracts. 
$280 million for behavioral health, including increased staffing at the state's psychiatric hospitals and funding to comply with a lawsuit settlement involving inmates with mental illness who languish in jails.
$83 million to increase rates paid to state-supported childcare providers. 
$45.5 million to help prevent and fight wildland fires. 
$41 million to increase housing assistance and services to people who are homeless. 
$35 million to raise reimbursement rates for providers of high-level services for the most at-risk foster children, many of whom are now residing in out-of-state facilities.
$10.3 million to address Washington's backlog of more than 10,000 untested rape kits. 
$2 million for added security costs related to Gov. Jay Inslee's campaign for president. 
Tax Increases
To pay for the budget, Democrats passed a number of tax measures.
They include a graduated real estate excise tax to replace the state's current flat tax of 1.28% on all sales. Under the new structure, a 1.1% tax would apply to property sales up to $500,000, while a 3% tax would apply to sales over $3 million. Democrats said the new tiered tax rate would result in reduced taxes for roughly 80-percent of real estate transactions while raising an estimated $598 million over the next four years. 
Majority Democrats also boosted the business and occupation (B&O) tax rate for large banks and travel agents, imposed a new tax on vaping products and eliminated the automatic sales tax exemption for shoppers from states like Oregon that don't have a sales tax.  
Separate from the budget, Democrats approved a B&O tax rate increase on select professional services and "advanced computing" businesses, like Microsoft, to pay for a series of higher education investments, including free tuition for families making up to $50,000 a year and more enrollment slots for high-demand fields like computer science, engineering and nursing. 
All told, the Democrats' tax package aims to raise more than $830 million over the next two years and $2 billion over four years. That doesn't factor in a new payroll tax to fund a first-in-the-nation long-term care benefit that was passed separately. It also doesn't include an overhauled hazardous substance tax designed to raise $359 million over the next four years. 
Notably absent from the package was a tax on capital gains which had been proposed by Inslee in December and also by House Democrats when they rolled out their budget proposal earlier this month.
Senate Democrats had their own capital gains tax proposal, designed to offset taxes in other areas, but it was never part of their budget plan and ultimately didn't pass.