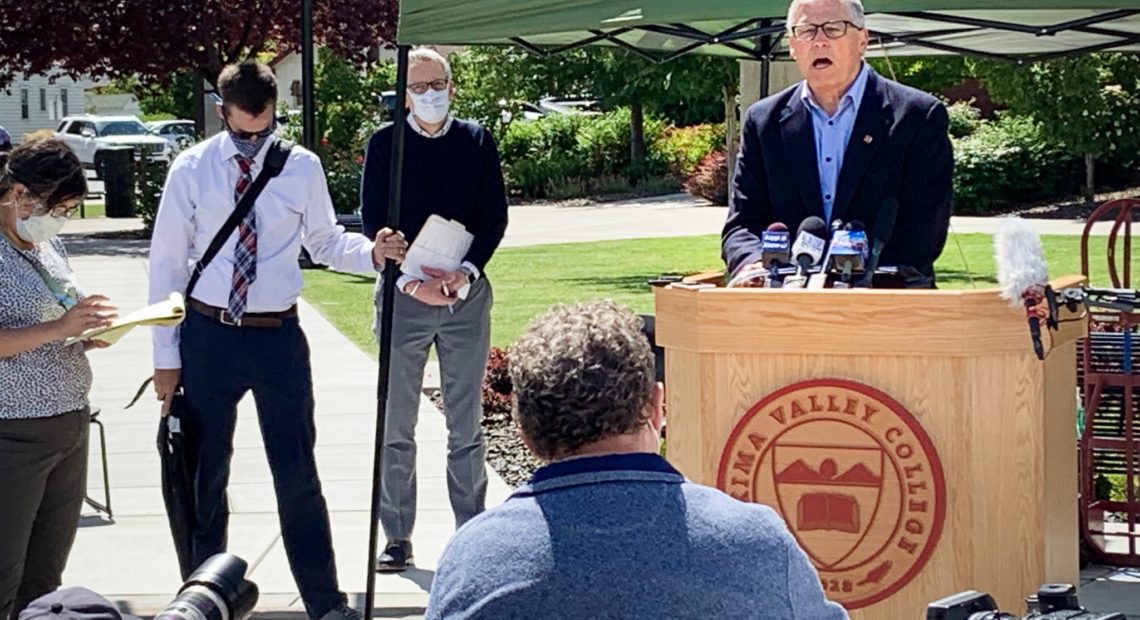 Jay Inslee Visits Yakima As County Continues To Grow As State's Coronavirus Hotspot
Gov. Jay Inslee visited Yakima today in his first visit to eastern Washington since the start of the pandemic.
Yakima County has the most COVID-19 cases per capita on the West Coast. And the number of cases is rising rapidly, quickly approaching six thousand total. At least 111 people have died.
Despite that, Inslee shared his optimism for Yakima and reopening its businesses. But that depends on a community effort to social distance.
"We ought to be able to do smart things to give us a really good shot of bending this curve down potentially while we are opening some of these businesses," Inslee said. "But we've got to have that buy-in, we've got to have that intense commitment, of people getting together to do this. And if we have that, then I think we ought to have confidence that we can get back to business."
A survey by the Yakima Health District found that just 35 percent of residents wear masks in public. That spurred the health district to issue a masking directive, hoping to get 80% of residents to use face coverings.
The state has given the county a supply of masks to distribute to businesses and their employees.  
Benton-Franklin Counties
Yakima is among several eastern Washington counties of concern to local and state health authorities due to their rates of coronavirus infection – including Benton and Franklin.
On Tuesday, the Benton-Franklin Health District confirmed 114 new COVID-19 cases in the Tri-Cities region, including 63 in Franklin County and 51 in Benton. Both counties have applied for Phase 2 of the state's 4-phase reopening plan.
But this week the Washington State Department of Health said both are on pause, saying the rate of infection is too high for them to be eligible for Phase 2, which allows limited in-house restaurant and bar service and businesses like beauty salons to reopen.
Information from the Associated Press was used in this story.