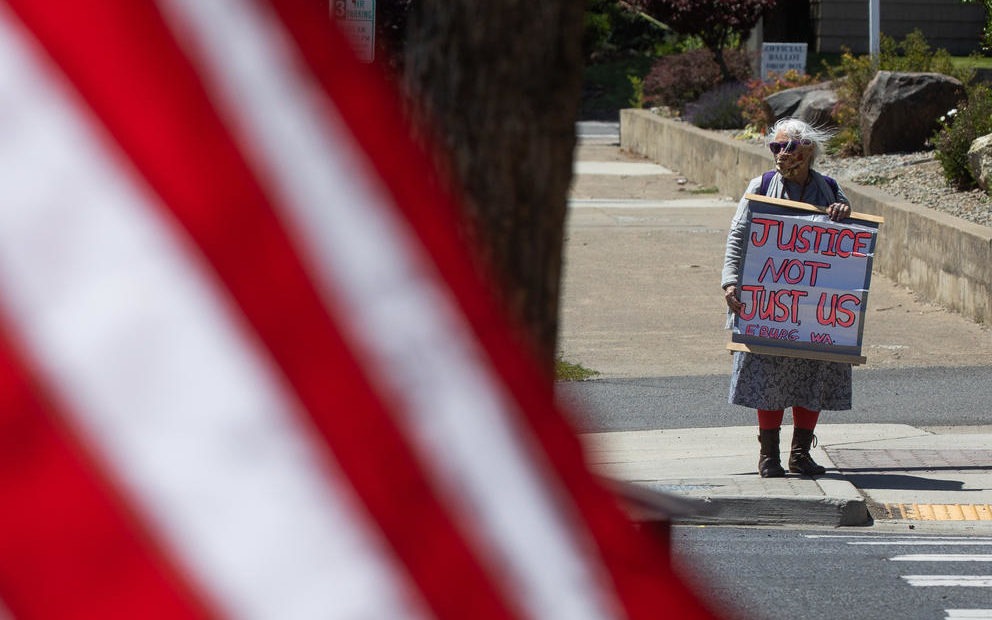 Across Washington, People Show Up Big In Smaller Cities And Towns To Support Black Lives Matter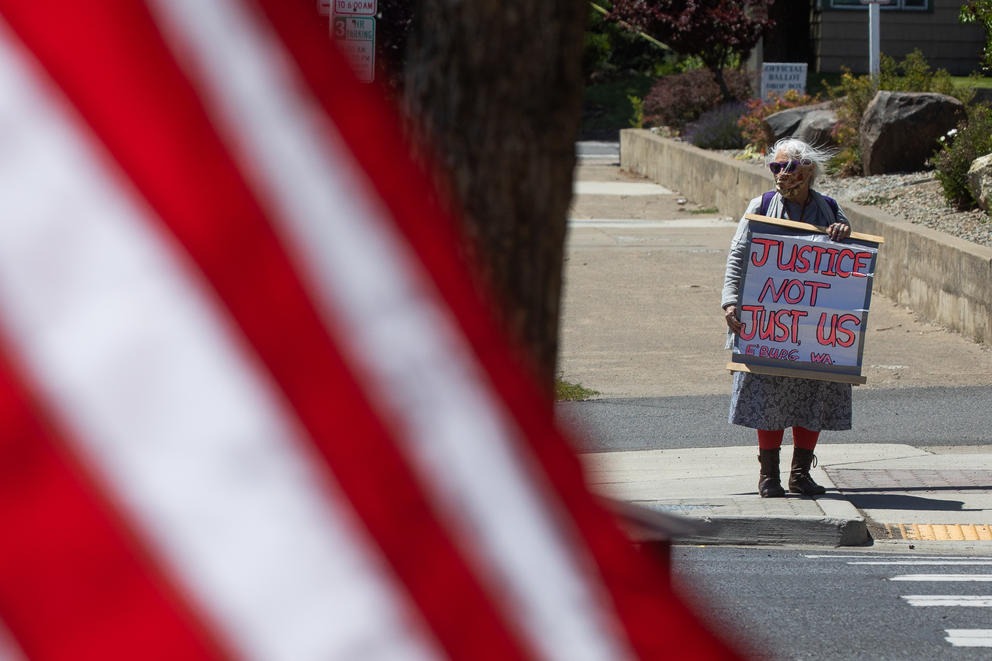 BY EMILY MCCARTY / CROSSCUT
Fran Cuhtahlatah has stood on the corner of 5th and Main in Ellensburg every Wednesday from 5 to 6 p.m. for the past three years. The 70-year-old retiree, who has lived in Ellensburg since 1973, initially picketed in protest of President Donald Trump's policies of separating families coming across the U.S.-Mexico border. 
Since George Floyd's death on May 25, Cuhtahlata has changed her schedule to every day, joining Ellensburg's anti-racism protests in support of Black Lives Matter. The killing of Black men at the hands of police has shaken her as a protester, and also a grandmother.
"And then when this happened [George Floyd's death] and happened again. It happened again and continues to happen, it seems, like two or three times a week," Cuhtahlatah said. "All I could see was my grandsons on the ground dying. And it was killing me."
Cuhtahlatah, who is white, has two biracial grandsons who are Black and who have both experienced racial profiling, discrimination and police violence. 
One grandson had the police called on him six times during one walk around an Ellensburg neighborhood when he was 15. Cuhtahlatah saw her other grandson, during a mental health episode, slammed into the ground by police. That's one of the reasons she's calling on the Ellensburg Police Department to have dedicated mental health professionals called to scenes along with officers.
When she heard that Black Lives Matters protests were happening in her town, she was "so happy." 
"I decided maybe I'd go join them and do a little guidance. I've done some community organizing. You know, give them some white privilege, old lady protection, if they needed it," Cuhtahlatah said. 
Protesters stand with that well-worn corner of 5th and Main, a mix of seasonal college students, residents and a small contingent from other nearby cities.
Small, mostly white rural towns across Washington are standing up in solidarity with the Black Lives Matter protests. Although dwarfed by comparison with the thousands protesting in places like Seattle and Portland, the people standing up against racism in smaller numbers do not think their message should be dismissed or watered down because they aren't big enough to make the national news.
And in some cases, compared with their community's population, the turnout for these smaller demonstrations is impressive.
In Leavenworth, 1,300 showed up in a town of just over 2,000. About 100 showed up in Port Townsend, where the organizer called for an unarmed police force. Up to 500 demonstrated in Omak. Several hundred came in Wenatchee, and hundreds showed up over three days in Sequim. In Chehalis, about 300 people took a knee for 8 minutes, 46 seconds, the length of time that a Minneapolis police officer kneeled on George Floyd's neck. During that time, someone passing by shouted "white power." Hundreds demonstrated in Camas and in Ridgefield, as well as in Stanwood, Lake Stevens and Monroe, where the police chief said it was important for him to recognize that people in power have an obligation and a duty to listen. Thirty showed their support in Moses Lake. Several hundred demonstrated in Walla Walla, where the police department issued a statement that it would continue to improve police policies, training, culture and transparency. 
Back in Ellensburg, Cuhtahlatah has been one of hundreds who has shown up over a period of the past few weeks, including over 500 protesters on June 1 in a demonstration organized by two high school students.
Cuhtahlatah said the demonstators see a lot of "coal rolls" – when someone releases a large amount of diesel exhaust from their vehicle – while they stand on the corner, demonstrators are yelled at, and subjected to obscene hand gestures.
"But that's just a little intimidation. … It's the other kind of intimidation that's why we're standing [here]," she said.
She's talking about more deep-seated racism and discrimination she's seen personally in Ellensburg. In the 1970s, she saw a Ku Klux Klan member walk around in Klansmen robes in the Central Washington University community; she told them to get lost. Just last week, anti-Semitic and racist graffiti was spray-painted in an Ellensburg neighborhood, including swastikas and the N-word.
But community support for the daily protests has been more common than negative interactions, Cuhtahlatah said. Peace signs and upheld fists in solidarity are flashed from vehicle windows. People show up every day at 5th and Main with signs. One man comes armed with a handgun in a holster, in support of the movement, because people have threatened the protesters with guns, he said.
They intend to bring out a voter registration table and also plan to begin talks with local police about changing tactics and making other improvements in department policies. Adding mental health professionals to their team is at the top of Cuhtahlatah's list.
In Leavenworth, the Bavarian-styled town off Highway 2, where over half of the town's population showed up to protest, local organizers were shocked.
The event started small: 27-year-old Kenzie Converse, a Leavenworth native, audio production engineering student and pre-coronavirus bartender, was approached by a Black friend of hers, Chelsea Murphy, who wanted help in putting on a demonstration. So Converse, who is white, got the wheels rolling with  three other female friends.
They originally had 300 RSVPs on social media, but when the day approached, more than a thousand people showed up to march and hold signs along a 2.5 mile route. They specifically chose a residential route so that people could practice social distancing and show support from their lawns, where an additional 150 cheered and held signs, Converse said. 
The event started with a land acknowledgment from the Wenatchi Tribe, followed by a prayer and 8 minutes and 46 seconds of silence.
Converse saw a lot of children and families and appreciated hearing parents talking about racism and making signs with their children. 
"Leavenworth has always had the privilege and opportunity to kind of look the other direction when there's all these problems in the world outside of us," Converse said. "But it was cool to see the amount of support and numbers of people who were willing to get involved … and find out what we can do better and do next."
Since that large protest, they organized another one alongside Highway 2 in which about 200 people showed up again. They also planned a virtual event for Juneteenth, the yearly commemoration on June 19 of the belated announcement that slavery had ended.
"I think people are really starting to spend more time educating themselves on what's happening," Converse said. "I think a lot of people are starting to wake up and want to get involved and believe in these movements. I think people want to know what the right thing to do is. … They just need some kind of direction because a lot of these issues that are coming to the surface are extremely complex."
A small contingent of counterprotesters with "Blue Lives Matter" sweatshirts showed up in Leavenworth, but it was very peaceful, she said.
An hour south, in Roslyn, a town of 959 that sits off Interstate 90 on the east side of the Cascades, about 100 people showed up in front of City Hall and lined the street in support of the Black Lives Matter movement. The June 5 demonstration was attended by a man who had also gone to a June 1 protest in Ellensburg, where 500 people marched through the streets of the town and at Central Washington University.
"My partner and I were expecting maybe 10 people there. That, for us, felt like a successful turnout," said Spencer Olson, 32, who has lived near Roslyn part-time since 2016 and now has abandoned Seattle and is a year-round resident. "[But] he counted over 100 people there. It was just really powerful to see the community turn out and be so supportive."
Olson is a part of Roslyn's local Indivisible chapter, a national grassroots anti-Trump and pro-democracy group, and asked his fellow members if they wanted to plan an anti-racism event for Roslyn.
Olson has been politically active since he was a student, when he first protested in Washington, D.C., at an anti-Iraq War protest, and has since worked in climate justice, HIV/AIDS prevention and electoral campaigns. Olson, who is white, recognizes that Roslyn is a very homogenous town, being 96% white.
"I'm very sensitive [as] to how do we show up in solidarity as a community that is so white," he said. "How to do this in a way that's accountable to the demands and the message of the Black Lives Matter movement. So I think there's definitely more work for us to do in that space."
But it's important to him that small towns like Roslyn stand up in some way.
"Small towns are not immune to racism and institutional racism exists in our backyard," Olson said. "When one of us is hurt, we all hurt, and it's important for our communities to stand together, to show up for each other."
Emily McCarty is the Central Washington reporter for Crosscut. She covers everything from Twisp to the Tri-Cities. Reach her on Twitter @emjmccarty or email her at [email protected].
Copyright 2020 Crosscut / Cascade Public Media. To see more, visit crosscut.com