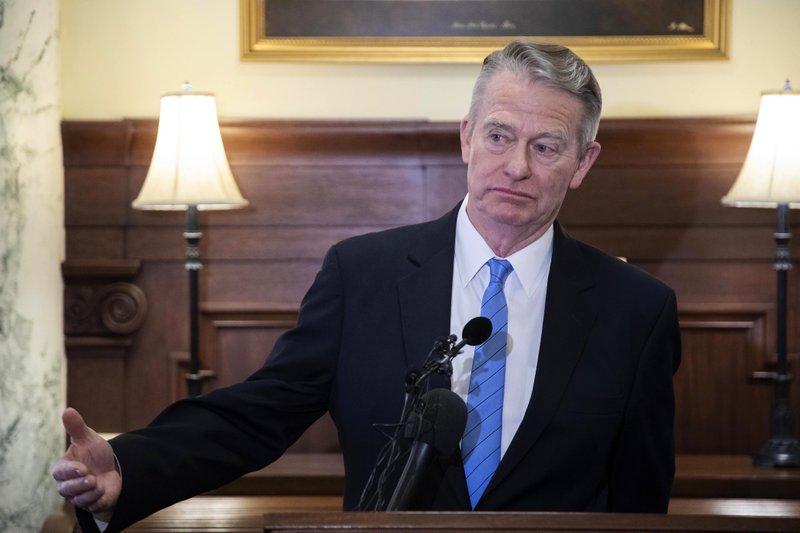 Critics Of Idaho Governor Organize 'Special Session' Of Legislature. It's Unclear Whether That's Legal
A coalition of organizations — including the John Birch Society and Health Freedom Idaho, an anti-vaccination group — are organizing what they are calling a "special session" of the Legislature Tuesday.
It's unclear how many legislators will show and whether legislators can even convene a special session in the first place.
But the events, which include a Statehouse rally Tuesday morning, underscore the tensions between Gov. Brad Little and some fellow Republicans in the Legislature, stemming from Little's response to the coronavirus pandemic.
Little's critics say the governor has acted capriciously, by ordering churches and some businesses to close during a statewide stay-at-home order. They say he is sidestepping the Legislature by appropriating $1.25 billion in federal coronavirus stimulus dollars and using a coronavirus disaster emergency to grab additional power at the expense of the Legislature.
"The governor is unconstitutionally appropriating tax dollars and suspending and re-writing Idaho laws with no accountability," Rep. Heather Scott, R-Blanchard, said in a Sunday email to constituents. "To be clear, these actions are not only unconstitutional, they are reckless and un-American."
Let's look at some legal and practical questions.
Will Tuesday's "special session" really be a session at all?
The state Constitution calls for annual legislative sessions each January, and special sessions "at other times when convened by the governor." And in a recent opinion — posted on Health Freedom Idaho's own website — Attorney General Lawrence Wasden's office says the Legislature has no authority to call itself into session.
Still, supporters of Tuesday's session cite a section of the Constitution that gives the Legislature the power to act "in periods of emergency resulting from disasters caused by enemy attack or in periods of emergency resulting from the imminent threat of such disasters." They also cite state law allowing the Legislature to convene 90 days following the inception of an attack.
Little declared a statewide coronavirus emergency on March 13, and proclaimed an extreme emergency on March 25.
Can legislators actually do any work Tuesday?
Look for legislators to try to rescind Little's March 13 emergency declaration. State law allows legislators to "terminate a state of disaster emergency at any time."
But in order to do that, of course, the Legislature has to actually be in session. Which ties back to the question of whether Tuesday's session will actually be a session.
So how many legislators will actually show up?
Sarah Clendenon of Health Freedom Idaho says she isn't even sure.
"I am also hearing that many (legislators) feel they cannot publicly announce they will attend because of backlash from House and Senate leadership," she said in an email Monday. "There is very strong language being used, especially from Senate leadership, to dissuade members from attending and conducting the people's business."
Clendenon maintains that the legislators will be able to conduct business, no matter how few or how many of them show. The state code's language pertaining to an "enemy attack" also allows legislators to waive requirements for a quorum.
What else is on Tuesday's schedule?
Organizers have planned an 8 a.m. rally on the Statehouse steps. If the event goes on as planned, it would run in conflict with directives from local health officials. On Monday afternoon, Central District Health tightened restrictions in Ada County, in an attempt to curb a sharp increase in coronavirus cases in the county. One restriction covers public gatherings of more than 50 people.
According to Health Freedom Idaho's Facebook page, more than 100 people plan to attend the rally — well in excess of Central District Health guidelines.
Legislators have scheduled a news conference for June 23 at noon.
Originally posted on IdahoEdNews.org on June 22, 2020
NOTE: Idaho Education News is an underwriter of NWPB programming, though NWPB is editorially independent. See all NWPB business supporters here. This article is re-published with permission.