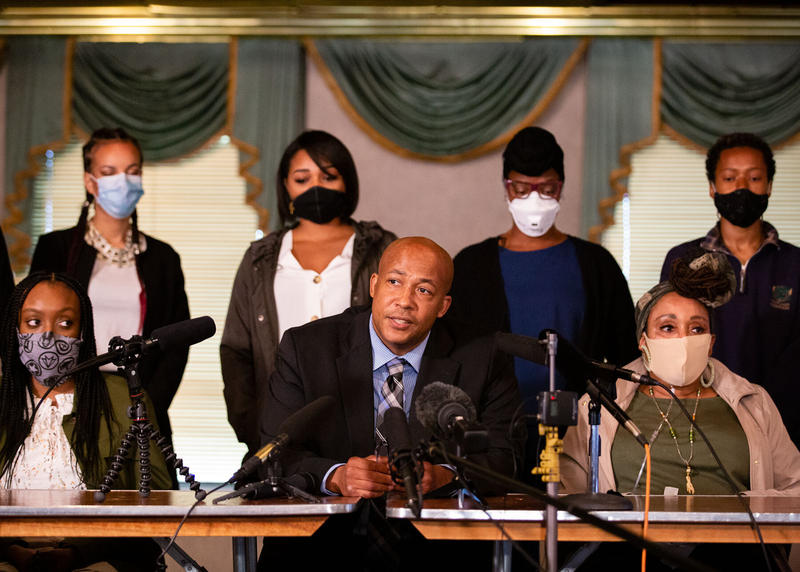 Tacoma Case Of Manuel Ellis Prompts State Attorney General To Review Dozens Of Police Force Cases
BY WILL JAMES / KNKX
Washington State Attorney General Bob Ferguson's office is reviewing at least 30 cases in which police killed or wounded people in 2020, amid concerns law enforcement agencies are not following new rules governing how they hold each other accountable in cases of deadly force.
Ferguson's office announced the review Tuesday, citing apparent lapses in a Pierce County Sheriff's Department investigation into Tacoma police officers'
killing of Manuel Ellis
 in March.
The case has raised questions about whether law enforcement agencies are following rules stemming from a two-year-old statewide police accountability measure, Initiative 940. 
"Pierce County's admitted failure to comply with the requirements of I-940 is deeply troubling," Ferguson said in a news release. "I hope our inquiry will find that law enforcement agencies across the state, unlike Pierce County, are following the law that requires independent, transparent investigations into the use of deadly force."
In the cases under review, 21 people were killed by police while seven survived the use of deadly force, according to data provided by the attorney general's office. In three cases, it wasn't clear whether or not the victim survived. (One case involved two people who were shot in the same incident). 
The cases spanned 24 law enforcement agencies in every corner of the state. In most of the cases, police shot the victim. But in three cases, including Ellis', people died while restrained. And in one case, someone died as a result of tear gas deployed by a King County SWAT team.
Demographic data, including races and ethnicities of victims, weren't complete. 
Ferguson said his staff found the cases by combing media reports, and more cases may come to light.
"It is extremely important that, in cases like this, we have full transparency for the public," Ferguson said in an interview with KNKX. 
I-940, passed by voters statewide in 2018, aimed in part to restore faith that law enforcement agencies can police each other in the use of deadly force. 
The initiative resulted in new rules requiring law enforcement agencies to involve the public in investigations into use of deadly force by police, and take steps to ensure investigators are truly independent.
The rules went into effect Jan. 6. They require a law enforcement agency investigating use of deadly force by police to appoint "at least two non-law enforcement community representatives who have credibility with and ties to communities impacted by police use of deadly force," who play a role in vetting investigators for conflicts of interest. 
Another requirement is that a law enforcement agency appoint a "family liaison" to provide updates to relatives of the person who was killed or wounded.
Ferguson and Gov. Jay Inslee say the Pierce County Sheriff's Department failed to meet those requirements in the Ellis case. The governor handed the investigation to the Washington State Patrol on June 17.
Ed Troyer, a sheriff's department spokesman, declined to comment on the criticism last week. 
The Ellis case has spurred people who were involved in the passage and implementation of I-940 to reflect on the initiative and talk about reforming it.
Sue Rahr, executive director of the Washington State Criminal Justice Training Commission, said all law enforcement agencies "are not yet following all the requirements" stemming from I-940.
Rahr, a former King County sheriff whose commission wrote the rules that resulted from I-940, said the lag in compliance was "understandable" because the requirements were rolled out "very quickly." 
She also said no one is responsible for overseeing or enforcing the requirements, nor is anyone tasked with collecting data on use of deadly force by police. 
"More work remains," Rahr said by email. "As each jurisdiction develops procedures that work in their community, adjustments and improvements will be made. The frustration we're hearing now from some community stakeholders, which is predictable, is the result of having a law that does not have a mechanism for accountability, and no centralized collection and analysis of data.  We don't have a strategy to show results without reliable data and a means to interpret it."
Ferguson said his office is preparing recommendations on how to collect data on use of deadly force by police from the state's more than 200 law enforcement agencies. He said the report will be released sometime later this month. 
Leslie Cushman, an Olympia attorney who was a citizen sponsor of I-940, said the state should reconsider an initial request by police-accountability advocates: to have local law enforcement agencies stop investigating each other in deadly force cases altogether. 
"It's pretty clear to us that it's humanly impossible to investigate your colleagues," she said. "And that's why we're asking for a statewide body that would be in charge of independent investigations."
Cushman said she's part of a coalition, which includes families of people killed by police, that's lobbying lawmakers to create a state body dedicated to investigating use of deadly force. 
"So it's centralized, it's uniform, and it would be credible," she said. "It wouldn't have conflict of interest. It would be able to do this important criminal investigation and create a product that can be used by a prosecutor."
This week, Inslee named 24 members of a task force that will recommend legislative reforms to investigations into police use of force.
The governor said the task force, which includes relatives of people killed by police, will review the rules stemming from I-940.
"We must listen to the voices of impacted communities and families to hear their experiences with policing," Inslee said in a news release, adding the task force will begin meeting in July.
Copyright 2020 KNKX. To see more, visit knkx.org