Where To Get Masks And Testing In Yakima County As Coronavirus Cases Near 8K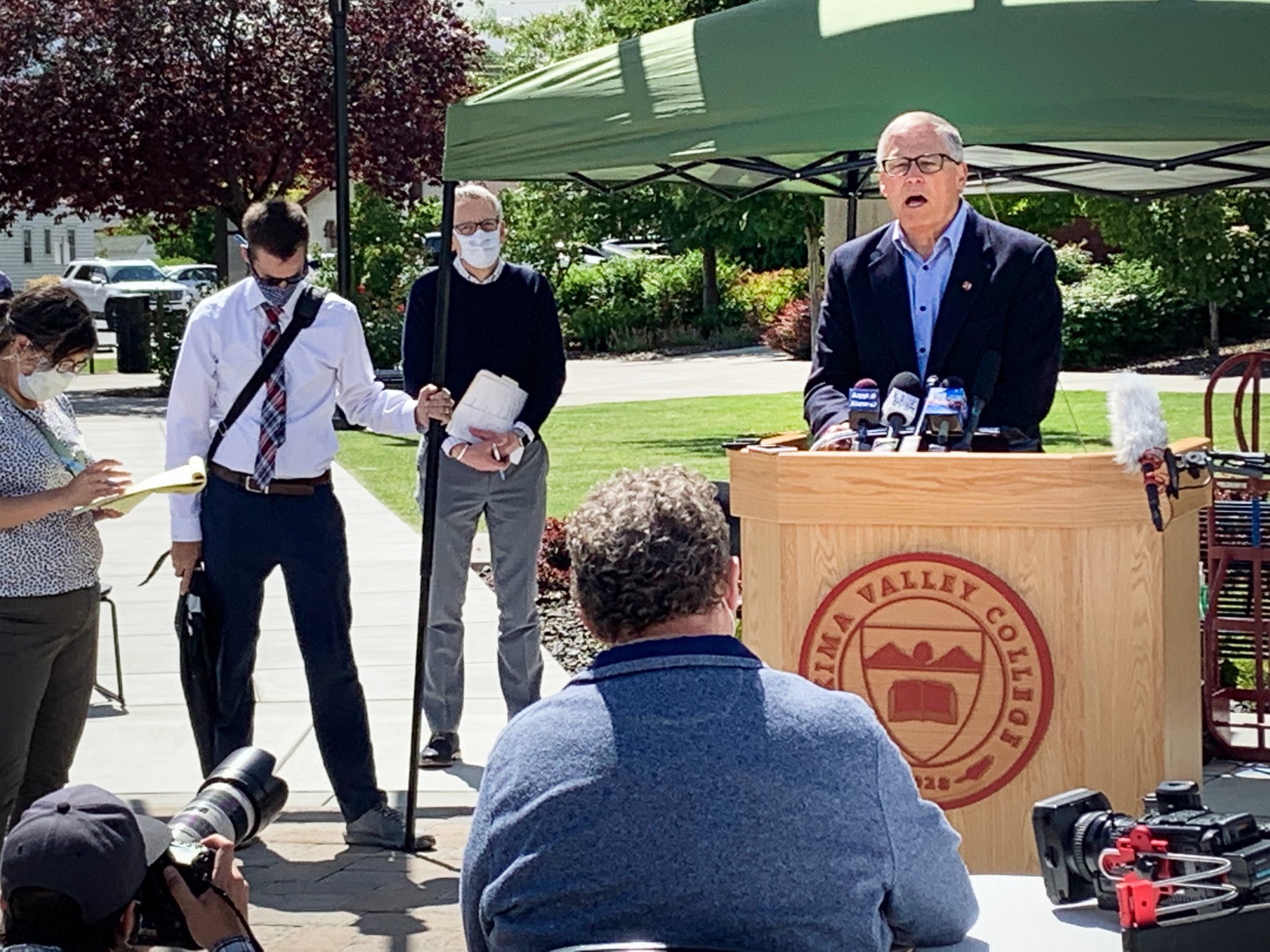 Yakima County is on track this week to surpass 8,000 cases of COVID-19 since the pandemic began.
As of Monday, 7,935 people have been infected by coronavirus, and 150 residents have died. Forty-three people are currently hospitalized, according to the Yakima Health District.
To fight the spread, county officials are handing out masks and increasing testing. 
Local health officials estimate about 65% of residents are currently wearing masks. Ideally, that should be about 80%. 
The county's emergency management office has handed out more than 3 million pieces of protective equipment since March. That includes 770,000 masks to businesses, municipalities, and food banks and an additional 220,000 masks distributed to low-income residents. 
"There's plenty of (masks) out there for people," county emergency management operations manager Horace Ward said. "There's no excuse to not have one and not be wearing one."
Ward says this week the OEM is getting ready to hand out masks again at the Valley Mall and the Yakama Nation Cultural Center. 
Yakima County residents can pick up masks Thursday, July 9, and Friday, July 10 in Union Gap and Toppenish from 10 a.m. to 2 p.m.:
Thursday, July 9 (Union Gap)
Valley Mall Parking, 2529 Main St, Union Gap, WA 98903, in the Sears parking
lot on the corner of E. Valley Mall Blvd and 1st Street.
Friday, July 10 (Toppenish)
Yakama Nation Cultural Center, 100 Spil-Yi Loop, Toppenish, WA 98948
Traffic patterns at the distribution sites can be found at this link.
"We're just trying to get them out there into people's hands," Ward said. "They don't do us any good sitting here. Might as well get them to the people to help us reduce the spread here in Yakima County and get into a better position to open further."
The county will also get more COVID testing sites. The National Guard is administering testing five days a week through the end of July. 
Health officials recommend residents seek testing if they have symptoms or have been in contact with someone who tested positive for COVID-19.
Testing this week began Tuesday and will continue through Saturday from 8 a.m. to 2 p.m.
Wednesday and Thursday, July 8 – 9
Mabton High School, 500 B St. Mabton, WA 98903

Roosevelt Elementary, 120 N. 16th Ave. Yakima, WA 98902
Friday and Saturday, July 10 – 11
Eisenhower High School, 611 S 44th Ave, Yakima, WA 98908

Toppenish Middle School, 104 Goldendale Ave, Toppenish, WA 98948
Testing will continue through the end of July throughout Yakima County at the Yakama Nation Cultural Center, the State Fair Park, Harrison Middle School in Sunnyside and Cottonwood Elementary School in Yakima. For dates, visit Yakima County's testing site information page.