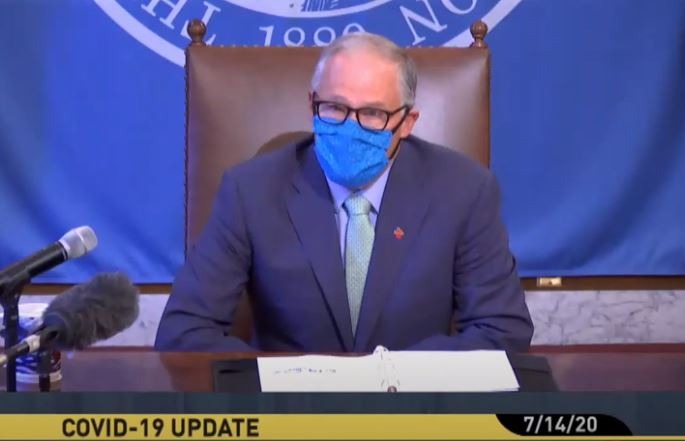 Washington Will Continue Pause On County Reopening, Could See Rollback As COVID-19 Cases Rise
No Washington counties will advance to the next stage of reopening until at least July 28. Additionally, there's the possibility the state will reverse course and have to shut down some activities and businesses again.
That was the word Tuesday from Gov. Jay Inslee in a news conference. (Watch the full press briefing here.)
This week Oregon and California took steps to slow or rollback their re-openings, and Washington could be next, Inslee said. Dramatic growth in COVID cases over the past month has pushed the state over its previous peak in April.
"So this is a very dangerous position we're in," he said.
The governor acknowledged that Washington is not as bad off as states like Arizona or Florida. But he warned at the current rate of spread things could quickly spiral out of control.
"And we are heading to big trouble if we do not figure out a way to knock this pandemic down," he said.
Inslee said a steady rise in COVID-19 cases, especially among young people, puts the state in a dangerous place.
"What I'm describing is that the situation we are in is unsustainable," he said. "We will have to reduce the rise that is occurring now in the case counts and positivity and hospitalization, we have to find somewhere to break that chain of looming disaster."
Many of the new cases are showing up in younger people. Inslee and the state's chief health officer are urging people to mask up and limit their social interactions. Already Inslee has closed bar service and restricted live entertainment. He says further restrictions on reopening could be decided within days.
Currently, seven counties have pending applications to move from Phase 2 to Phase 3. Yakima, Benton, Chelan and Douglas counties remain in a modified Phase 1.5