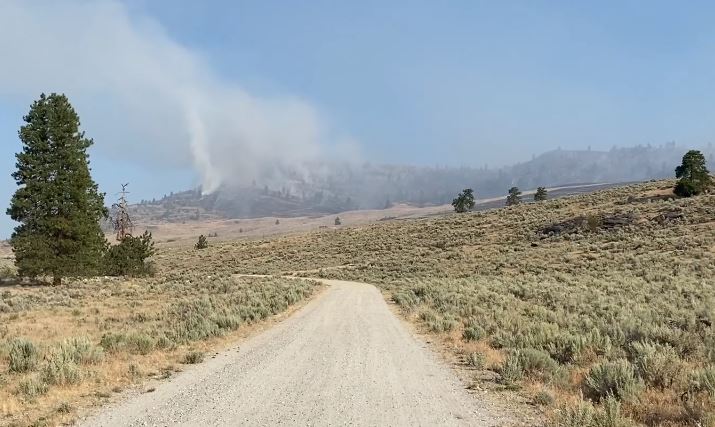 Fire Conditions Heat Up, State Burn Ban In Effect As Anglin Fire Near Tonasket Forces Evacuations
BY COURTNEY FLATT & SCOTT LEADINGHAM
A rapidly growing fire has prompted evacuations in Okanogan County. What's being dubbed the Anglin Fire is burning in timber near Tonasket along state Highway 20.
It's estimated to have burned around 1,800 acres late Tuesday afternoon. (See Anglin Fire updates here.)
Level 3 –Get Out Now – evacuation notices were issued Monday evening to people in the Cayuse and Island Mountain areas east of Tonasket. At least one home and two outbuildings have burned so far. Aircraft were diverted from another fire burning nearby in Okanogan County. (See all area evacuation notices here.)
A Type 3 team from the Northeast Washington Interagency Incident Management team took over fire management Tuesday, including for the nearby Green Mountain Fire.
Maurice Goodall with Okanogan County Emergency Management says both fires were human-caused. He said people need to be especially careful to not ignite fires as conditions continue to be dry and breezy this week, with potential dry thunderstorms.
"The conditions are just right. They're going to burn. It's dry out there, and if we have the winds, it's going to go fast," he said.
The Red Cross is sheltering people who have been evacuated. The Okanogan County Fairgrounds and Tonasket rodeo grounds are taking in pets and livestock.
Fire Potential And Washington State Burn Ban
The Anglin Fire is just one of several large and fast-moving wildfires that have started in recent days.
In response to growing fire potential and high temperatures nearing and surpassing 100 degrees, on Tuesday state public lands commissioner Hilary Franz issued a statewide burn ban. The order took effect July 28 and lasts through September 30, unless fire conditions improve.
The ban on outdoor burning, the use of charcoal briquettes, and prescribed burns covers all 12 million acres of public and private forestland under protection of the state Department of Natural Resources. But recreational camp fires in approved fire pits of designated campgrounds are still allowed. (See more wildfire resources from the Washington state DNR.)
Franz says the announcement comes after a spike in wildfires over the weekend, most of which were human caused.
The National Weather Service advised Tuesday that potential thunderstorms could ignite fires in central Washington.
Laurie Nisbet with the National Weather Service says strong breezes could help spread fires that are already burning. Later this week, fairly dry thunderstorms could combine with near record temperatures to create concerning conditions for new fires. 
"That's going to create the critical fire conditions: windy, dry conditions after a lightning event on Thursday," Nisbet said, noting that so far this year, weather conditions have been lucky. It's been slow to dry out and slow to get fires started. 
Washington Department of Natural Resources meteorologists say vegetation is at its driest point of the season. That means new fires could be challenging because the landscape is primed and ready to burn.
Autumn has knocked on our doors and crossed our thresholds. With its arrival comes wetter, colder, darker days — perhaps some pumpkin-flavored treats as well — and hopefully, fewer wildfires. Heavy recent rainfall has dropped the wildfire potential outlook down to normal for the Northwest, according to the National Significant Wildland Fire Potential Outlook.
So, how did this summer fare compared to past fire seasons? Continue Reading What impacts did wildfires have on the Northwest this summer?