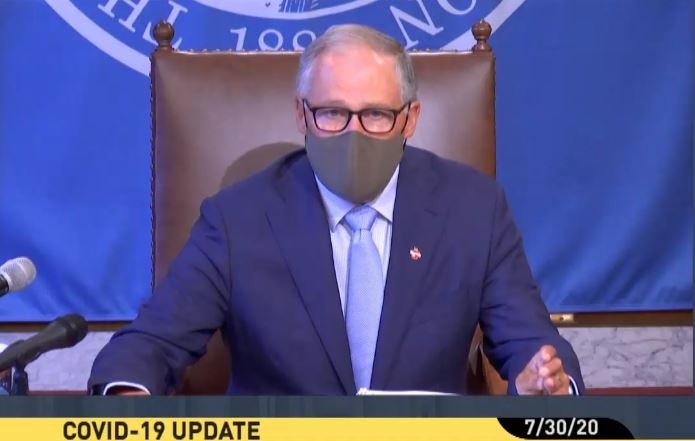 Jay Inslee: Some K-12 Schools Won't Fully Reopen This Fall, With More Guidance Coming Soon
BY AUSTIN JENKINS AND WILL JAMES
Washington Gov. Jay Inslee says the state's school reopening guidelines are some of the most robust in the nation. But he also acknowledged in a news media briefing Thursday that some schools still won't resume in-person classes this fall.
The state guidelines require daily screenings of students and staff for COVID-19. The use of face coverings. And six feet of distancing in classrooms. Inslee called the standards aggressive and ambitious.
"But unfortunately many districts are recognizing that the rate of transmission is not where we would hope it to be to allow full scale onsite instruction," he said.
In recent days, health officers in Snohomish and Thurston counties have recommended against reopening school buildings this fall. And some districts, including the Olympia district, have already announced they will stick with remote learning for now.
For some parents that will come as a relief, for others it will be disappointing news.
"I know there's a lot of concerns about decisions that are now being made," Inslee said.
He also said he'll have more to say about school reopenings in the coming days.
Contract Tracing Records
Also on Thursday, the governor said he will sign a proclamation protecting personal information provided to contact tracers. He says it's meant to reassure residents who are on the fence about cooperating with efforts to track coronavirus transmission.
"We will not release your personally identifiable information. And we hope that you will help us in this regard, because this could be one of the most effective tools to prevent other people from getting this disease," Inslee said.
Contact tracing can identify people who may have been infected with the coronavirus, allowing them to isolate and stop spreading it. But Inslee says the process relies on people willing to answer the phone and field questions from state or county employees. He said Thursday that he planned to signed the proclamation the same day. It will ensure names, birth dates, and other personal information given to contact tracers cannot be released under the Public Records Act.
Austin Jenkins is Olympia correspondent for the public media Northwest News Network. Will James reports for N3 member station KNKX in Seattle/Tacoma.