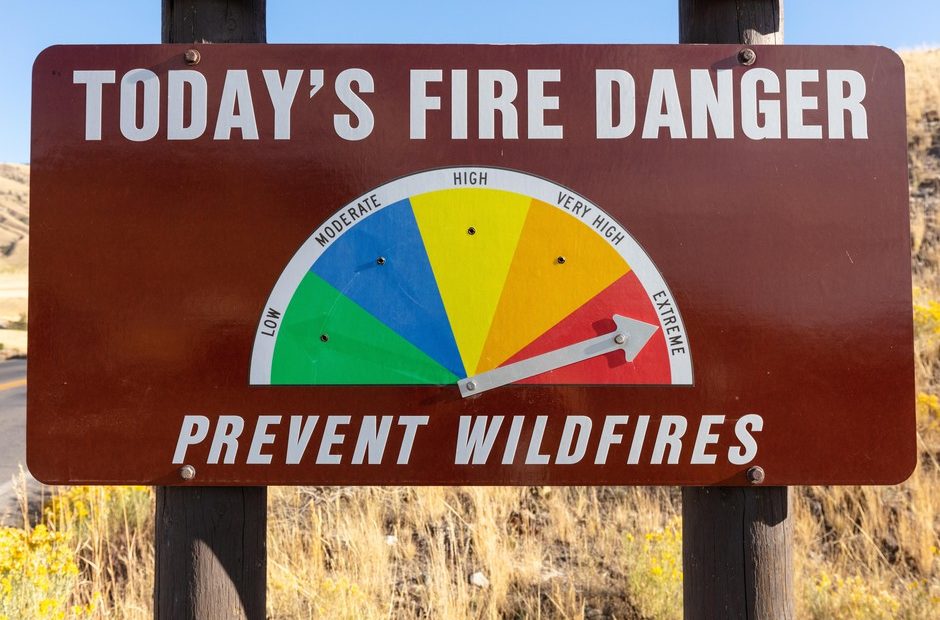 'We Kind Of Dodged A Bullet' So Far This Fire Season. But August Forecast Shows High Danger
This month could see more large fires in parts of the Northwest. New forecasts show an increased potential for large fires through August.
July started off cool, which lowered wildfire risks in Washington and Oregon. But a new outlook shows excessive heat and a lack of precipitation have helped to dry out fuels in southern and central Oregon, central Washington and North Idaho. In those areas that have been dealing with drought, the land is ready to burn.
"That allows for fire behavior to pick up and fires spread and  ignitions to occur more readily more readily," Eric Wise, fire weather meteorologist with the Northwest Interagency Coordination Center, said.
Right now, lower-elevation fuels are ready to burn. Wise said there are still a few weeks left before vegetation at high elevations are "ready to play."
He says one stroke of luck this past month: there were far fewer lightning strikes, 16% of the normal number of strikes.
"While there was all that lack of precipitation, we weren't getting enough lightning to get things started up," Wise said.
That could change over the next couple of days.
The National Weather Service is warning of potential fire weather this week. Isolated storms with gusty winds and lightning may roll through central Oregon and southeastern Washington on Wednesday. Strong winds with gusts of 30 to 40 mph could blow through central Washington on Thursday, with temperatures cooling off into the weekend.
Winds are expected to be strongest in the Columbia Basin and eastern Washington, where there are lots of dry grasses that burn quickly.
Wise said he's more concerned about the winds pushing fires that have already ignited than potential lightning strikes on Thursday. That could lead to "significant fire development," he said.
The system will bring with it cooler temperatures, which help to lower wildfire risks.
So far this year, many wildfires have been started by people – some burning yard debris during the pandemic, others heading out into the great outdoors in droves, as OPB reported.
Wise says that's something to be mindful and careful of this month.
"We kind of dodged a bullet with lower than normal amount of lightning in July, but human (fire) starts are always a threat," he said. "As people are getting out there and doing more recreational activities, there's more opportunities for people to help introduce fire to the landscape."
Typically fire season peaks in August. Right now, predictions are looking up in September. There may be more rain. That would make it harder for large fires to take off.
Autumn has knocked on our doors and crossed our thresholds. With its arrival comes wetter, colder, darker days — perhaps some pumpkin-flavored treats as well — and hopefully, fewer wildfires. Heavy recent rainfall has dropped the wildfire potential outlook down to normal for the Northwest, according to the National Significant Wildland Fire Potential Outlook.
So, how did this summer fare compared to past fire seasons? Continue Reading What impacts did wildfires have on the Northwest this summer?