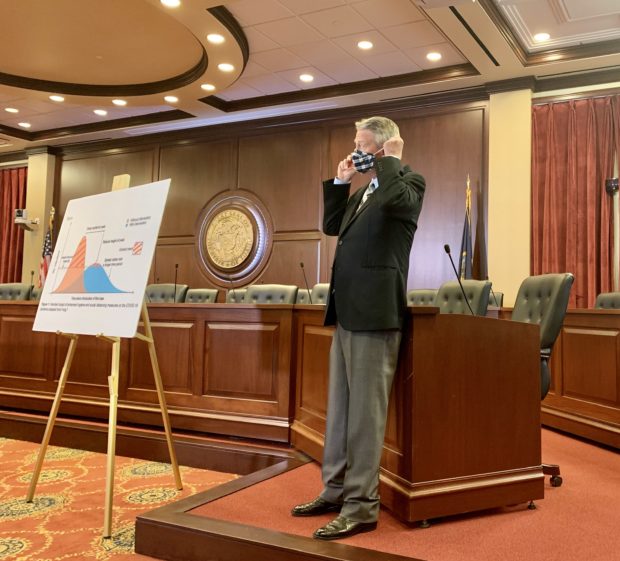 Idaho Governor Says School Districts Will Decide Whether To Do In-Person Classes, Not The State
QUICK LINKS:
–Idaho Schools Reopening Guidance
–Idaho Coronavirus Information Page
Idaho Gov. Brad Little says individual school districts will decide whether to bring students back to the classroom this fall. But he says the expectation is that schools will not be closed for an extended period.
Little told reporters Thursday the state has allocated tens of millions of dollars to pay for a variety of COVID-related school needs, from computers and Internet connections to testing and PPE supplies.
He says he's sure that when students and teachers are summoned back to schools, they'll be safe.
"For me, the critical issue is the balance between what do we do about these kids in the gap that are going to get further behind versus the safety issue. It's not a one-to-one issue and that's why we're doing all this work we can to keep people safe," the governor said. "If you're immune compromised, if you've got health issues, that's a whole different issue. But if the district's doing the right thing, if their positivity numbers are going the right direction, I believe we can be back in school."
Idaho officials say the Gem State will continue in phase four of its coronavirus reopening protocol for at least two more weeks.
Urban areas such as Boise and Coeur d'Alene saw significant increases in the number of confirmed cases in parts of July. But state epidemiologist Christine Hahn says the metrics she uses to monitor the situation show the state is heading in the right direction.
However, there is one measurement that still worries her: the number of people admitted to hospitals with the virus.
"That is a measure that we think is extremely important. We would have added this sooner if we had had the information, but we think it's a really important measure. We have heard from our hospitals that they are starting to see more and more patients," Hahn said. "You can go on our website and see the number of patients in the hospital is continuing to creep up. We really need to take that measure seriously and that is why we do not pass out of stage four at this time."
Copyright 2020 Spokane Public Radio. To see more, visit spokanepublicradio.org