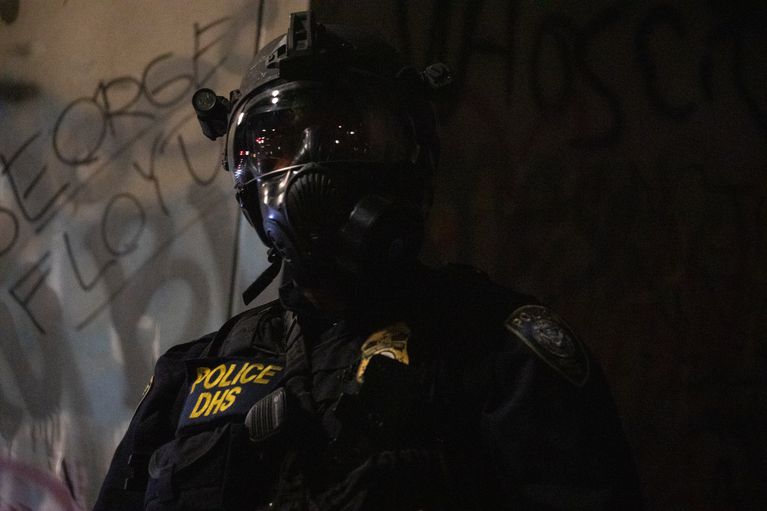 Some Federal Forces Poised To Leave Portland, Others Could Remain Through Election
BY CONRAD WILSON & JONATHAN LEVINSON / OPB
Federal officers have remained in Portland for more than a week after a negotiated agreement between the state and Trump administration to pull back. They have stayed largely out of sight as hundreds of racial justice protesters have gathered outside the Mark O. Hatfield federal courthouse some nights.
The mood with Oregon State Police guarding the building is markedly calmer than the weekslong clashes in July with federal law enforcement officers, who blanketed parts of downtown nightly in a fog of tear gas.
Now, multiple sources tell OPB, federal officers are watching closely to see if the delicate peace holds through the weekend, in what some describe as a key moment for determining how many federal officers will remain in Portland.
"If things go well over the next few days, we anticipate being able to draw down some forces," said an official with the U.S. Department of Homeland Security.
If clashes return outside the courthouse, hundreds of federal officers could remain in the city. If protests remain away from the building or without property damage, a significant draw down could happen. But either way, federal officials confirmed, some elevated force will likely remain in Portland through November. Those officials spoke to OPB on the condition that they not be named in order to speak candidly about the situation in Portland, as they were not authorized to speak on the record.
According to documents reviewed by OPB, approximately 170 U.S. Customs and Border Protection personnel remained in Portland as of late last week, including U.S. Border Patrol officers, officers with Customs and Border Protection's special response team, and the agency's air and marine operations unit.
Those documents don't give totals for other agencies that have been part of the federal government's response in Portland, which included Immigration and Customs Enforcement and officers with the Federal Protective Service. The U.S. Marshals also have an elevated presence in the city. Some personnel could have left since Friday.
Documents show that as recently as Friday, federal officers were staged and ready to respond if necessary. Federal Protective Service officers were positioned near the courthouse while CBP had two quick-reaction forces positioned in the city, one at CBP's airport office and a second team of nearly 100 officers at the Bonneville Power Administration building in Northeast Portland.
A BPA employee based in Portland said their building was put on heightened security Friday and the entire building was closed to all staff, a step the official said was unusual. The building reopened this week, the employee said.
"There has been a small army in Portland," said one law enforcement official. "There's expected to be a higher presence of federal officers. The question is how many for how long?"
Of the three agencies that have contributed the most resources and personnel — FPS, CBP and the Marshals — the most likely agency to depart would be CBP, according to the official.
"Their presence was the most unusual," the official stated of CBP. "Guarding courthouses is in the direct mission of the Marshals and FPS."
The added presence of federal officers in Oregon has been decried by city and state officials, and was widely considered to have escalated violence at the protests that have been ongoing since late May. With federal agents no longer visible, demonstrations in recent nights have moved from the federal courthouse and returned their focus to local police precincts and related buildings.
Despite the shift away from federal property, acting DHS Secretary Chad Wolf told a U.S. Senate committee Thursday the full augmented DHS law enforcement deployment remains in Portland.
"They will continue to remain until we are assured that the Hatfield federal courthouse, as well as other federal facilities in Portland, will no longer be violently attacked," he said.
Wolf also acknowledged a decrease in violence directed at the courthouse during the last week, but said there continues to be violence in the city.
"Over the last seven days, Portland police have declared a riot, on four different occasions. Glass bottles and lasers have been directed at Portland police officers," Wolf said.
On Wednesday — the city's 69th consecutive night of protests — Portland police used tear gas. For weeks the agency had largely been able to avoid using the weapon because protests were centered on the federal courthouse and federal officers took the lead dispersing people, regularly using tear gas to do it. Portland police remain under a restraining order limiting use of tear gas to situations where public or police lives and safety are at significant risk. Those same restrictions do not apply to federal officers.
Federal officials have not made a final decision on how long their extra officers will need to remain in Portland. But two law enforcement sources who spoke to OPB expected additional forces in the city through the general election.
Federal law enforcement has targeted November for a draw-own because they believe the presidential election is a significant source of anxiety contributing to protests. Other factors include the global pandemic, high unemployment and anger about police violence and systemic racism, officials said.
"My guess is that the protest climate isn't going to change much between now and the election," one DHS official told OPB. "The department is reluctant to draw down drastically in a way that would leave us vulnerable."
How long Oregon State Police remain as protection for the federal courthouse could be another factor affecting the size of federal forces here. As part of a deal reached last week between Gov. Kate Brown and the Trump administration, state troopers agreed to at least two weeks of protection for the building.
"The situation in downtown Portland has improved remarkably since federal troops left the area late last week," said Liz Merah, the governor's press secretary. "Protests have proceeded in a largely peaceful fashion, and Oregon State Police have been on hand to protect free speech and keep the peace."
Federal officials acknowledge OSP's presence has so far deescalated tensions. But, they said, they are worried about what happens at the end of the two-week commitment. OSP declined an interview request, but said in a response to written questions that plans beyond the two-week agreement have not yet been made. The current presence of troopers would end around Aug. 13.
"At the moment we're experiencing cautious optimism," the DHS official said. "We're grateful to OSP. They've stepped into a difficult situation."
Privately, some federal law enforcement officials hope OSP extends its role in protecting the building, noting that DHS agencies and the U.S. Marshals don't want to return to the violent dynamic between protesters and federal law enforcement.
"Having the Oregon State Police in the mix has definitely changed the dynamic," said one federal law enforcement official. "What has to happen going forward is a wait-and-see approach before any staffing changes are contemplated or any external security modifications are made."
Another factor influencing the size of the federal presence appears to be divisions between federal law enforcement and Portland city officials. On July 22, the Portland City Council passed a resolution that prevented the Portland Police Bureau from communicating with federal law enforcement officers deployed in Portland under President Trump's executive order. Federal law enforcement and PPB now communicate through Oregon State Police.
Without direct communication between PPB and federal officers guarding the inside of the federal courthouse, officials said they are less certain they can pull back forces.
The mayor's office didn't comment on the possibility of a heightened federal presence in the city through the election, but said they don't want to see federal officers policing protests again like they did in July.
"Our top priority is keeping heightened federal forces out of our community, and we both know we need to be flexible about the timing," said Tim Becker, a spokesperson for Mayor Ted Wheeler.
On Thursday, PPB Chief Chuck Lovell said he has not had a conversation about what might happen after OSP leaves, but he said he imagines that discussion will happen soon.
Still, the city escalated a dispute this week with the federal government over the "anti-personnel" fence that surrounds the courthouse. Portland's transportation bureau issued a nearly $600,000 fine to the federal government because the fence blocks a bike lane and said the fees will continue to accumulate until the fence is removed.
The governor's chief of staff said the fence would come down eventually as part of its agreement with the White House.
"To do anything now, it would be just premature," said a federal law enforcement official. "Anyone saying we need to leave that fence up for the next 60 days is overly pessimistic and anyone wanting to take it down today is in dreamland."
Copyright 2020 Oregon Public Broadcasting. To see more, visit opb.org