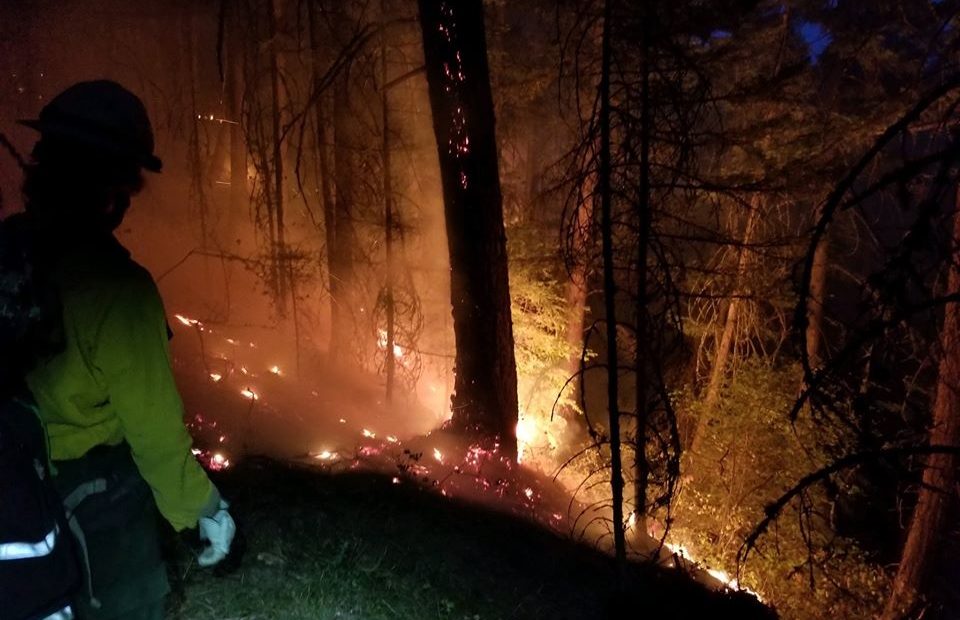 Growing Human-Caused Wildfire Threatens Homes In Columbia River Gorge
BY DONALD ORR, MEERAH POWELL & ANNA KING
A rapidly growing wildfire in Wasco County was burning an estimated 971 acres and was only about 10% contained as of Thursday evening, according to the Northwest Interagency Fire Center. The center confirmed that the fire was human-caused. By Thursday afternoon, more than 900 people had evacuated the area, and four structures had burned since the fire started Wednesday afternoon.
The Oregon Department of Environmental Quality Thursday issued an air quality advisory for The Dalles, Mosier and Hood River area due to smoke from the fire. The DEQ said it expects the advisory to last until at least Saturday morning.
Oregon Gov. Kate Brown invoked the Emergency Conflagration Act late Wednesday night in response to the fire, which was burning about 500 acres at the time in the Mosier Creek area of the Columbia River Gorge, between Hood River and The Dalles.
The governor's emergency declaration provides more state resources to fire crews in Wasco County and the Columbia River Gorge to battle what authorities are calling the Mosier Creek Fire. As of Wednesday night, the fire was threatening more than 300 homes.
"I ask Oregonians to remember that preventing wildfires is critical this year, especially as we have fire crews on the frontlines during this pandemic. Be cautious and honor all burn bans, and keep our fire crews in your thoughts as they fight to protect our communities and the landscapes that surround them," Brown said in a statement.
Local authorities issued Level 3 evacuation notices Wednesday afternoon for nearby residents. According to the Wasco County Sheriff's Office, Level 3 evacuations were in place for all of Paradise Ridge Place Road and everyone west of State Road, from Evergreen Terrace to Dry Creek Rd.
Level 3 means "go" or "evacuate now," while lower levels indicate "ready" or being "set" to go at a moment's notice.
Level 2 evacuation zones include the area east of State Road, from Evergreen Terrace to Dry Creek Road.
Earlier Wednesday evening, the Wasco County Sheriff's Office had issued Level 1 evacuation notices for all of Browns Creek Road from Chenoweth Road to Wells Road.
Those affected by the Mosier Creek Fire can receive Red Cross assistance at The Shilo Inn in The Dalles and may seek shelter. Volunteers are on-site to provide immediate basic needs to those evacuated from their homes.
Evacuees are advised to move combustible furniture to the center of their home, limit exposure to smoke and dust and to not return to their homes until officials say it's safe to do so.
The Hood River County Sheriff's Office said power outages were affecting more than 4,000 customers in Hood River County Wednesday afternoon, starting around the time the fire began. Crews restored power to most customers late Wednesday night. Pacific Power is investigating the cause.
Donald Orr and Meerah Powell report for OPB in Portland. Anna King is a regional correspondent for the public media Northwest News Network. She is based in the Tri-Cities.