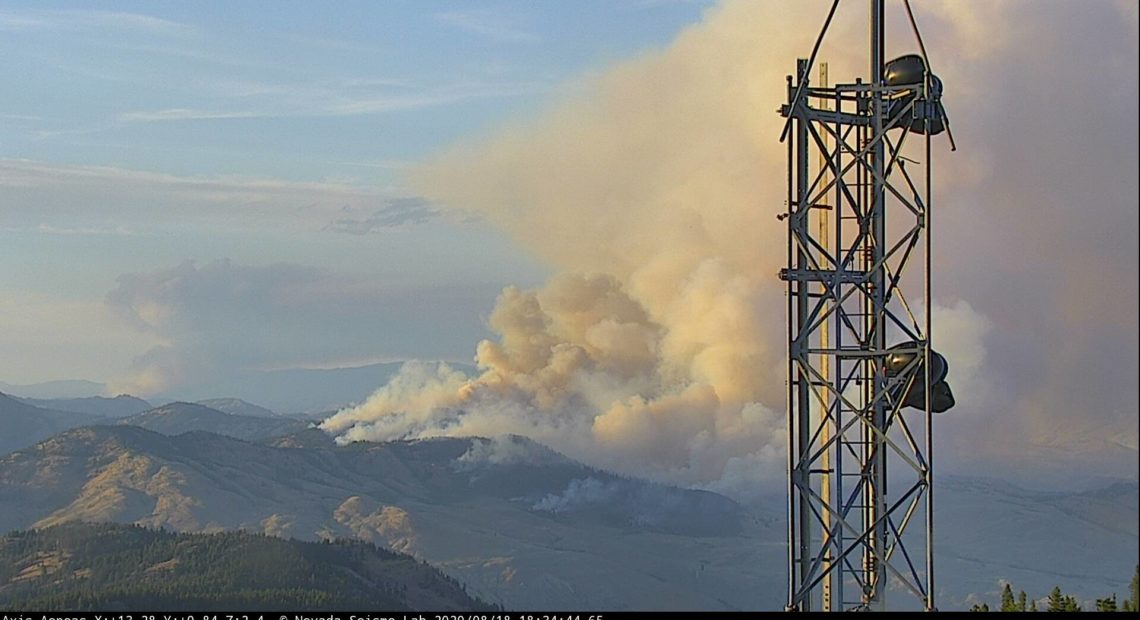 Okanogan County Fire Grows; Inslee Declares Emergency Exactly 5 Years After Twisp Firefighters Killed
QUICK INFO/LINKS:
-Red Cross Contact: 509-670-5331
–Okanogan Highlands Fire Watch
–Palmer Fire Info From Incident Management Team
–Palmer Fire Info From InciWeb
–Washington DNR Fire Information
BY COURTNEY FLATT & SCOTT LEADINGHAM
Washington Gov. Jay Inslee declared a statewide emergency Wednesday to help with fires burning on the Olympic Peninsula and in central and eastern Washington. 
A fire in Okanogan County is quickly burning through grass, sagebrush and timber, forcing evacuations. What's been dubbed the Palmer Fire is burning southwest of Oroville, near Washburn Lake.
Winds pushed the fire in all directions Tuesday afternoon. As of Wednesday morning, it had burned around 5,000 acres and is threatening at least 86 homes. As the fast-burning fire grows, hot and dry conditions are stretching firefighting resources.
Here is a loop of the Palmer Fire in northern Okanogan County north of Omak. There is also a fire north of the border in Canada that can be seen in the distance. #wawx pic.twitter.com/d0JhSjmWjU

— NWS Spokane (@NWSSpokane) August 19, 2020
Maurice Goodall, with Okanogan County Emergency Management, says the Palmer Fire forced people to evacuate Tuesday night into Wednesday. Level 3, or "go now," evacuation orders are in effect.
The Red Cross is offering shelter to anyone who has had to evacuate. Farm animals can be taken to the Tonasket Rodeo grounds. Anyone needing Red Cross assistance can call 509-670-5331. 
A local group on Facebook, Okanogan Highlands Fire Watch, is also coordinating information and resources for affected residents. 
The governor's emergency declaration will allow the Washington National Guard to help fight fires across the state. 
The cause of the Palmer Fire is still under investigation. A separate blaze across the border in nearby Penticton, British Columbia, the Christie Mountain Fire, was also putting up large plumes of smoke Tuesday and Wednesday.
Firefighters are working to save property and people on the fifth anniversary of the Twisp River Fire, part of the larger Okanogan County Complex. On Aug. 19, 2015, Richard Wheeler, Andrew Zajac, and Tom Zbyszewski died as they began fighting the flames near Twisp. A fourth member of the crew, Daniel Lyon, Jr., was severely burned.
"Wildfires are threatening the safety and livelihoods of Washingtonians all across the state," Inslee said in a statement Wednesday. "And the COVID-19 pandemic has put additional strain on our resources, as some of our usual support is further limited due to international movement restrictions."

Northwest fire managers say crews are stretched thin. Extreme temperatures combined with many more people heading outside make the situation even more complicated.
Autumn has knocked on our doors and crossed our thresholds. With its arrival comes wetter, colder, darker days — perhaps some pumpkin-flavored treats as well — and hopefully, fewer wildfires. Heavy recent rainfall has dropped the wildfire potential outlook down to normal for the Northwest, according to the National Significant Wildland Fire Potential Outlook.
So, how did this summer fare compared to past fire seasons? Continue Reading What impacts did wildfires have on the Northwest this summer?