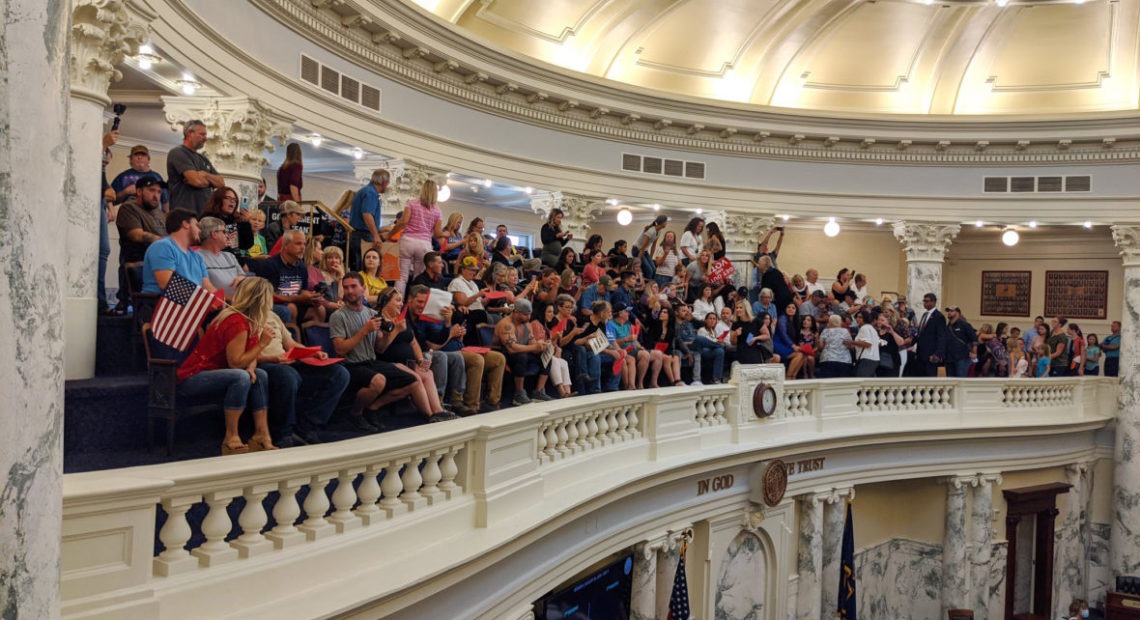 Idaho Legislature Passes Liability Protection Bill, Wrapping Up Quick Special Session
After three unusual days in a special session, the Idaho House and Senate passed a civil liability immunity bill designed to protect school officials from lawsuits amid the ongoing coronavirus pandemic.
Following hours of technical and sometimes bizarre debate in committee and on the floor, the House passed House Bill 6 by a vote of 54-15 Wednesday afternoon.
At about 8:30 p.m. the Senate followed suit, passing it 27-7. Both the House and Senate adjourned the special session for good at about 9:15 p.m.
The bill heads next to Gov. Brad Little's desk for final consideration. Little said he convened the special session, at least in part, to address civil liability protection during the pandemic.
ALSO SEE: Anti-Government Activist Ammon Bundy Arrested For 2nd Time In 2 Days At Idaho Statehouse
Under HB 6, a person, school district, college or university would be "immune from civil liability for damages or an injury resulting from exposure of an individual to coronavirus."
"Our hope is to provide confidence in a crisis of confidence to our schools, to our businesses that they can open their doors, they can serve their patients, they can resume their activities, they can educate our kids, they can go to ballgames," said sponsoring Rep. Julianne Young, R-Blackfoot.
That immunity, however, would not extend to acts of "willful or reckless misconduct," according to the bill.
The issue has divided education groups as schools begin reopening for fall.
The Idaho School Boards Association submitted written testimony supporting HB 6.
"Because liability insurance providers do not cover COVID-19 claims, any costs associated with possible litigation would have to be paid out of a school or district's operating account or pushed onto the taxpayers with a tort levy," the ISBA said in a written statement.
But the ISBA said the protection should not be absolute.
"The ISBA also believes that this does not absolve districts and schools from ensuring their staff and students are safe," the statement said. "All schools have been provided ample opportunities to collaborate with local health officials, detailed guidance from the Centers for Disease Control, and the State Board of Education's Re-Opening Framework."
Meanwhile, the Idaho Education Association said it was staunchly opposed to liability immunity legislation.
"It creates yet another barrier to providing safe school buildings for students and educators," the teachers' union said in a written statement. "Rather than focusing on immunity and end runs around accountability, the Legislature should be putting their efforts into providing safe school environments for our students and educators."
Altogether, a House committee considered five liability and immunity bills and killed another during an introductory hearing earlier in the week. During a series of rocky committee hearings that began Monday and continued Wednesday, public testimony ran overwhelmingly against the immunity bills.
But legislators who backed HB 6 said it could give people confidence to return to their normal lives.
"It's down. The numbers are down," said Rep. Barbara Ehardt, R-Idaho Falls, in reference to coronavirus cases. "It's time we get our schools and our businesses and churches back."
Rep. Ryan Kerby, a New Plymouth Republican and retired school superintendent, said HB 6 would restore some balance to the school reopening debate. School officials, fearing a lawsuit, now have to focus on the numbers behind the virus — which has infected more than 30,000 Idahoans, killing more than 300. Civil liability protection would allow administrators to consider how school closures affect learning and social-emotional health.
"Right now, our parents' voices are being muffled," he said.
The bill passed the House along nearly party lines, with Republicans Fred Wood of Burley and Bryan Zollinger of Idaho Falls joining Democrats in opposition.
House Minority Leader Ilana Rubel of Boise downplayed the idea that Idaho businesses and schools are at risk of a "tsunami of litigation." Idaho has robust law protecting against frivolous lawsuits. In the case of a lawsuit regarding coronavirus, a plaintiff would have to pinpoint the source of an infection, "which is almost impossible," she said.
During a news conference Wednesday afternoon, House Speaker Scott Bedke said the session ran longer than he wanted — and has been marred by protests that disrupted the process and discouraged Idahoans from participating in the debate. "That's not how it should be," said Bedke, R-Oakley.
However, Bedke praised legislators for working their way through the civil liability debate to come up with a compromise bill that would remain in effect into 2021.
In other business from the special session:
The Senate approved its own version of a resolution calling for an end to the state's coronavirus emergency declaration, which Little imposed on March 13. But unlike a resolution the House passed Tuesday — in hopes of rescinding the declaration immediately — the Senate resolution directs the Legislature and Little to work on the issue when the 2021 session convenes in January. "We're calling on the governor to end (the declaration), but in a responsible way," said Senate President Pro Tem Brent Hill, R-Rexburg. The Senate passed its resolution by voice vote, then took no action on the House resolution, killing it.
The special session began Monday morning and is the fourth of the past 20 years. Previous special sessions took place in 2000, 2006 and 2015.
Idaho Education News reporter Kevin Richert contributed to this report.
Originally posted on IdahoEdNews.org on August 26, 2020