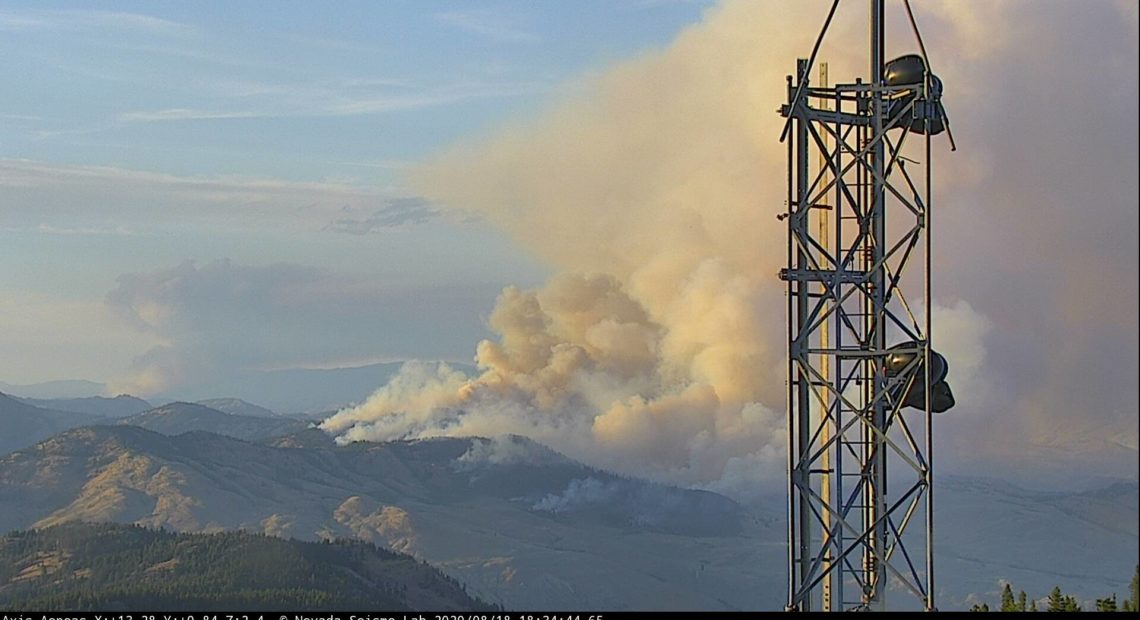 Windy, Dry Weekend Ups Wildfire Potential, As Crews Watch How Palmer Fire Lines Will Fare
This weekend could be another dangerous time for new wildfires. Very dry vegetation, combined with high winds could mean new fires would take off very quickly in central and eastern Washington and Oregon.
A dry cold front is expected to push into central and eastern Washington this weekend, bringing with it lots of wind from the north. That could fan the flames of fires, especially new starts that are just taking off. Winds could reach 15 to 25 miles per hour, with gusts around 40 miles per hour.
The National Weather Service has issued a red flag warning for most of central and eastern Washington and central Oregon. That means critical weather and dry conditions could lead to rapid fire growth. Much of the area is under critical or elevated fire level risks.
Another concern for forecasters is low relative humidity this weekend, which increases fire risks. People should be cautious and not start fires as they head outdoors. 

Washington Department of Natural Resources meteorologist Josh Clark says the "vigorous" dry cold front will make for a "very concerning day for fire weather" on Saturday.
"Any fire that we get tomorrow will be human-caused," Clark said. "We have no lightning in the forecast, so folks out recreating or using fire in any type of activity should be mindful of that potential spread and maybe just consider not lighting that fire for this particular day."
Clark says the concerning fire weather should let up after Saturday, and better weather should hold through Tuesday.
Fire managers say winds could increase the potential for new starts near the Palmer Fire in north-central Washington in Okanogan County. They say it will allow firefighters to test the effectiveness of their fire lines.
Very breezy winds and low humidities will lead to high fire potential on Sat across eastern WA. Fuels are very dry. ERC forecast projected to be above 92-97th percentile values! Burning index above 97th percentile values! New fires will grow rapidly! #wawx #WaWildfire @waDNR_fire pic.twitter.com/OYDRl6Ek7l

— Josh Clark (@wafiremet) August 28, 2020
"The main punch of those north winds is going to arrive late (Saturday) afternoon and evening," Palmer Fire meteorologist Steve Bodnar said. "I have fairly high confidence that we're going to see gusts in the 40 to 50 mph range. But the possibility is there for some locally stronger gusts, especially in some of this channel terrain of 50, 60, maybe even up to 65, 70 mph."
That wind could hit the heat that's still on the northwestern part of the fire from a burn out operation, where crews purposely burned parts of the landscape so that the Palmer Fire would have no fuel to burn as it grew.
"That could cause some of the heat to get organized under the timber, if you will, and the occasional tree may torch. In those strong winds, it's possible that a spot (fire) could come maybe a mile or half mile," said Katie Hetts, fire behavior analyst on the Palmer Fire.
That would still be inside the fire's perimeter. Hetts said she thinks there is a low chance that the fire would go spread outside its current perimeter, although it could happen.