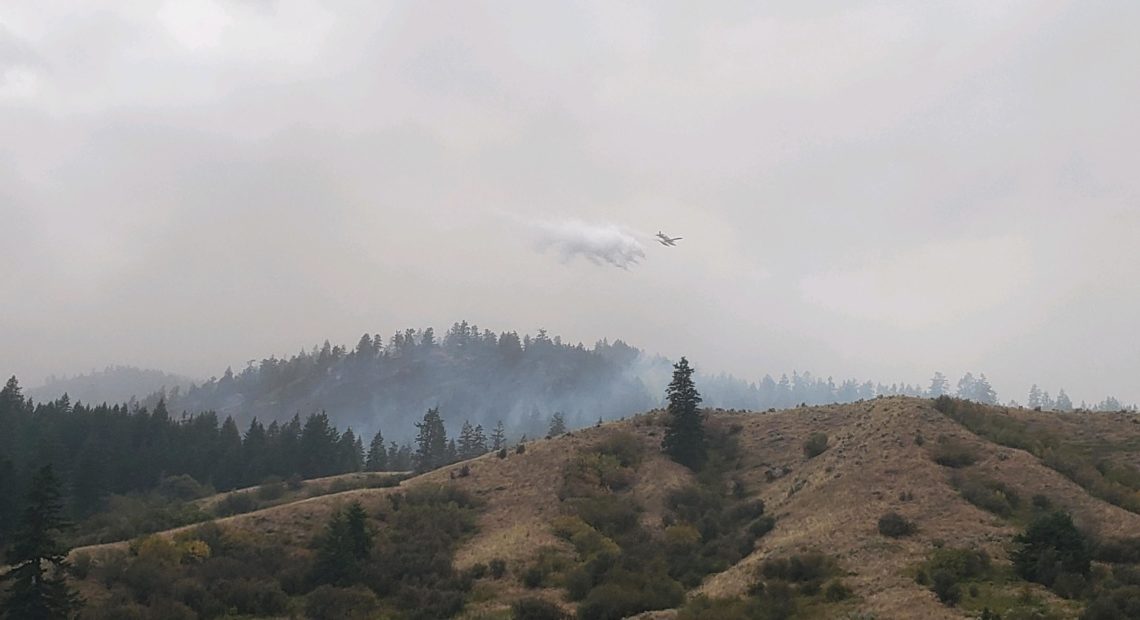 Crews Optimistic For Getting Upper Hand In Palmer Fire; Nearby Camera Lookout Assists The Fight
QUICK LINKS/INFO:
-Red Cross Contact: 509-670-5331
–Okanogan Highlands Fire Watch
–Palmer Fire Info From InciWeb
–Previous Palmer Fire Coverage From NWPB
–Washington DNR Fire Information
BY COURTNEY FLATT & SCOTT LEADINGHAM
Updated 9:15 a.m., Aug. 24, 2020
The Palmer Fire in Okanogan County continues to burn and put up plenty of smoke, which has largely blown north into Canada. As of Sunday night, it was estimated at over 18,000 acres. At least 30 structures have burned.
The fire grew fast when it first started Tuesday, Aug. 18, quickly becoming the top priority in the state. Fire managers said Sunday night they were really pleased with the progress.
Crews did burnout operations over the weekend, a method of basically fighting fire with fire. The town of Loomis, on the southwestern edge, was being protected hard over the weekend and had a Level 2 Evacuation.
The fire is about six miles from the Canadian border, but it's not expected to get there, according to public information officer Doug Epperson. Winds Monday are forecast to be out of the north, which would help to blow the fire back on itself away from the border.
Epperson says the presence of so many air resources over the past five days really helped the fight. Multiple lakes are in the fire's immediate area, which made getting water easier and faster. Gov. Jay Inslee declared a statewide emergency Aug. 19 due to the fire threat statewide. That allowed Washington National Guard resources to be assigned to the Palmer Fire.
The Guard "had a significant impact with Blackhawk helicopters," Epperson said.
Air resources were being reassigned Sunday night away from the Palmer Fire to other areas of central Washington due to possible new fires there from dry lightning.
Previous Coverage, Friday, Aug. 21, 2020:
Heading into the weekend, strong winds continued to push the Palmer Fire in north-central Washington north toward the Canadian border. It's now several miles from the border and has grown to nearly 18,000 acres as of Sunday morning, Aug. 23.
Crews made good progress near the Palmer Lake Lodge overnight Thursday into Friday. Firefighters were mopping up in the area and continued to protect buildings and reinforce fire lines. 
The fire is burning near Oroville in Okanogan County. There are still Level 3 — or "get out now" —  evacuations in place. More evacuations could still happen.
National Guard troops continued to drop water on the fire after a statewide wildfire emergency declaration from Gov. Jay Inslee made their resources available.
A Friday afternoon cold front started to fan the flames, with gusts up to 40 miles per hour. Public Information Officer Isabelle Hoygaard said the weather conditions should improve.
"Temperatures will probably get a little bit higher but we'll be over our most critical weather," Hoygaard said.
So far, officials estimate the fire has destroyed at least 30 homes. Several fundraisers are collecting money for affected residents.
The Red Cross is offering shelter to anyone who has had to evacuate. Farm animals can be taken to the Tonasket Rodeo grounds. Anyone needing Red Cross assistance can call 509-670-5331. 
Fire Lookout Helps
At the start of the Palmer Fire, a camera on Aeneas Lookout streamed video of a giant smoke plume in the distance. The video equipment is the first in a pilot program in Washington. 
The hope is that one day, remotely monitored lookouts could help spot fires and guide aerial crews, much like California's Alert Wildfire Network.
"There's a future world that we envision that allows us to detect fires via the camera," said Josh Clark, a fire meteorologist with the state Department of Natural Resources and the head of the camera pilot project.
The Aeneas Lookout camera is DNR's only camera. In the past 18 months, it's observed five different fires in the Okanogan Valley, including the Palmer Fire. Clark says it's a good testament to how often fires happen in the valley.
"It's been invaluable for our monitoring efforts," he said.
The camera is located about seven miles south of where the Palmer Fire started on Tuesday, Aug. 18. As it burns north, and farther away, the camera has been socked in with smoke.
People initially reported the Palmer Fire, Clark said.
"The camera allows us to monitor the fire in real time," he said. "And see how aviation assets are engaging the fire and how the fire is responding to those suppression efforts."
In the future, the idea would be for the camera to report smoke plumes to a regional dispatch office, which can figure out if the smoke is a fire or not, Clark said.
While state fire officials hope a camera network is on the horizon, Clark says it takes a lot of funding and data.
"We have to look at it from a statewide perspective. Where is all of our fire occurrence? Where are our managed lands? Our protected lands? Where do we even have powers that are capable of internet and electric?"
A solution could come from watching what happens with the Alert network of cameras in California. There, three universities have established a network of hundreds of cameras that have helped with more than 1,000 wildfires. 
The goal is to install more than 1,000 cameras in California by 2022. Plans also include installing other cameras in Oregon, Idaho and Nevada.
"The loss of life and infrastructure, especially in 2017 & 2018, have only strengthened our resolve to implement a comprehensive network throughout the western U.S.," according to the network's website.