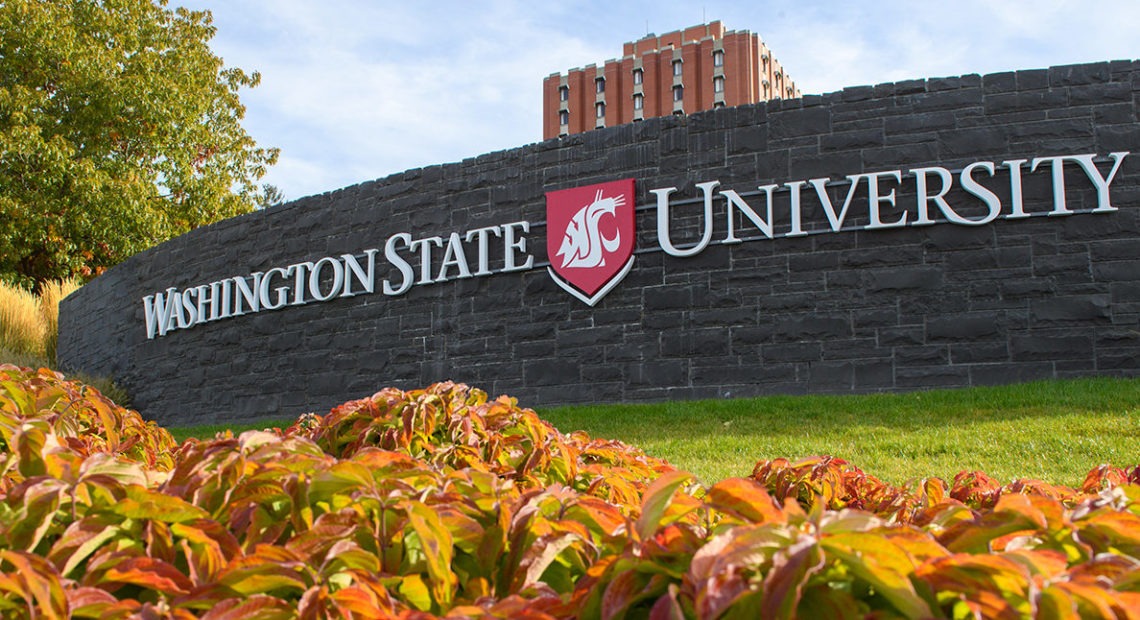 Whitman County COVID Surge Traced To WSU, As Pullman Again Records A New One-Day High
Updated Sept. 1, 2020, 11:15 a.m. PT
Pullman continues to see rapidly growing coronavirus numbers. On Sunday, the Whitman County Health Department confirmed 63 COVID-19 cases, a new one-day high. On Monday, the county announced 24 new cases. On Tuesday, Sept. 1, 50 new cases. 
The numbers bring Whitman County's total case count since March to 559. Well over half of those have come in the past 10 days. Nearly all the new cases are in Pullman's college-age population – despite Washington State University moving classes online for this fall semester.
A New York Times analysis shows that across the country, Pullman has the fifth-worst load of new cases as a percentage of population. As to where cases are growing the fastest across the country, Pullman now ranks fourth. The other places on the list tend to also be relatively small cities with large universities.
Whitman County health officials continue to monitor whether the cases will stay in the college-age population or spread to the broader community. The county has not recorded any COVID-19 deaths.
Previous Coverage, Aug. 26, 2020:
Monday was the first day of classes for Washington State University's fall semester. It comes as Whitman County Public Health officials confirmed a big spike in coronavirus cases in the past four days – largely in young adults in Pullman.
Since Saturday, Aug. 22, the health department has confirmed 159 new positive COVID-19 cases, making the county's total case count 301 during the pandemic as of Wednesday, Aug. 26. Most have come in the past several weeks.
UPDATE: On Wednesday morning, Aug. 26, Whitman County announced 40 new COVID-19 cases. The previous day they had announced 49 new cases, the highest one-day count since March. The county health department announced in a statement:
"New cases include eleven females and two males between the ages of 0-19 and eighteen females and nine males between the ages of 20-39."
Whitman County Public Health Director Troy Henderson told NWPB on Monday that the new cases are all in Pullman, and likely in the college-age population.
"All have been in a demographic around age 18 to 25. It would be appropriate to assume that the majority of those are associated with the university," Henderson said.
He says the increase in COVID cases in Pullman, and therefore Whitman County, could remain within the younger demographic in Pullman who tend to stay closer to campus.
"I don't think there's a lot of older folks who are going to beer pong parties on College Hill on Friday night," Henderson said, saying it's "yet to be determined how much this increase in activity among this specific age demographic spreads to other demographics."
That, he says, should be more evident by the end of this week, when health officials would either expect to see case rates increase, decrease or stabilize based on how people interact and behave in the coming days.
Henderson says there's an estimate that the true number of cases could be "three to 10 times higher" than what is actually confirmed, since not everyone who is symptomatic gets tested, and not everyone who is infected is symptomatic. He says a conservative estimate could be that there are actually 250 or 300 active COVID-19 cases in Pullman.
"Whether or not in a week that becomes 500 or 600 or whether or not it goes down depends primarily on the individual decisions that people make in Pullman, and primarily young adults," he said.
Across The Border
Pullman isn't the only Palouse-region college town in play. Six miles away, the University of Idaho in Moscow is welcoming students back. Unlike WSU, Idaho students will have in-person classes this fall. Henderson says Whitman County is closely watching what happens across the border in Idaho.
"From my standpoint, Moscow and Pullman are one community when it comes to a communicable disease," Henderson said. He notes that with the amount of people who cross the border between Whitman County, Washington, and Latah County, Idaho, for work, school, shopping or dining, "there's no reason to think that any surge in communicable disease in one community is not going to affect the other, at least somewhat."
University of Idaho officials are banking on a strategy of widespread testing availability, on-campus facemask use, and a hybrid in-person and remote learning model to make the fall semester work. In an Aug. 21 letter to the campus community, UI President C. Scott Green aimed for a guilt approach in encouraging students who weren't following protocols for social distancing and group gatherings:
"To the vast majority of our students who are complying with the Healthy Vandal Pledge, thank you. To the few who have not, your continued behavior will put our entire community at risk. Your behavior diminishes the hard work conducted all summer to prepare for your arrival."
Last week, Pullman Police Chief Gary Jenkins said the department would enforce state-mandated health measures, including gatherings being limited to 10 people.
In response to the latest uptick in cases in Pullman, WSU officials said in a statement this week:
"The latest increase in COVID-19 cases in Whitman County has been primarily traced by authorities to off-campus gatherings in privately owned housing in the Greek Row area. Students who fail to follow state mandates, whether on or off campus, not only risk potential law enforcement action but can face disciplinary hearings under WSU's Community Standards process."
NOTE: WSU hold the broadcast license of this public media station, though NWPB is editorially independent.