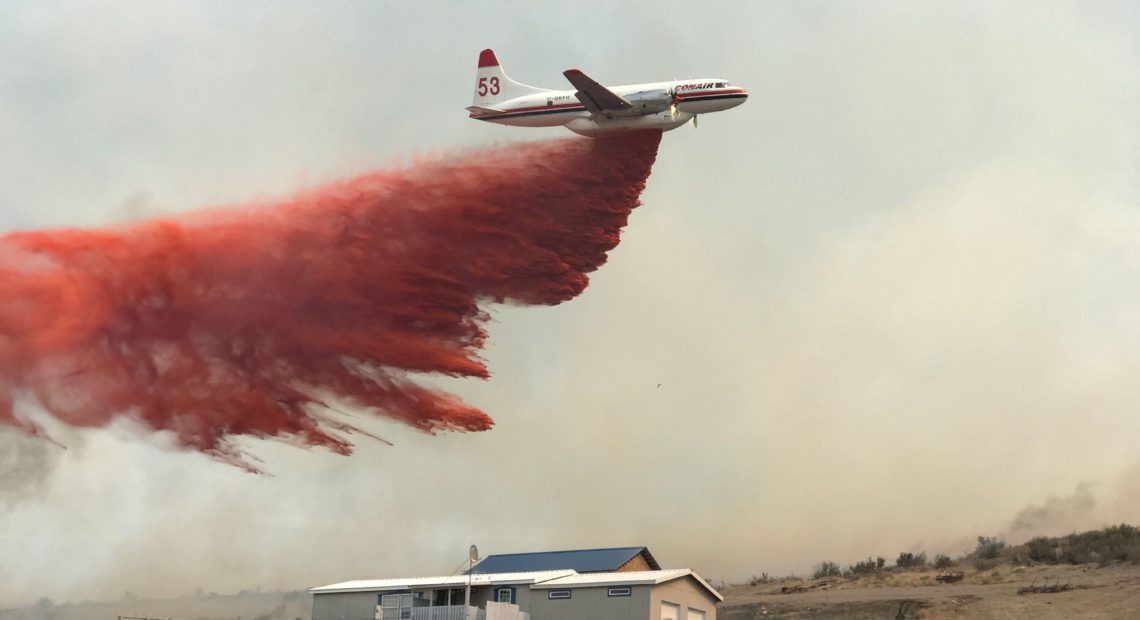 Evans Canyon Fire In Yakima And Kittitas Counties Over 75K Acres, At Least 6 Homes Burned
QUICK LINKS/INFO:
-Red Cross Help: 509-594-0016
–Current Evacuation Map (Embedded Below)
–Evans Canyon Fire Updates (Twitter)
–Official Fire Information (InciWeb)
–Yakima County Emergency Management (Facebook)
–Fire Perimeter Map (Yakima Herald-Republic)
BY ENRIQUE PÉREZ DE LA ROSA & ANNA KING
Updated Sept. 5, 2020, 10:30 pm PT
The Evans Canyon Fire burning in Yakima and Kittitas counties stands at over 75,000 acres as of Saturday night. At least six homes have burned since it began Monday afternoon, Aug. 31. Nearly 1,000 personnel are assigned to the fire as of Friday. It's now the top priority in the state for firefighting resources.
A virtual community meeting, accessible here via Facebook, is scheduled for 5 p.m. Sunday, Sept. 6. 
Fire crews started to contain the flames Thursday, but Labor Day weekend could mean more fires caused by people recreating outside.
Firefighters are stretched thin across the Northwest, and officials are trying to keep crews healthy with bagged lunches and smaller camps. So with near-record temps this weekend, they're asking Labor Day revelers to please watch those campfires (though campfires are banned in much of Washington due to fire danger). And make sure chains on trailers and boats don't drag and cause sparks.
Public information officer Joel Bramm says the Evans Canyon Fire has grown quickly due to light fuels like sagebrush and grass, high temperatures and wind.
"Everyone is kind of out fighting fire right now. So if there are any new fire starts it's just going to make it even more challenging," Bramm said.
Dana Levitt, another fire official, said Thursday the blaze would strain resources to combat this and other fires.
"We are approaching maximum use of facilities, of resources. We're working with other fires to move resources around to keep being responsive," Levitt said. "There are several fires in the region, in Oregon and Washington, and so we are competing for those resources."
Officials closed the Yakima River Canyon to traffic and recreation Wednesday after wind moved the fire east. Northerly winds are expected to carry smoke to places like Ellensburg and Cle Elum on Friday.
COVID-19 And Fire
The Evans Canyon Fire means central Washington is battling two public health and safety emergencies right now: the COVID-19 pandemic and Washington state's biggest wildfire so far this year.
Yakima County is still in a modified Phase 1 of reopening under the state's four-phase plan. But new daily coronavirus cases have dropped significantly over the summer.
Yakima County Emergency Management operations manager Horace Ward says a drop in COVID-19 cases means the agency can shift attention from distributing masks to helping with the Evans Canyon Fire.
"Luckily, I guess, it happened at the right time as we've been winding down COVID operations. It seems like more people are on board with following the health recommendations, keeping social distance, wearing masks, washing hands," Ward said. "So our numbers have been improving greatly. It's great that our resources have gone from COVID to this without a loss of services to the county."
But the fire could impact the progress Yakima County has made in combating the pandemic. According to the Centers for Disease Control and Prevention, exposure to smoke can irritate lungs, cause inflammation and increase susceptibility to respiratory infections like COVID-19.
Previous Story, Sept. 3, 2020:
The Evans Canyon Fire burning in Yakima and Kittitas counties has put around 900 households under evacuation orders. An estimated 52,000 acres and five homes have burned since Monday, according to fire managers on Thursday morning.
Yakima County emergency services director Tony Miller says firefighters are doing everything they can to protect homes. But high winds fanned the flames Wednesday. 
"(Firefighters) were cleaning up, trying to make a defensible space around the homes where they could use water," Miller said. "They let fire come up towards the home and try to put the fire out around the homes. Some of them, the fire was just moving so fast that sometimes with the embers and stuff going, we're just not able to protect everything."
Burnt hillsides in the #EvansCanyonFire evacuation zone. An estimated 900 households are under evac orders. 5 have burnt down. pic.twitter.com/ORLiQJ3HJ7

— Enrique Pérez de la Rosa (@ByPerezDeLaRosa) September 3, 2020
Fire managers say it's likely to burn through at least Friday. The Yakima River Canyon Road is now closed as a precaution.
On Wednesday, Washington National Guard resources, including Black Hawk helicopters, arrived to help.
The cause is under investigation.
Previous Story, Sept. 1, 2020:
A wildfire in Yakima and Kittitas counties has put more than 400 households under evacuation orders.
The Evans Canyon Fire, near Naches, had burned an estimate 12,000 acres as of Tuesday night, and it's likely to burn many more.
Public information officer Ben Shearer says high winds and dry terrain and fuel mean this fire is too much for local fire districts to handle. State fighting teams are set to take over Wednesday.
"They'll bring with them additional resources and capabilities, as well as the ability to request some additional resources," Shearer told NWPB Tuesday. "But I'd still expect this to be a three or four-day process.
The road up to the Wenas Valley is closed, but a few people were going in Tuesday afternoon, likely to help evacuate family or neighbors. A few trucks were coming out of the area with livestock.
About 300 firefighters have been at work since the fire began Thursday afternoon.
The cause is under investigation. As of Tuesday, emergency managers said that at least "five buildings have burned." But more specific information was not available late Tuesday night.
Autumn has knocked on our doors and crossed our thresholds. With its arrival comes wetter, colder, darker days — perhaps some pumpkin-flavored treats as well — and hopefully, fewer wildfires. Heavy recent rainfall has dropped the wildfire potential outlook down to normal for the Northwest, according to the National Significant Wildland Fire Potential Outlook.
So, how did this summer fare compared to past fire seasons? Continue Reading What impacts did wildfires have on the Northwest this summer?