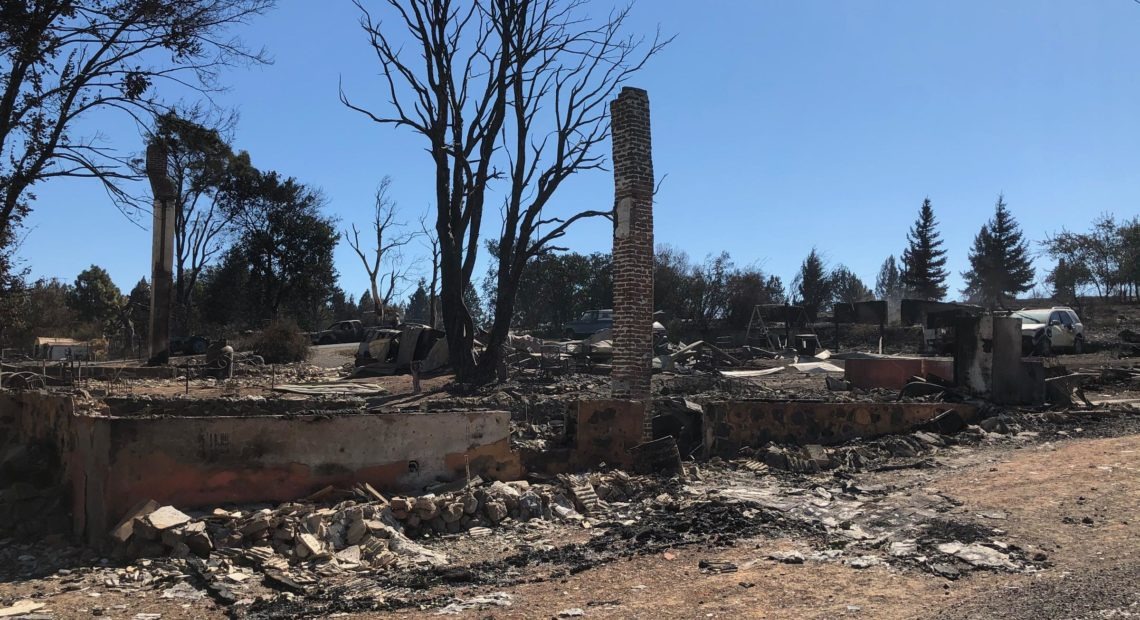 'There Was No Stopping It': The Fast, Life-Saving Effort To Evacuate Malden As It Burned
On Thursday, Gov. Jay Inslee will tour the small eastern Washington farming town of Malden, which was overrun by wildfire on Monday.
He'll see piles of rubble where buildings sat last week and smell the pungent odor of smoke.
He may also meet one of the men who helped to evacuate the town.
On Wednesday, Washington Lands Commissioner Hilary Franz was walking through the streets of Malden with the town's mayor, Chris Ferrell. Whitman County Sheriff Brett Myers was following a short distance behind and remembering what happened Monday afternoon.
At the time, two other fires were burning in his county. One was lapping at the boundaries of the county seat, Colfax. Firefighters had already been dispatched there. And then…
"About five-and-a-half miles from here on Babb Road, the fire started in Spokane County and the wind was blowing between 45 and 50 miles an hour and it made a beeline right through here. We diverted deputies and law enforcement up here because we had enough resources down there and if this fire was coming, there was no stopping it," he said.
Myers and a handful of deputies raced north.
"By the time we got here from Colfax, the fire had moved about four miles in about 30 minutes and we had about 30 minutes to evacuate this town. A quarter of it was already on fire and the whole town was pretty much up in flames in an hour-and-a-half or two," he said. "We had four or five deputies going up and down the streets telling people, get out, get out, there's a fire coming, on PAs, knocking on doors where we thought there were still people there. We checked on them, said you do know there's a fire coming."
Many left, but some decided to stay and save their homes. As he walks, Myers points to a house that was generally untouched.
"This house right there? These people, hose on both sides."
And next door…
"That house had to have burned so hot there's literally nothing left, except for rocks," he said.
The difference? Some green space around the house and a willingness to stay and fight.
"I talked to the gal from this house on fire and I just said, keep at it. It's your house, you do what you can and they sat there and fought that with a garden hose and, of course, they have a nice green strip around there. They lost some fence posts, but they saved their home," Myers said.
A little defensible space goes a long way.
"Yeah, a long way. You look at fire, fire, fire, fire, fire right across the street and their house is standing. Mostly defensible space and being there to fight it made a difference," he said.
Most of Malden's homes and buildings burned. City hall, post office, the library, gone. The fire and its awesome power made an impression.
"I'm a cop, not a fireman. But I've been to a lot of fires," Myers said. "This one, for as fast as it was moving and the way it was taking everything out, at times you couldn't see anything but fire and smoke, really the hope was, initially, did we get everybody out?"
The answer was yes. Or at least everyone survived, according to Mayor Chris Ferrell. Whether they'll stay and rebuild is an open question.
Copyright 2020 Spokane Public Radio. To see more, visit spokanepublicradio.org