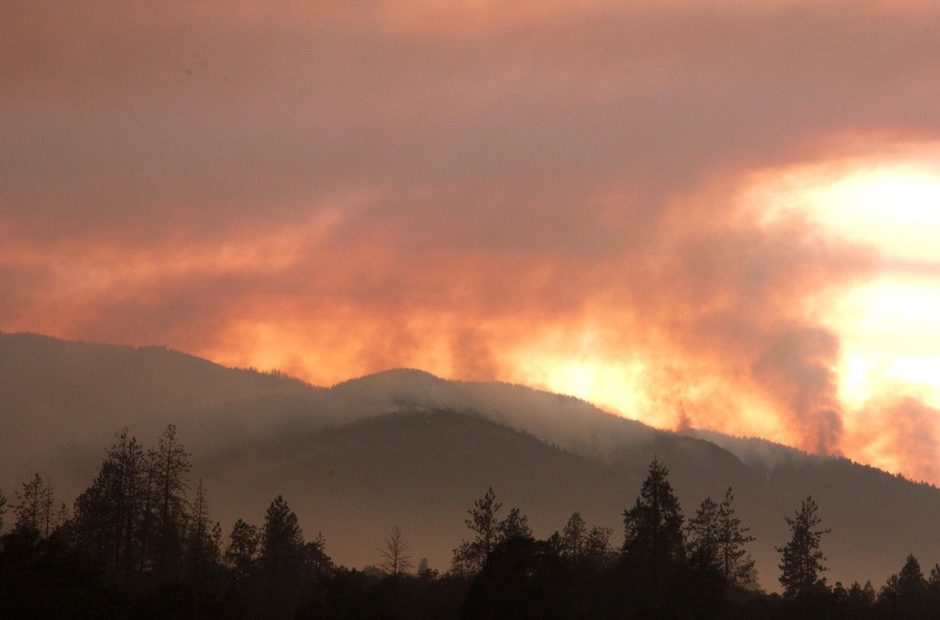 Breathing Wildfire Smoke Every Summer Could Have Long-Term Health Consequences
NOTE: This story was originally published and broadcast on Aug. 14, 2018. See current Northwest smoke forecast and air quality information from the Washington Smoke Blog.
The skies across much of the Northwest are choked with smoke from wildfires. 
Air quality east of the Cascades has deteriorated as wildfires burn across Washington and Oregon. In Southern Oregon, the air is hazardous. In Central Washington, air quality is unhealthy for everyone.
"The acute effects cause irritability, nausea, shortness of breath," said Sam Joseph, a pulmonary and critical care physician and professor at the Washington State University Elson S. Floyd School of Medicine.
While the air might be annoying on a day-to-day basis, doctors say chronic exposure to smoke, year-in and year-out can lead to long-term health problems, especially for people with underlying heart and lung problems, children and senior citizens.
RESOURCE: The Washington Smoke Blog lists air quality and smoke forecasts for the Northwest region
Joseph said long-term exposure to wildfire smoke can lead to chronic cardiovascular diseases, like heart attacks (both fatal and non-fatal), irregular heartbeats and increased severity of asthma. These health problems are most troublesome for people who already experience heart and lung issues.
"That is what we're most concerned about, not only the acute but the long-term effects (of wildfire smoke exposure)," Joseph said.
He said many studies have shown an increase in premature death for people with heart and lung diseases who breathe in wildfire smoke over long spans of time.
"In all smoke exposure, you're exposed to lots of particles and chemicals," Joseph said. "Some of the chemicals include carbon monoxide and carbon dioxide and particulate matter, which we call soot."
He said carbon monoxide and the small particulate matter, or PM 2.5, are most dangerous. "They get deep into the lungs and cause most irritability, the shortness of breath," Joseph said.
For people with underlying heart and lung problems, effects from wildfire smoke can accumulate over shorter periods of time, Joseph said, but that can also depend on how much wildfire smoke people are exposed to and the chemical makeup of that smoke.
"It's not a hard and fast rule as to how fast (health problems) come on," Joseph said.
Smoke also contains the same kind of particles as wood fired stoves, factories and restaurants, although they usually have smaller concentrations of dangerous particles. That means, once wildfire smoke goes away, people could still be exposed to the same irritants.
"It could be a continuous, ongoing problem," he said.
For people who don't have underlying health issues, long-term exposure to wildfire smoke can also damage airways, causing asthma-like issues, Joseph said.
Earlier studies have shown pollution from wildfire smoke is worse than scientists previously thought. In a 2017 report, researchers found smoke plumes have three times as much pollution as predicted in earlier estimates.
Smoke can travel far distances from where the actual fire is burning, affecting many more people. Earlier this summer, smoke from Siberia drifted into Northwestern skies.
But there are ways to protect yourself. For one, stay indoors and limit your outdoor recreation time when smoke is present.
You can also help keep the indoor air clean by using a HEPA air filtration system, which officials say can make a big difference.
Earlier this summer, Sarah Coefield, an air quality specialist in Missoula, Montana, praised the value of air filtration systems to a room full of journalists studying wildfires.
"I want people to go and get an air purifier with HEPA filtration as commonly as they would go and get a fan because it's hot," Coefield said during her talk.
Editor's Note: Reporting for this story was done during a fellowship sponsored by the Institute for Journalism and Natural Resources.
Autumn has knocked on our doors and crossed our thresholds. With its arrival comes wetter, colder, darker days — perhaps some pumpkin-flavored treats as well — and hopefully, fewer wildfires. Heavy recent rainfall has dropped the wildfire potential outlook down to normal for the Northwest, according to the National Significant Wildland Fire Potential Outlook.
So, how did this summer fare compared to past fire seasons? Continue Reading What impacts did wildfires have on the Northwest this summer?