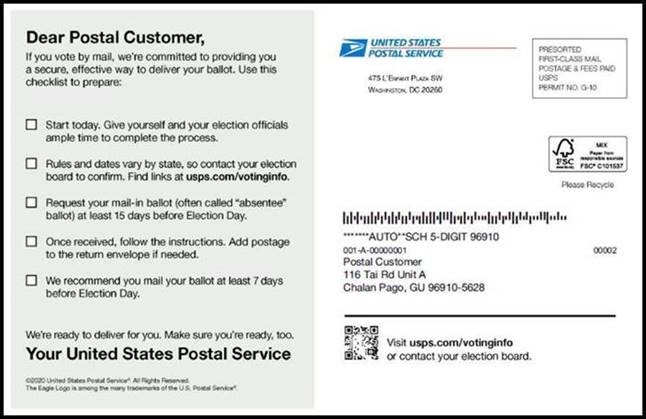 Washington State Elections Officials Warn Of Misleading Information On USPS Post Card
QUICK LINKS/INFO:
–Ballots Sent By: Oct. 16  / Return By: Nov. 3, 8 p.m.
BY DOUG NADVORNICK & SCOTT LEADINGHAM
Washington elections officials say a mailer sent out nationally last week by the U.S. Postal Service is causing confusion among voters.
The move by the USPS prompted a scramble by county auditors who run elections in their counties and the Washington Secretary of State's office, which oversees elections statewide, to put out public messages to clarify the process.
Spokane County Auditor Vicky Dalton says there are two factually inaccurate claims.
"They had recommended that if anybody wanted an absentee or vote-by-mail ballot to make their application at least 15 days prior to Election Day. That is absolutely not the case in Washington state. Every active registered voter will be mailed a ballot about 18 days prior to Election Day," Dalton said.
You don't need to request an absentee ballot in Washington since it is an all-vote-by-mail state. Anyone who registers to vote in Washington is automatically sent a ballot in the mail.
The second claim instructs voters to put a first-class postage stamp on their ballot envelope to make sure it's delivered to elections officials. Dalton says that's not needed. The state is paying for the postage, so there's no need to add a stamp.
Just drop the ballot envelope in the mail or return to an official elections drop box in your county. 
She says if you wait until the last few days before Election Day, your ballot might not reach the elections office.
Secretary of State Kim Wyman said in a Friday statement:
"The Office of the Secretary of State and county election officials were not made aware this mailer would be sent to Washington residents, nor were we apprised of its content. By the time we learned of the mailer and reached out to the postal service to inquire further, the mailers were already in the mail stream."
Whitman County Auditor Sandy Jamison is worried the mailers will confuse voters and prompt many to call into the elections office, which has a small staff and can't handle a big influx on inquiries on top of getting ready to mail out ballots.
Jamison said in a news release on Friday, Sept. 11:
"In Washington State, you DO NOT NEED to request a mail in ballot from your Elections Office because we are already a "Vote by Mail" State.  The ballots will be mailed out to all registered voters in Washington State beginning October 16, 2020.  Please be patient.  Your ballot will automatically arrive by mail. You do not need to request it."
Ballots will be sent out in each county by Oct. 16. They're due back by 8 p.m. on Tuesday, Nov. 3.
Doug Nadvornick is news director for Spokane Public Radio. Scott Leadingham is news manager for NWPB.