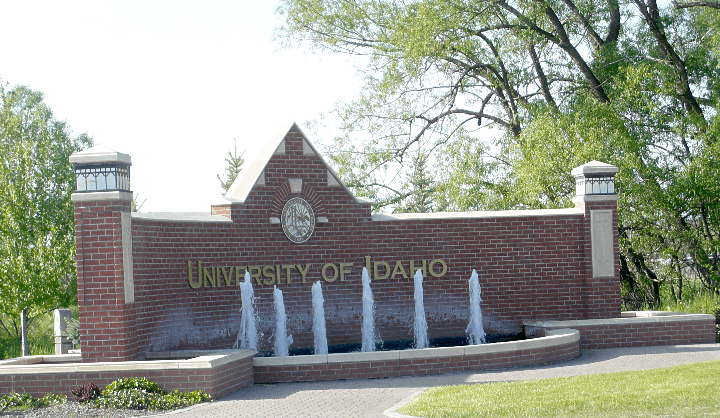 COVID-19 Cases Rise At University Of Idaho, But School Will Stay With Hybrid Classes
Coronavirus cases are rising at the University of Idaho, but face-to-face classes will continue.
The University of Idaho reported another 116 new coronavirus cases on campus last week.
The outbreak still seems to be centered on fraternity and sorority houses.
"The live-in Greek chapters continue to be the primary source of the positives and (four times) more infected than other students living on campus," the U of I said on its coronavirus website Monday. "There is little to no infection across the off-campus students and employees."
The latest numbers cover tests completed through Friday. A week ago, the U of I reported 67 new cases.
While the case numbers continued to climb last week, the university's positive test rate dropped from about 12 percent to about 8 percent. That's still higher than a 5 percent positive test rate — which health experts consider a sign of adequate testing. In the past week, however, the U of I expanded its testing from Greek houses to surveillance testing of the university community.
The U of I is continuing face-to-face instruction, but has given professors the option of moving classes online, the U of I Argonaut reported Friday.
Here are the state's campus coronavirus trends, as reported by Idaho's 11 public and private colleges and universities:
Increasing sharply (100 percent or greater)
University of Idaho. Sixty-seven new cases for a seven-day period ending Sept. 25, up from 25 positive cases the preceding week. University and public health officials said they do not believe the virus has been spreading through classroom contact. Instead, university officials believe the outbreak is tied to residents at fraternity and sorority houses.
College of Western Idaho. Numbers remain low, but CWI reported four cases last week involving coronavirus-positive individuals on campus. All four incidents occurred at the Nampa Campus Academic Building. Since the Aug. 24 start of the school year, CWI has reported nine incidents involving coronavirus-positive individuals on campus.
North Idaho College. Again, numbers are low but increasing rapidly. Seven students have self-reported a positive test result since Sept. 27, up from two from the previous week.
Increasing
Boise State University. Ninety-seven new cases reported Friday, up from 85 cases the previous week. Nearly all cases involved students: 49 who live off campus, and 44 who live on campus. Fifty-four of the university's 115 isolation beds were occupied, up from 44 the previous week.
BYU-Idaho. Sixty-seven active student cases and 13 active employee cases Friday. On Sept. 26, BYU-Idaho reported 56 active cases involving students and 11 cases involving employees.
Idaho State University. Forty-two probable and confirmed cases for a seven-day period ending Sept. 29, up from 26 the previous week. In all, 36 of the new cases involve students. ISU identified a new cluster tied to campus housing, a cluster tied to the College of Technology and a third cluster in the athletics department.
Lewis-Clark State College. Thirteen total cases and seven active cases as of Wednesday, up from eight cases and four active cases on Sept. 25. All cases involve students. No students are in isolation.
Northwest Nazarene University. Nine cases for the seven-day period ending Friday, five involving employees, three involving resident students and one involving a non-resident student. NNU reported five student cases the previous week. Ninety-two students and employees were under stay-at-home directives Friday, up from 52 the previous week.
College of Southern Idaho. Sixteen cases in a seven-day period ending Thursday, up from 10 cases the previous week. In all, 15 of the 16 new cases involved students.
Flat
The College of Idaho. Twenty-nine positive test results through Wednesday, unchanged from the previous week. All 29 cases are deemed recovered, and no students are in campus isolation housing.
Declining
College of Eastern Idaho. Four potential exposures from Sept. 23 through Sept. 29, down from five potential exposures the preceding seven days.
Check Kevin Richert's blog each Friday for a weekly roundup of statewide coronavirus trends.
Originally posted on IdahoEdNews.org on October 5, 2020
NOTE: Idaho Education News is an underwriter of NWPB programming, though NWPB is editorially independent. See all NWPB business supporters here.