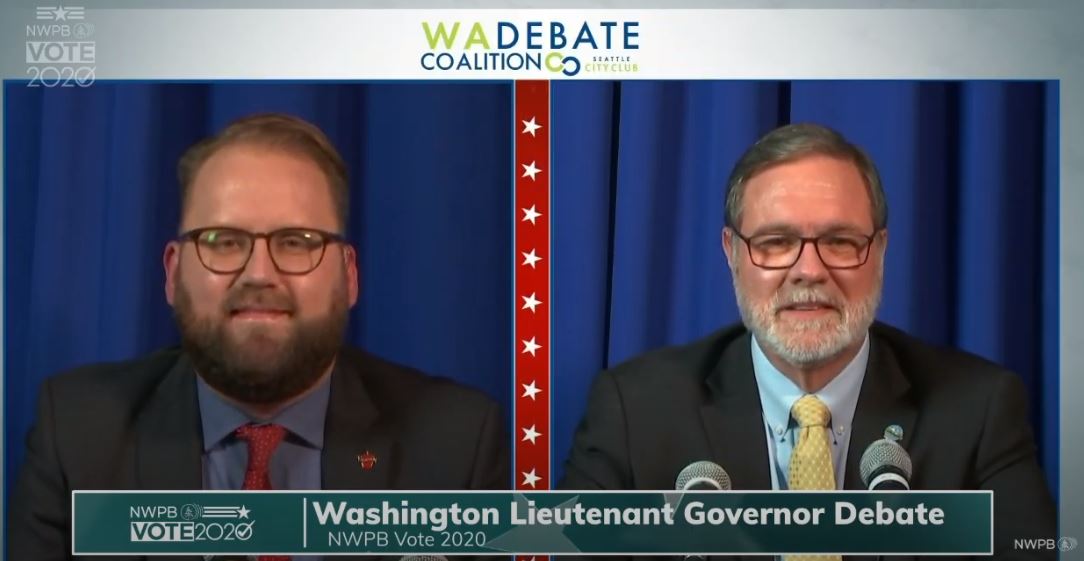 Two Democrats Running For Washington Lt. Governor Highlight Distinctions, Similarities In Debate
The two Puget Sound-region Democrats running to be Washington's next lieutenant governor had the chance to distinguish themselves in a statewide debate Thursday night.
Washington's election system advances the top-two vote getters from the primary to the general election. The August primary gave Congressman Denny Heck and state Senator Marko Liias those spots.
The debate, sponsored by the Washington State Debate Coalition and public affairs network TVW, was the final chance for Heck and Liias to draw distinctions about how they are different rather than highlight their similarities.
Topics from the four moderators ranged from the state budget to COVID-19 response to Indigenous affairs and tribal sovereignty to their future plans should the governor's office come open in the next four years.
Heck announced his retirement from Congress last year. He represents Washington's 10th congressional district in the Tacoma-Olympia area. He surprised many political watchers when he announced his run for lieutenant governor following current Gov. Jay Inslee's announcement to seek a third term.
Liias used the debate to tout his bipartisan credentials and time working in the state legislature with legislative Republicans in central and eastern Washington. He also noted that the evening was the anniversary when he came out as gay and noted that, if elected, he would be the first out LGBTQ person elected statewide in Washington.
Though they did draw contrasts with each other, notable areas of agreement included their stances on Indigenous rights and tribal sovereignty, particularly when they may conflict with the interest of the state in areas of law enforcement jurisdiction and tax collection. Both voiced strong support for tribal sovereignty. Both also said they supported the idea of celebrating Indigenous People's Day, as some jurisdictions do instead of Columbus Day. The federal government recognizes Columbus Day as a federal holiday.
On the question of the Lower Snake River Dams in Washington, which the federal government recently said will stay in place, they did not outright take a position on whether they should be altered or removed. Doing so would take an act of Congress. Heck said that going forward "it's important that we do a much better job of collaborating with our friends in Indian County," noting that some Native American tribes have pushed for dam removal to protect salmon.
"The best way to reach a solution, is to be collaborative with all the stakeholders," Heck said.
Liias noted that he visited the Lower Snake River last year with fellow state Senator Mark Schoesler in whose district the dams are located. He said they toured the area and visited with Nez Perce tribal leaders "to understand their perspectives."
"This is a place for government-to-government discussions with our tribal partners around what the path forward is," he said, noting that approaches to dams, like orca recovery in Puget Sound, should "be guided by science."
The hour-long debate was moderated by Mike McClanahan of TVW, Michelle Esteban of KOMO, Jessica Janner Castro of KING-5, and Northwest Public Broadcasting's Scott Leadingham.
WATCH: Washington Lt. Governor's Debate Between Marko Liias And Denny Heck