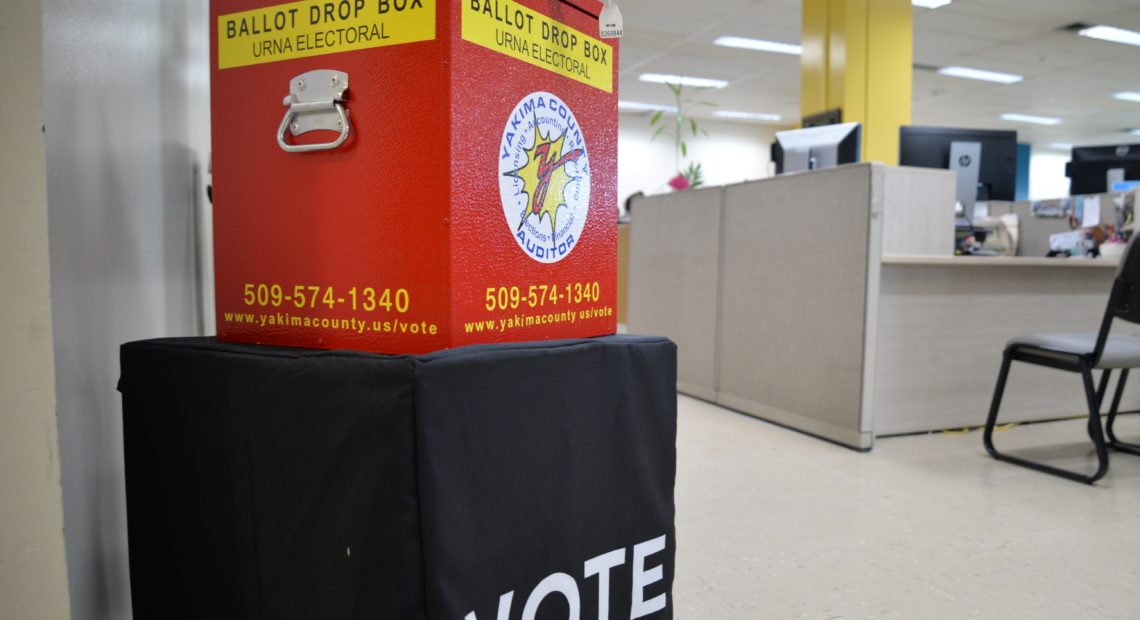 UPDATES: Jay Inslee Wins Reelection In Washington; More Northwest Election Results In Key Races
Election results are rolling in, but it's expected to take at least several days to count all the ballots across the Northwest and many other states. Below are key races to watch, and links to resources and results from across Washington, Oregon and Idaho.
WATCH: Northwest election results and analysis from NWPB:

Here are results in key races around Washington and Idaho that NWPB is following. For full results of all state races, see here for Washington and here for Idaho.
WASHINGTON
Governor: 
(i) Jay Inslee (D) – WINNER
Loren Culp (R)
The Associated Press called the governor's race for Inslee soon after the 8 p.m. ballot collection deadline. He had nearly 60% of the vote at the time. But Republican challenger Loren Culp told a gathering of supporters late Tuesday night that he isn't conceding yet.
"There's a lot of counties that haven't reported. There's a lot of votes that haven't been counted. And we're going to wait until those people have their voices heard," Culp said.
As of 10:30 Tuesday night, all but two smaller counties had reported their initial numbers to the Secretary of State. Invoking President Trump, Culp also called into question the validity of the vote and said he would "fight for every vote." Culp is a first time candidate and serves as the chief of police in Republic, Washington.
But on Wednesday, Culp said the town of Republic has de-funded its police department and eliminated his position as chief and sole officer of the department. He announced that in a Facebook live event.
Republic is a small town in Ferry County, in northeastern Washington, where Culp is the sole law enforcement officer for the city. The Ferry County Sheriff's Office is headquartered in Republic, the county's largest town, and has provided policing services while Culp has been campaigning this year. Earlier this year, the county asked the city for $138,000 to pay for its public safety services.
"Seems kind of backhanded, feels like a knife in the back, but there's other things, you know, but anyway why defund the police department a couple of days before the election. It's incredible," Culp told his Facebook audience.
On Thursday, Nov. 5, the Republic city council in Republic responded to Culp's allegations. He had been on leave from the department while campaigning. He questioned the timing of the decision since it came right before the election. In response, the city council issued a press release saying it wanted to clear up any misinformation. It said the decision to disband the police department was not made lightly, but that the town's budget has been declining and that it will be cheaper to have the Ferry County Sheriff's office take over.
Seattle-based public media outlet Crosscut reported in August that the county asked the city to pay nearly $140,000 for its services providing the city police protection while Culp was gone campaigning.
The city's news release also says Culp will have the option to go to work for the sheriff's office. Republic is a town of about 1,000 people.
Lt. Governor (open seat):
Denny Heck (D) – WINNER
Marko Liias (D)
The race was unique in that it featured two Democrats vying for the same statewide seat, due to Washington's electoral system of the top-two vote getters from the primary advancing to the general, regardless of political party.
Before jumping into the lt. governor's race, Heck had announced his retirement from Congress, where he represents Washington 10th Congressional District in the Tacoma-Olympia region. Liias is currently a state senator representing the Everett area. The normally low-key lt. governor's race got extra attention this year because of questions of who would become governor if Jay Inslee were reelected and took a position in a potential Joe Biden administration, should he win the presidency.
Former Bothell Mayor Joshua Freed, a Republican, mounted a write-in campaign for the position, after not advancing in the primary race for governor. As of Wednesday afternoon, Nov. 4, state results showed write-in candidates had garnered about 19% of the statewide vote.
Secretary of State:
(i) Kim Wyman (R) – WINNER
Gael Tarlton (D)
Wyman is part of an increasingly rare thing in Washington: a statewide elected Republican. The secretary of state's office is a stronghold for Republicans in Washington, having been run by an elected Republican for five decades. Wyman's appeal to now being elected to her third term is not only her incumbent's advantage, but the strength and security of the state's vote-by-mail election system, which is very popular with voters statewide. With fellow Republican and incumbent state treasurer Duane Davidson losing his race, Wyman is poised to remain the only statewide elected Republican in Washington. And, likely, the only such Republican in all of Washington, Oregon and California.
Attorney General:
(i) Bob Ferguson (D) – WINNER
Matt Larkin (R)
Superintendent of Public Instruction
(i) Chris Reykdal – WINNER
Maia Espinoza
Referendum 90 (Sex Education)
Approve – WINNER
Reject
State Treasurer: 
(i) Duane Davidson (R)
Mike Pellicciotti (D) – WINNER
Insurance Commissioner:
(i) Mike Kreidler (D) – WINNER
Chirayu Avinash Patel (R)
Auditor
(i) Pat McCarthy (D) – WINNER
Chris Leyba (R)
Commissioner of Public Lands
(i) Hilary Franz (D) – WINNER
Sue Kuehl Pederson (R)
U.S. House – District 4
(i) Dan Newhouse (R) – WINNER
Doug McKinley (D)
In central Washington's 4th District, incumbent Republican Dan Newhouse was seeking his fourth term. His challenger, Tri-Cities attorney Doug McKinley, acknowledged the race is an uphill battle for a Democrat. He's argued for a quick transition to clean energy.
Newhouse calls himself a conservationist and a strong champion of the four Lower Snake River dams, which environmental groups have sought to remove. Newhouse says dams and salmon can coexist, through investments in new technology – like better fish passage and improved habitat.
McKinley told the Tri-City Herald editorial review board that he's unsure how the final decision on dams should play out. He said salmon advocates and dam supporters need to be honest in their arguments and look toward fact-based science.
This was McKinley's second time running for the 4th District. In 2016, he didn't make it out of the August primaries. In 2014, he ran for the Washington state senate.
U.S. House – District 5 
(i) Cathy McMorris Rodgers (R) – WINNER
Dave Wilson (D)
McMorris Rodgers is running was running for her ninth term in Washington's 5th District against Democrat and businessman Dave Wilson.
Wilson has twice run as an independent, hoping to unseat McMorris Rodgers in 2014 and 2016. He lost his bid for a position in the Washington state House of Representatives in 2018.
McMorris Rodgers says she wants to counter the Green New Deal, which proposed to drastically reduce heat-trapping greenhouse gas emissions while creating clean energy jobs. McMorris Rodgers says Green New Deal supporters want a "complete government takeover of our economy," according to her campaign page.
She has also strongly supported keeping the Snake River Dams in place. She's long fought to increase hydropower.
At a candidate forum organized by the Lewis and Clark Valley Chamber of Commerce and the League of Women Voters of the LC Valley, McMorris Rodgers said Republicans have supported clean energy solutions that will help fight climate change, while not directly linking the two issues. She says removing Snake River Dams would have increased carbon emissions. In an answer to questions from The Spokesman-Review, Wilson said the dams should remain in place until there's a better plan to replace the green energy they produce.
U.S. House – District 8
(i) Kim Schrier (D) – WINNER
Jesse Jensen (R)
Rep. Kim Schrier, a medical doctor, fended off a challenge from Republican newcomer Jesse Jensen, an Army veteran and former Amazon manager. The district stretches from Seattle's eastern suburbs across the Cascades to Kittitas and Chelan Counties. While the district overall has typically backed Democrats for president, including Barack Obama and Hillary Clinton, Republicans held the congressional seat for decades. Schrier won a close race for the open seat against Dino Rossi in 2018 after incumbent Dave Reichert retired.
Whitman County Commission 
(i) Dean Kinzer (R)
Tom Handy (I)
The election is close. Too close to call at this point. And it could go to a recount if it remains this close. As it stands Friday afternoon, Nov. 6, incumbent Republican commissioner Dean Kinzer leads independent Tom Handy by only four votes. That's out of over 16,00 already counted. The Whitman County elections office estimates about 3,500 ballots left to count. The next drop of data is expected on Monday.
IDAHO
U.S. Senate
(i) Jim Risch (R) – WINNER
Paulette Jordan (D)
This race wasn't on anyone's radar nationally for a potential Democratic flip. Any Democrat winning statewide in Idaho is a tall order, even in years with large turnout, like this one. But Jordan is probably the most prominent statewide name for Democrats, given that she ran for governor in 2018, making national headlines then as the person who could potentially flip the governorship — and be the first Native American governor of any state. She garnered less than 39% of the vote in 2018. This year she got just over 33% in her U.S. Senate bid.
U.S. House – District. 1:
(i) Russ Fulcher (R) – WINNER
Rudy Soto (D)
Joe Evans (C)
State Senate – District 5
(i) Dave Nelson (D) – WINNER
Dan Foreman (R)
This race was a rematch of 2018, when Dave Nelson beat then-incumbent Dan Foreman. It was also incredibly close, with Nelson winning by fewer than 200 votes.
State House – District 5-A (open seat)
(i) Brandon Mitchell (R) – WINNER
Dulce Kersting-Lark (D)
Brandon Mitchell ran unsuccessfully for Moscow City Council in 2018, part of a group of three conservative-leaning candidate who were trying to shift the balance of power on the council. He owns multiple Jiffy Lube businesses in the area and ran on not only his business credentials, but a promise of being pro-gun and opposed to abortion.
State House – District 5-B
(i) Caroline Nilsson Troy (R) – WINNER
Renee Love (D)
James Hartley (C)
Caroline Nilsson Troy won her fourth term in the seat, in a district that has long been fairly purple and hard to nail down for any party. Democrat Paulette Jordan, who ran this year for U.S. Senate and governor in 2018, formerly represented the district in the state House.
"It's amazing to represent a district as competitive as this one," Nilsson-Troy told the Moscow-Pullman Daily news. "There are few in Idaho that are as competitive as ours. This is how it should be done."
Latah County Commissioner:
(i) Tom Lamar (D) – WINNER
Gabriel Rench (R)
Contributing to this story: Olympia correspondent Austin Jenkins; NWPB environmental reporter Courtney Flatt; NWPB news manager Scott Leadingham