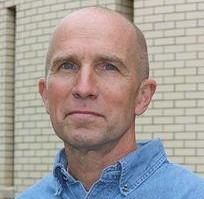 Spokane County Health Officer Refuses To Resign As Requested, Says He Has Hired A Lawyer
Updated Oct. 31, 2020, 4 p.m. 
The employment status of Spokane Regional Health District health officer Dr. Bob Lutz remains uncertain this weekend.  Health District administrator Amelia Clark indicated on Friday that he would no longer be employed by the district. But as of Friday Lutz had not submitted a formal resignation. A public vote by the Health District board is required to remove the health officer, but no such vote has taken place.
Lutz released a statement Saturday, as the Spokesman-Review reported, saying that he had not resigned, does not intend to do so, and has hired a lawyer.
See the full statement from Dr. Bob Lutz.
Original Story, Oct. 30, 2020:
The Spokane Regional Health District's administrative officer has reportedly asked Health Officer Bob Lutz to resign. Amelia Clark addressed reporters during a press conference Friday morning.
"A discussion was had during the executive session of the Board of Health meeting regarding performance concerns of the health officer. The executive committee gave me their support to ask for Dr. Lutz's resignation," Clark said.
She would not give specifics regarding those performance concerns, citing the advice from the district's legal counsel.
After Clark left the news conference, reporters pressed district spokeswoman Kelli Hawkins to clarify the circumstances surrounding Lutz's apparent departure.
"He was asked to resign, as of today, and we have not reached the end of today," she said.
"So, he was asked to resign and is no longer an employee and did not resign, so therefore he was terminated?"
"That has not happened at this time," Hawkins said.
"Is that going to happen if he doesn't resign?"
"That is a future decision to be made and also something that needs to be discussed within personnel," Hawkins said.
She told reporters that more information may be coming later in the day, without offering specifics.
Clark says the board did not vote on the recommendation.
She says the health district will immediately begin looking for someone to replace Lutz. For now, she says, his duties will be spread among existing staff. She also alluded to the possibility of hiring someone on a temporary, contract basis during the recruitment process.
Friday's virtual press conference was attended by about 100 people, a small percentage of them reporters.
Lutz served on the health board himself until he was appointed health officer. He has led the district's response to the coronavirus pandemic. The number of cases over the last few weeks has rivaled the peak of the pandemic in the mid-summer.
Some in the community, including the county commissioners, have seemed impatient with that response. In June, while the numbers of confirmed cases were in the low double digits, the commissioners wrote a letter, requesting the health district petition the state Health Department to start the process of moving Spokane County from phase 2 to phase 3 of the state's coronavirus protocol. A few weeks later, the county's numbers began to increase and the idea seemed to fade. Meanwhile, Governor Jay Inslee has, for the most part, paused the process of advancing counties through the protocol.
Spokane Mayor Nadine Woodward issued a statement just before 1 p.m. Friday: "Dr. Lutz has faced an extremely tough challenge over an extended time and gave everything he had to the community. Spokane and the state were the first to take the national stage in February. We have been learning about the virus as we go and those long months since have left our region anxious, tired, and frustrated that we are not progressing as fast as everyone had hoped. This is a community health and economic emergency and it takes partnership and community to solve it; we will rally together as Spokane always does. Please continue to put your loved ones, friends, neighbors, and colleagues first as you remain resilient and practice good mask etiquette and hand hygiene."
Scott Leadingham contributed from Northwest Public Broadcasting.
Copyright 2020 Spokane Public Radio