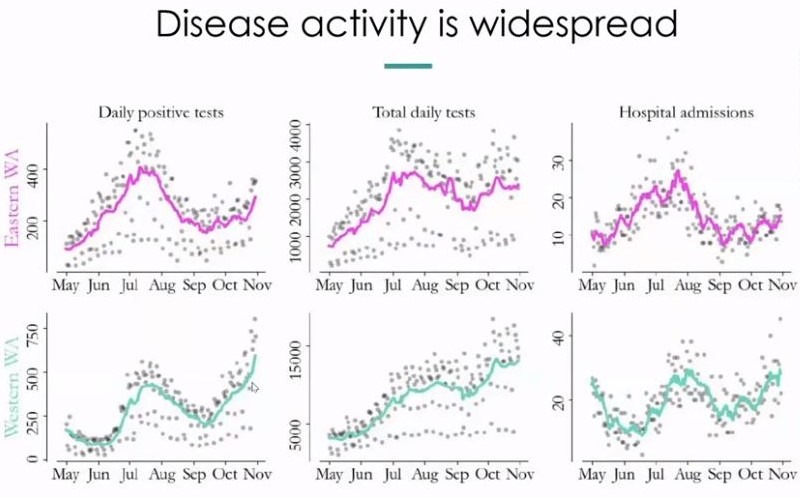 Washington Health Officials Warn: COVID Is Surging, And It's Up To All To Prevent More Shutdowns
QUICK LINKS:
BY ANNA BOIKO-WEYRAUCH & DOUG NADVORNICK
Washington is heading into the most severe surge of coronavirus yet. And time is running out to turn things around. 
That was the message Tuesday during a virtual briefing from a raft of high-ranking public health officials. (Watch the full briefing here.)
Snohomish County health officer Dr. Chris Spitters was one.
"If we don't take action immediately, even more painful and difficult interventions are inevitable," Spitters said. "I strongly recommend you take their advice for your own good and more importantly for the entire community depending on you to do so."
Spitters says while COVID-19 fatigue is understandable, action is needed now to flatten the curve.
The panel stressed that if we don't take action now, consequences could be severe, including an overwhelming surge in demand for hospital care.
State health officer Dr. Kathy Lofy said that cases are rising among all age groups. She said it "indicates that transmission is very widespread in our communities, and it also indicates that we'll see significantly more hospitalizations and eventually since our older age groups are affected."
Lofy said state officials are worried that the trajectory will lead to an acceleration in hospitalizations, and hospitals will be overwhelmed, as KNKX reporter Will James reported.
She said the state is back in a "flatten the curve" situation, and if we can't, the state will have to take steps that hurt the economy.
Washington has seen a week of record-breaking numbers of new cases, with more than 118,000 cases.
Though Gov. Jay Inslee wasn't a part of Tuesday's briefing, his office was represented. David Postman, Inslee's chief of staff, responded to a reporter's question of why the governor hadn't implemented more restrictions or returned to a stay-home measure as seen earlier this year.
Postman said the governor and state health officials are doing everything they can to encourage people to continue wearing masks, socially distance and to not congregate inside their homes – or more "economic pain" may be necessary.
David Postman, the governor's chief of staff, responds to a question about why Inslee hasn't imposed restrictions yet.

Amounts to: The gov believes in masks, in social distancing. He thinks there's more we can do individually before economic pain becomes necessary.

— Will James (@OtherWillJames) November 10, 2020
"It doesn't mean we won't come to some sort of restriction as we saw (earlier this year)," Postman said. "When we institute those sorts of things, the questions we get then are, 'Why are you doing these things?' People don't like it and there's a COVID fatigue that sets in. People told us that from the very beginning."
Tuesday's warning was a reminder to people that if they want to avoid more restrictions, the power is in their hands. The way to avoid them is to continue doing the masking and distancing people have been practicing since March, Postman said.
Upcoming holiday plans
As part of that, health officials are warning people that they may have to make alternate plans for Thanksgiving, Christmas and the other November and December holidays.
Lacy Fehrenbach, the Department of Health's deputy secretary for COVID-19 response, says Washingtonians can learn from others' experiences about how to – or not to – celebrate Thanksgiving.
"Our neighbors in Canada celebrated their Thanksgiving about a month ago and saw large increases in cases following that. We cannot afford those in Washington state," she said. "Any in-person gathering is risky right now, both for those that attend that gathering and because it can further accelerate the spread of the pandemic."
She and others suggested celebrations that involve virtual meetings or small, brief gatherings outside.
"You can certainly link in your immediate family by web, if you want that togetherness," Fehrenbach said. "For those that want to have an immediate Thanksgiving please make it outdoors. Please limit to no more than five people outside your household. And you should consider a full quarantine for the two weeks prior, which starts very soon."
State health department staff are largely off Wednesday for the observance of Veterans Day, meaning the state's coronavirus dashboard and data site likely won't be updated again until Thursday, Nov. 12.
Anna Boiko-Weyrach reports for KUOW in Seattle. Doug Nadvornick is news director of Spokane Public Radio. Will James of KNKX and Scott Leadingham of NWPB contributed.