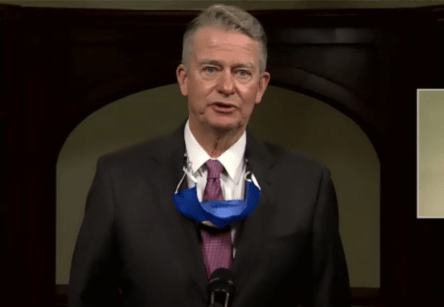 Idaho Gov. Brad Little Activates National Guard, Moves State Back To Phase 2 As COVID Cases Grow
Gov. Brad Little activated the Idaho National Guard Friday, and shouldered some of the blame for failing to effectively communicate the dangers of the coronavirus now spreading through Idaho at a record rate.
"We've come to the profound conclusion that what we've been doing hasn't been working," said Little, giving the word "profound" a sarcastic tone.
Little's executive order activated 100 National Guard troopers to assist with mobile testing support, medical facility decontamination, COVID-19 screenings, logistical support and more.
He also signed a public health order moving Idaho back to a modified version of Stage 2 of the state's four-stage reopening plan, effective Saturday.
"We are in the middle of an unprecedented and dangerous time in our state's history," Little said. "With every day that passes we are breaking records for the number of COVID deaths, the amount of overall hospitalizations and the number of new cases in communities all across our state."
Schools, churches and all businesses, including bars and nightclubs, can remain open under the new Stage 2 order. Informal social gatherings of 10 people or more are prohibited.
Little stopped short of issuing a statewide mask mandate or stay-at-home order, despite mounting pressure on hospitals.
He continued to push for personal responsibility and local decisionmaking.
"I've just got to make a better case for people to do the right thing," Little said. "I have to make the connection between doing those small sacrifices and preserving our health care capacity. We've been talking about it since March, but I obviously haven't been doing a good enough job."
In an effort to change up the messaging, Little introduced a young mother who contracted COVID-19 and was separated from her baby and hospitalized for weeks as a machine on the wall breathed for her mechanically.
Throughout the hourlong event, Little continued to encourage schools to offer in-person learning. He said schools are a safer, more controlled environment than the community at large.
Less than 24 hours before Little's announcement, the Boise School Board voted unanimously to move to full remote learning after Thanksgiving. Boise administrators said the virus has overwhelmed the community to the point the district cannot sustain operations, leaving teacher absences uncovered and dozens of non-teaching jobs vacant.
Idaho Education News asked Little if the Idaho National Guard could help step in to support school operations, after multiple school administrators reached out to Idaho EdNews during the news conference with questions.
"We're not taking anything off the table about what we are going to do," Little said.
Major General Michael Garshak, the adjutant general of the Idaho National Guard, said troopers might be able to help by disinfecting school buildings overnight. But he said the guard will have to prioritize requests as the come in and lean on public health districts to advise them on where they can help the most.
After Little's news conference, state Sen.-elect Melissa Wintrow said Little didn't go far enough.
"Idaho is bleeding from a gaping wound and the Governor's announcement is another bandaid." said Wintrow, D-Boise. "It's painfully clear that the personal responsibility strategy is not working. We've been trying to encourage people to care about the lives of fellow Idahoans enough to wear a mask for months and our coronavirus cases have continued to increase."
Originally posted on IdahoEdNews.org on November 13, 2020