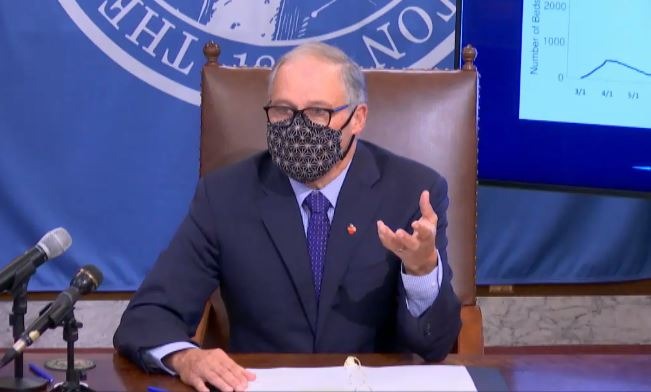 Governor Announces Current Washington Business Closures Will Extend Into The New Year
QUICK LINKS:
BY AUSTIN JENKINS & SCOTT LEADINGHAM
Updated Dec. 8, 2020, 3:40 p.m. PT
Washington bars and restaurants will remain closed for indoor service, and movie theaters and bowling alleys will continue to be completely closed, Gov. Jay Inslee announced Tuesday. He said the current closure order, which was set to expire Dec. 14, would be extended by three weeks to Jan. 4, 2021.
"What we do now will be a matter of life and death to many people," Inslee said.
"This extension could end up shorter if there was significant improvement and unfortunately people know it could end up longer if there's a deterioration," he said. "But at this moment we wanted to strike the right balance of allowing business owners to plan the next several weeks and that this is the best balance we can strike."
Anthony Anton, who leads the Washington Hospitality Association, a group that represents restaurants, called the extension "heartbreaking and outrageous."
"This has come at the worse time which is supposed to be our most joyous time of the year," Anton said Tuesday.
Anton says for many restaurants, this time of year is when they earn revenue to tide them over during the winter months.
With the extended restrictions, Anton says restaurants will continue to suffer, leaving more than 100,000 workers unemployed.
Inslee was joined on the virtual news conference Tuesday by state Commerce Secretary Lisa Brown, whose agency will distribute an additional $50 million in aid to affected businesses.
Inslee now also promising state will step in with extended pandemic unemployment assistance for at least one month for those who are set to lose benefits at the end of the year. But says he's hoping Congress acts before then to extend benefits so that state doesn't have to.

— Austin Jenkins N3 (@AustinJenkinsN3) December 8, 2020
Secretary of Health John Wiesman noted the state will have an initial allocation of a Pfizer vaccine of 62,500, doses, with more coming. The first group to receive the vaccine will be high-risk health workers and people in long-term care settings. He said employers working with employees who are at highest risk to figure out the distribution schedule.
But, Wiesman noted, there are over 300,000 health care workers who fall into this high-risk category in Washington.
"It's going to take us a number of weeks … to be able to get through to those folks," he said.
The governor did say there are early signs the recent spike in COVID-19 cases could be leveling off, but it's too early to know for sure.
On Tuesday the Associated Press reported:
The Washington State Department of Health on Monday announced 6,972 new cases throughout the state, but said that number includes both a backlog of COVID-19 positive lab test results received over the weekend and about 1,800 duplicates that have not yet been resolved.

The high number of cases reported is also due to catching up from a backlog created by temporary system slowdowns last week as servers were upgraded, health officials said. The estimated 1,800 duplicate cases in Monday's total case counts will be removed from the dataset in the future as the department catches up on that process.
Austin Jenkins is Olympia correspondent for the public media Northwest News Network. KUOW's Ruby de Luna contributed reporting. Information from the Associated Press was used in this story.