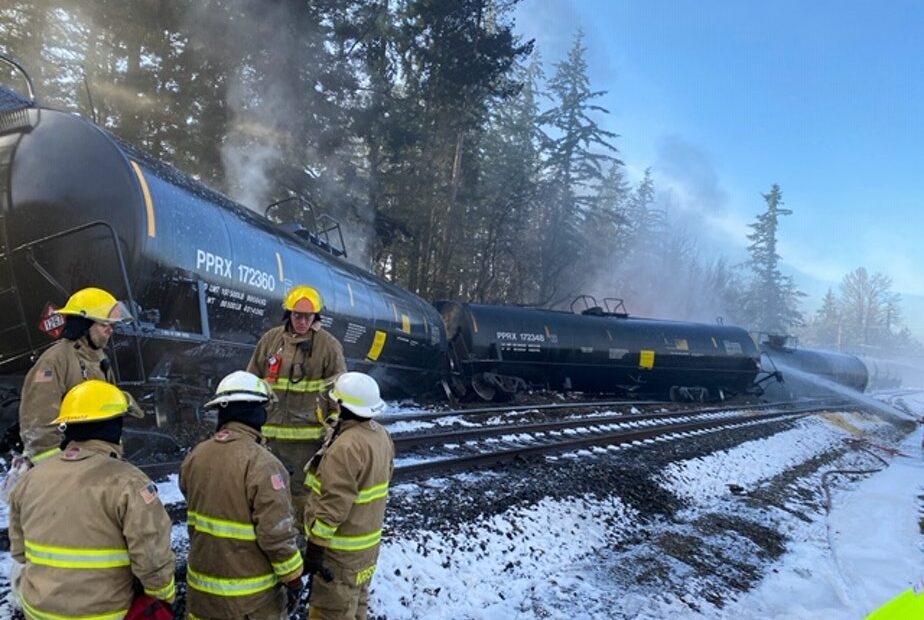 Train Carrying Crude Oil Derails, Catches Fire In Whatcom County Near Canadian Border
Updated Dec. 22, 2020, 8:40 p.m. PT
BY DYLER OXLEY & LIZ BRAZILE
A train carrying crude oil derailed and caught fire in Whatcom County Tuesday morning, prompting officials to evacuate all nearby residents and businesses for several hours. 
Reports that the train had derailed came in around 11:46 a.m., according to the Whatcom County Sheriff's Office, in the 7500 block of Portal Way in Custer, Wash., roughly 15 miles north of Bellingham along I-5.
Officials initially evacuated the area around the scene due to the toxicity of oil smoke, but lifted the order at approximately 4:44 p.m.
Seven cars derailed and two caught fire, BNSF Railway spokesperson Courtney Wallace said during a press conference Tuesday afternoon. A fire erupted toward the end of the train sending a plume of smoke into the air that could be seen for miles.
The cause of the derailment remains under investigation, Whatcom County Sheriff Bill Elfo said.
"The FBI is on the scene," he said. "But we have the state utilities and the Transportation Commission there as well. And we have the right people to determine what happened."
TRAIN DERAILMENT UPDATE (2/2): DO NOT ATTEMPT TO GO TO THE INCIDENT SITE. Fires are still active. It is not safe to approach. The investigation is ongoing. @BNSFRailway has set up a claims hotline for those who have been impacted by this evacuation. 1-866-243-4784

— Whatcom County Sheriff's Office (@whatcomsheriff) December 23, 2020
Elfo added that as of approximately 4 p.m., the fire caused by the derailment was still burning but had been contained by fire crews, who used foam to suppress it.
It's not presently clear when the evacuation order will be lifted. But Elfo said officials would soon reevaluate the circumstances.
Local authorities closed off Portal Way between Grandview and Main Street. I-5 was also shut down between Grandview Road and Birch Bay Lynden Road.
BNSF has set up a claims hotline for people impacted by the evacuation, the number for which is 1-800-243-4784.
Associated Press Update: 
BY LISA BAUMANN
The seven cars derailed at about 11:46 a.m. Tuesday, BNSF Railway spokesperson Courtney Wallace said at the news conference. She said two people were on board the 108-car train headed from North Dakota to the Ferndale Refinery, owned by Phillips 66.
"BNSF is working with local authorities to assess and mitigate the situation," the railway said on Twitter. "The cause of the incident is under investigation."
The state Department of Ecology said a command center had been set up at the scene with the railway and federal Environmental Protection Agency officials.
Matt Krogh, director of U.S. Oil & Gas Campaigns for the environmental group Stand.earth, is based in Bellingham near the derailment and told The Associated Press he could see the smoke. He said the incident was another example of how transporting crude oil by train – especially in large numbers of tankers — is "very, very dangerous."
He cited the 2013 fiery derailment of a train carrying crude in Lac Megantic, Quebec, which killed 47 people, and a 2016 derailment in Mosier, Oregon, along the Columbia River that caused people to evacuate.
Krogh said crude oil is volatile and there are often track maintenance concerns. Among other things, Krogh and his group would like to see a reduction in the number of tank cars allowed per shipment.
"I think we got lucky today," he said, referring to the derailment in Custer.
Democratic U.S. Rep. Rick Larsen, D-Wash., said in a statement Tuesday he was concerned about the derailment. Larsen is a senior member of the House Transportation and Infrastructure Committee.
"I worked closely with the Obama administration to create strong rules to make the transport of oil by rail safer," Larsen said. "Clearly there may be more work to do."
Custer, a small town of several hundred people, is about 100 miles north of Seattle.
Dyler Oxley and Liz Brazile report for Northwest News Network member station KUOW. Additional reporting from the Associated Press was used in this story.