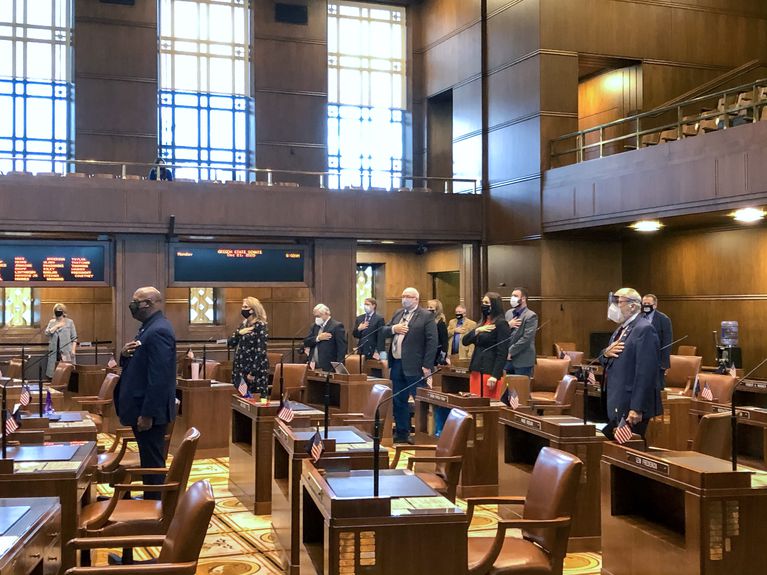 For 3rd Straight Year, Oregon Senate Republicans Stage Walkout To Stop Legislative Business
BY LAUREN DAKE & DIRK VANDERHART / OPB
Oregon Senate Republicans boycotted the state Legislature's floor session on Thursday, shortly after Gov. Kate Brown announced she was extending her COVID-19 related emergency order.
It was a move reminiscent of Republican walkouts of the previous legislative session, which denied the majority Democrats enough people to be able to vote on bills.
Senate President Peter Courtney, D-Salem, in a familiarly exasperated tone, urged the Republicans to appear.
"There are major pieces of legislation coming our way that affect all Oregonians, all Oregonians," he said. "I would ask the Republicans to please come to the floor and participate in the floor session. Very regrettable."
Courtney also said he was unaware Republicans had planned not to show up.
"Yes, there's hard feelings here and there but nothing of this magnitude," Courtney said on the floor.
Shortly after it became evident Republicans were not appearing for the floor session, the Senate Republican caucus sent a letter requesting the governor immediately reopen schools for fully in-person instruction.
"Throughout the pandemic, the Legislature has abdicated too much responsibility to the Governor," Senate Republican Leader Fred Girod wrote in a statement. "We cannot sit by and watch the Governor fail to deliver on the biggest issues facing Oregonians today."
Republicans gave a list of demands they want to see including legislation aimed at school reopenings, more of a focus on vaccinating seniors and more urgency when it comes to the state's economic recovery.
"The Governor doubled down deprioritizing seniors in the vaccine line, even when evidence suggested teachers didn't need to be vaccinated to reopen schools," Girod's statement continued. "… It's time for the Legislature to step in and hold the Governor accountable for these failures. We must use vaccines to save the most number of lives. That means seniors need to be prioritized and rural Oregon needs their fair share."
A spokesman for Senate Republicans, Dru Draper, characterized the no-show as a one-off effort to draw urgency to Republican demands. He could not say whether it might be part of a sustained pressure campaign that would stop up action in the Senate for weeks to come.
Brown has consistently defended the measures she's put in place to stem the spread of COVID-19, and her office did not change course Thursday.
"Let's be clear: Governor Brown is using all available tools and resources to respond to the crises facing Oregonians," Charles Boyle, Brown's deputy communications director, wrote in a statement. "Governor Brown is going to keep going to work every day for Oregonians. She expects all elected officials to do the same."
A potential quorum denial has been "several weeks in the making," Draper said, as Republican Senators have felt their demands for eased COVID-19 restrictions went unheard. They came to a head, he said, with Brown's announcement Thursday she was extending the state of emergency due to the pandemic for another 60 days. It will now expire May 2.
"As we vaccinate thousands of Oregonians each day and reopen more school buildings and businesses as safely as possible, now is not the time to let up our guard," Brown wrote in a statement. "New, more infectious COVID-19 variants are circulating in the United States, including several confirmed cases in Oregon."
Both the House and Senate chambers are meeting on a limited basis to vote on bills, due to the COVID-19 pandemic.
At the start of the session, when Girod was asked about possible recurring Republican walkouts, he said he didn't foresee that being a necessary tool this session and should only be reserved for issues of great magnitude. Previously, Republicans boycotted the session over climate change legislation that they successfully prevented from becoming law. It's unclear how long the Republicans plan to not show up for floor sessions.
The latest move by Senate Republicans is the fourth time they have used the tactic of refusing to grant a quorum in the last three consecutive sessions. The previous three walkout outs stretched days, and were aimed specifically at bills Democratic senators were teeing up for a vote. Thursday's maneuver was different, targeting executive actions instead.
As walkouts have taken on an increasingly important role for Republican superminorities in the House and Senate, the Legislature's quorum rules have also become a subject of debate.
Democrats this year have introduced a resolution that would refer a ballot measure to voters, changing quorums from two-thirds of lawmakers to a simple majority. The resolution has not been scheduled for a hearing.
Senate Democratic Leader Rob Wagner said in a written statement, however, that Republicans would be held accountable.
"We have tremendously important work this session. Lives are at stake as we deal with the COVID-19 pandemic, and yet the Senate Republicans continue their anti-democratic walkout tactics," Wagner said, adding Democrats will be advancing new rules and laws to deter future walkouts.
"Senate Republicans continue to sabotage Oregon's democracy and undermine the will of voters," Wagner said. "They have abdicated the oaths of office many of them took just weeks ago. They continue to accept pay, benefits and daily expenses from Oregon taxpayers all while completely obstructing the business before the Legislature – the people's work."
Republicans responded by Wagner's comments noting they have been willing to "show up for work," meaning they have pushed for more in-person meetings while Democrats have championed virtual gatherings due to the global pandemic.
"I find the Senate Majority Leader's statement laughable and hypocritical," Sen. Tim Knopp, R-Bend, said in a written statement.
Knopp was one of the only Republicans who remained at the Capitol during some of the previous walkouts.
"The Democrats have scheduled themselves not to show up for work since the session started. By their standard, they have not shown up to work for 14 days. We have missed one day. All of the Senate Republicans, myself included, are working in committee today," Knopp said. "Working Oregonians, students and seniors deserve more from us than only scheduling a single floor session per week.