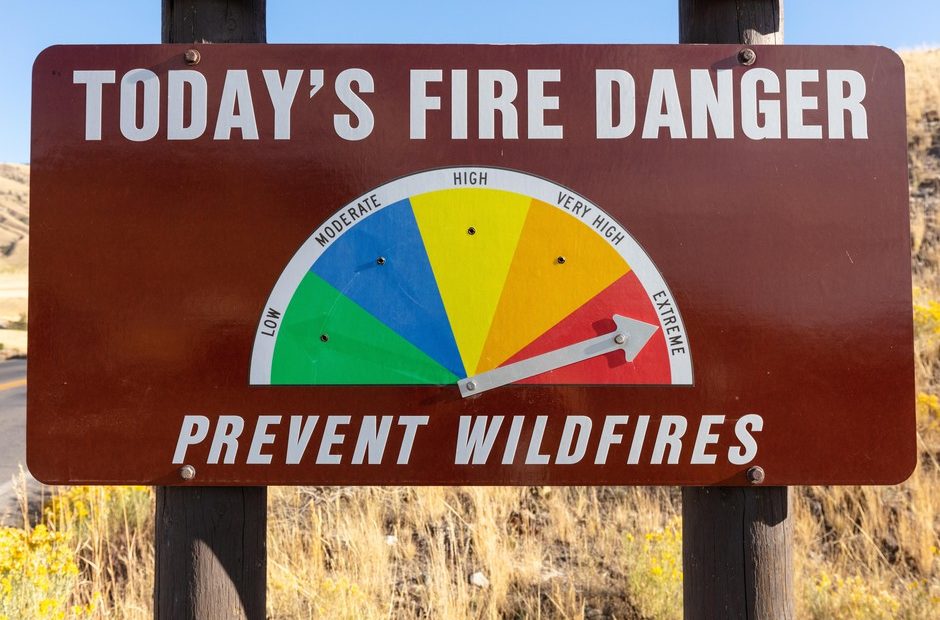 It's Very Hot, It's Tinder Dry, And Wildfire Conditions Are 'Unusually Risky' At This Point In The Summer
Updated July 4, 2021, 11:16 p.m. PT
Fire conditions in the Northwest are extremely high right now, particularly east of the Cascades. That was evident Sunday, July 4, as crews around the region were busy attacking numerous fires that began over the hot holiday weekend.
Those conditions mixed with many people setting off fireworks, often illegally, and other human activities that caused fire made for volatile conditions.
In Douglas County, the Batterman Fire near Rock Island and the Wenatchee airport was burning several thousand acres. It began mid-day Sunday and forced Level 3 evacuations. Another fire north of Ellensburg also prompted evacuations.  
Spokane saw multiple grass, brush and tree fires within city limits.
As a reminder for fire season: Level 1 means be prepared to leave if necessary. Level 2 means get set to go at a moment's notice. And Level 3 means get out now.
Original Story, July 3, 2021:
The Northwest is primed for fire season, and not in a good way. East of the Cascades, forecasters say this year could be worse than recent record-breaking fire seasons. 
Washington officials predict this year could be a "huge challenge," with no significant relief in sight.
Across the Northwest, there are "unusually risky" conditions for large and costly fires, according to the Northwest Interagency Coordination Center.
"It is extremely rare for weather conditions to make the combination that we have, to see the fire danger that we have, pretty much all across (Washington) right now. That's one of the scarier aspects of what we're seeing," says Vaughn Cork, wildfire fuels specialist with the state Department of Natural Resources.
He says Washington could be facing conditions worse than what led to the 2015 fire season. Cork called that summer the "year to remember for the Columbia Basin," one of the worst in Washington's history.
"We are surpassing the conditions that we had in 2015, which most folks would remember, it was a horrid year for fire activity," Cork said.

In 2015, the Okanogan Complex fires burned more than 300,000 acres, making it the largest fire in Washington's modern history at the time. It destroyed at least 120 structures. Three firefighters were killed in the Twisp River fire, and one was severely injured. 
The Chelan Complex burned right up to the edge of town and destroyed more than 50 buildings. In total, the 2015 fire season burned more than 1.1 million acres, according to a DNR report.
The U.S. Forest Service says climate change has led to fire seasons that averaged 78 days longer in 2015 than in 1970. "The characteristics of the 2015 fire season could become the new norm — the new average fire year," DNR wrote in its wildland fire protection 10-year strategic plan.
So far, not so good…

So far this year, the DNR has seen more than 560 fires on the lands it manages. That's about a 50 percent increase in the number of fires that burned by this same time last year. (And a 90 percent increase above the five-year average, DNR says.)
More than half of the fires to-date have been caused by debris piles burning out of control. Around 1,300 acres have burned on DNR-managed land this year, which means most fires have been put out before they can grow to be too large. 
But that's not going to last.
"When we have these hot, dry temperatures like we are experiencing, our landscape gets hot and dry for long periods of time. Then it is very easy for these wildfires to start in every corner of our state, which is what we've been seeing," Washington Commissioner of Public Lands Hilary Franz said recently.
The situation is also considered "extremely dire" on the west side of the state.
In the Puget Sound and central lowland areas, "we are very, very, very dry – far above normal for how dry conditions are," Cork says.
Big, heavy logs that take a long time to dry out – or to reabsorb water – have very low moisture content right now. That makes them primed to burn. "Significant wetting rains" would help, Cork said, but that's not likely any time soon.
Oregon is similarly primed this summer, after facing devastating wildfires in 2020. 
On Wednesday, Gov. Kate Brown declared a state of emergency because of the "imminent threat of wildfire across Oregon."
"With wildfires already sparking this year, it is imperative that we act now to prevent further loss—of life, property, business, and our natural resources," Brown said in a statement.
Southwest and central Oregon are of particular concern, according to John Saltenberger, fire weather program manager with the Northwest Interagency Coordination Center.
"(Those areas) have been in an unusual drought since the spring. When we look at the accumulation of precipitation through March, April and May, it was some of the lowest ever recorded for the three month period in Central Oregon and Central Washington," Saltenberger said.
The heatwave and on-going drought have caused fuel moisture in Oregon and Washington to reach record lows, Saltenberger says, making the landscape ready to burn.
Drought conditions are likely to continue, with higher chances of above-normal temps and below normal precipitation in the coming months, according to the region's drought status update.
That's why it's important to be careful not to start human-caused fires, Franz says. Fires caused by people usually spike around the Fourth of July.
"Any activity out on that landscape that creates a spark will create a wildfire," Franz says. "Right now, with our landscape being as hot and dry in so many places, it makes the risk even higher for our people and for our firefighters."
NWPB's Scott Leadingham contributed to this story.