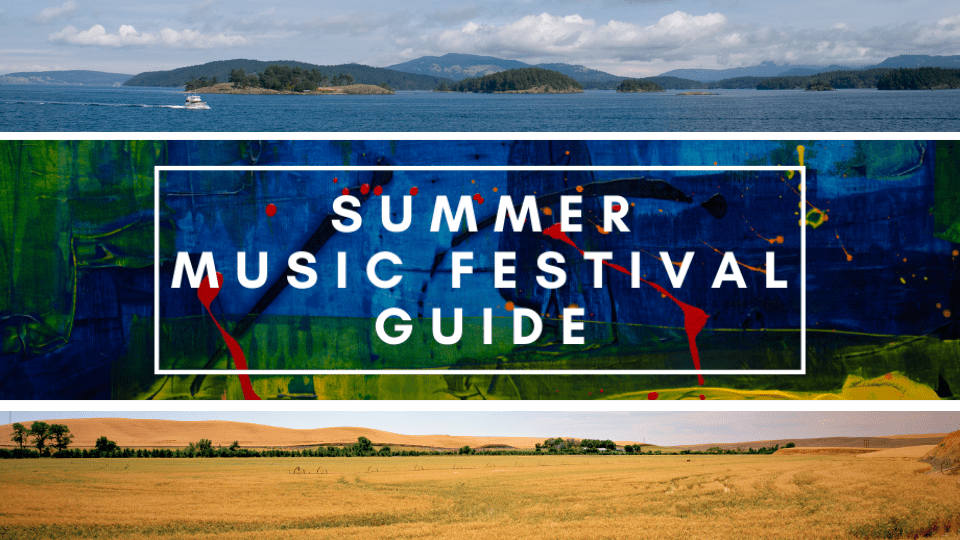 Northwest Summer Music Festivals Are Back! Here's A Guide Of What To Hear And How To Attend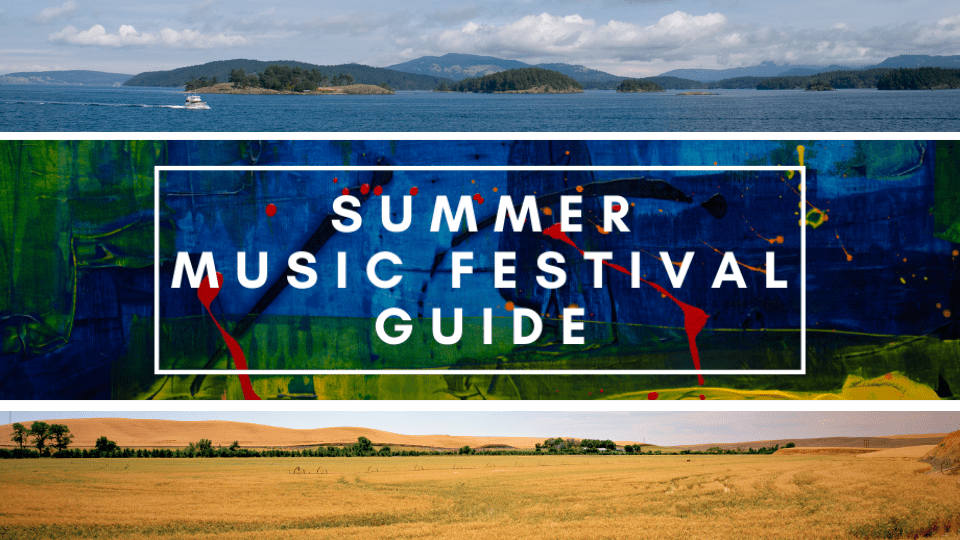 Midsummer Update! As of the beginning of August, the 2021 season of Northwest summer music festivals finds some fests concluded, some continuing, and some just getting underway. Some continue to stream past performances.
Originally published June 26, 2021
Great musicians from all over the world love to gather in the gorgeous Pacific Northwest in the summer. Last year's heartbreaking cancellations of live events hit hard.  This year, it's exciting to report the reopening of many of this region's beloved music venues.
If you can, buy tickets, buy merch, and applaud loudly, for these hardworking artists are ready to renew the good energy.  
Kudos to the performers and planners who rose to the challenge last year by developing new skills to make online concerts a regular part of life. You provided a silver lining around the storm clouds of 2020.  Thank you to everyone who continues to make streaming concerts available! But boy, are we ready to enjoy live music in person. 
One artistic difference from festivals of previous years: You'll notice more diverse composers. When you're planning your concert-going, take advantage of these opportunities to expand your horizons! Enjoy the generous servings of Bach, Beethoven and Mozart, and delight in your new discoveries! 
Note that local guidelines for public gatherings will still require close attention, as the community health situation could change. Some festivals might look different from what you have come to expect, and some are offering both live and online streaming options. Be sure to check the websites or call ahead as you buy tickets. 
Generations of families have trekked out with picnics for this tradition of Saturday/Sunday identical chamber music concerts. July 25, the Carpe Diem String Quartet plays Brahms, Shostakovich, and the American composer Shelley Washington's "Middleground." Opening day matches Mozart and Mendelssohn with a composer who's been called "the Persian Bartok," Reza Vali.
Five pairs of concerts, with the second night of each pair live-streamed with no charge, starting at 5:30 PM. Post-pandemic, the festival celebrates its streaming success of last year, and puts this year's cautions into place: limited seating, mandatory masks, shorter concerts, no intermissions, no post-concert receptions. All tickets must be purchased in advance, online or by phone. Montrose Trio returns. 
A hybrid festival, available both streaming and live. Each of the four live concerts, at Christ Church Cathedral, will be performed twice at 4:00 and 7:30 PM, to account for pandemic-era limits on audience numbers.  The festival welcomes the Borealis String Quartet on August 12. Other programs include works by Mozart, Ethel Smyth, Schubert, and more.
Talent-sharing out on the peninsula: this Port Angeles-based project is partnering with Concerts in the Barn for two extraordinary concerts: August 15: The Takacs Quartet. August 22: pianist Jeremy Denk, plus a duo for strings by Jessie Montgomery, composer-in-residence for the Sphinx Virtuosi.
The Pacific Baroque Festival is back for its 17th season with a captivating line-up of five concerts, presented at either Christ Church Cathedral or the Alix Goolden Performance Hall in Victoria. "From the Ground Up: Chaconnes and Passacaglias" includes  stunning works by Monteverdi, Buxtehude, Couperin, and more. Says the festival's Managing Director, Brian Groos, "The music is beautiful and profound; an experience that will be enhanced when hearing these musicians play it a live performance." In partnership with EMV: Pacific Baroque Series and the Victoria Conservatory of Music.
The following festivals have concluded. 
In addition to the 12-concert Online Summer Festival, SCMS will host four performances at Benaroya Hall. These hour-long concerts feature works selected by Artistic Director James Ehnes to show the range of chamber music perfectly suited for the larger performance hall. 
The festival returned to live in-person concerts this month, offering five performances between June 22 and July 3. All events taking place outdoors at wineries and other locations, with a little more elbow room between seats.  
OLYMPIA SYMPHONY: VIRTUAL CONCERT "TOGETHER,"  June 27, 6 PM 
The Olympia Symphony has been on a search for a new music director, and the finalists will make a special appearance in this jam-packed virtual concert. It's also a celebration of the local arts community, featuring partnerships with Emerald City Music, Ballet Northwest, Tumwater School District, Washington Center for the Performing Arts, Sky Bear Media, and Benaroya Hall. Watch for free on YouTube.  
American composer Gabriela Lena Frank just received this year's Pulitzer Prize. Her "Sonata Serrana" for piano four-hands share the opening night program with Price, Boulanger, and Beach. And Bach. Friday, July 23, hear Todd Cochran's "Soul Bird" for clarinet and piano on a program with Steve Reich's Quartet for Two Pianos and Two Vibraphones. 
It's not just Bach! An evening with The Tango Cowboys, complementary string quartets at four different wineries, and noontime concerts for a whole week at Lake Chelan Riverwalk Park. Ever heard Jon Deak's "B.B. Wolf for double bass and narrator"? It's an alternative take on the character known as "Big Bad" in fairy tales. Eva Stoumbos plays bass and narrates it on Friday, July 16.
Bring your blankets, lawn chairs and picnics to enjoy family friendly concerts and the pleasant Palouse weather! Concerts, located between Bryan Hall and Holland Library, will include performances by School of Music faculty and friends. The July 23 date will be a special children's concert with a sing-along and more. Come celebrate togetherness through music after a long year of separation!
Over just nine days this year, instead of the usual three weeks, Artistic Director Michael Palmer has the Calidore String Quartet playing chamber concerts as well as soloing in concertos with the orchestra. In the interests of everyone's health, most concerts will be played twice to accommodate limited attendance. But there's just one chance — Monday, July 12 — to hear Mozart's clarinet quintet and Nickitas Demos's clarinet sextet. 
Note the free family concert on Saturday morning, July 17: Discover, one by one, the instruments that make Stravinsky's "Firebird" so exciting, and watch and thrill as they put it all together. A week of crowd-pleasers concludes with Beethoven's 5th Symphony. Boise Philharmonic Music Director Eric Garcia is artistic director and conductor.  
Enjoy the artistry of the Yakima Symphony this month, as the orchestra presents a series of small ensemble concerts, performed live at the Yakima Convention Center.  Attendance is limited.