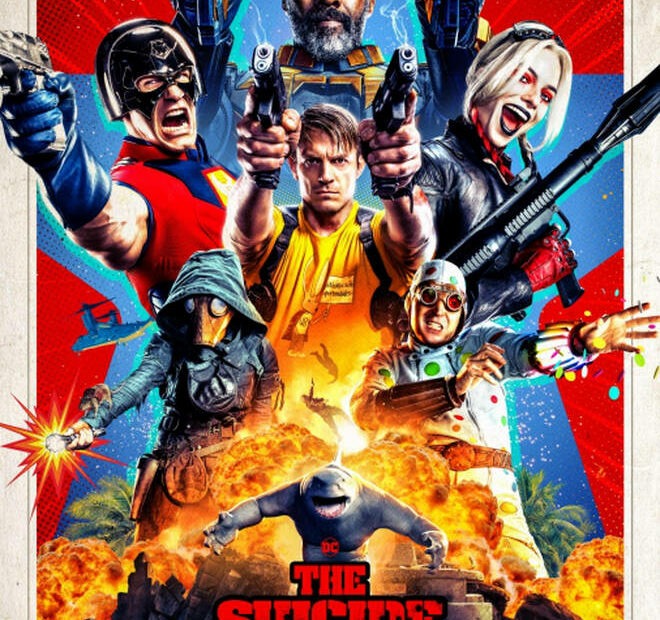 Reeder's Movie Reviews: The Suicide Squad
If your appetite for movies runs to the franchises, then you have every opportunity to gorge yourself this year. Mortal Kombat, A Quiet Place Part II, The Hitman's Wife's Bodyguard, Peter Rabbit 2, Fast and Furious 9, Black Widow, Space Jam 2 and Snake Eyes have all found their way to theatres (and streaming services) in the past four months. Now comes the most violent and anarchic of them to date: writer-director James Gunn's The Suicide Squad.
For this entry in the DC Comics Extended Universe, Gunn has conceived a reboot of 2016's underwhelming Suicide Squad, with only three prominent cast members returning (Margot Robbie, Viola Davis and Joel Kinnaman), having dispensed with Jared Leto's promising but underused Joker. The premise remains the same, however. A secret U.S. government agency ruthlessly administered by Amanda Waller (Viola Davis) recruits a group of hardened criminals and supervillains to save the world from an existential threat. Cue the mayhem.
Two groups of mismatched operatives set the plot in motion, as they land on Corto Maltese, a fictional island nation in Latin America. One of them justifies the movie's title–"Suicide, that's our thing," as an apparently doomed character puts it–while the other propels the action. It includes Harley Quinn (again played to breezy perfection by Margot Robbie), Bloodsport (Idris Elba), Peacemaker (John Cena), Ratcatcher 2 (Daniela Melchior), Polka-Dot Man (David Dastmalchian) and King Shark (voiced monosyllabically by Sylvester Stallone). Their mission to destroy the monstrous creation of The Thinker (Peter Capaldi) intersects with a guerilla movement to overthrow the island's villainous dictator.
Yes, it's a really busy plot, by design.  And, yes, it's a movie calculated to maximize the blood, surprises, humor and CGI. Gunn, whose regular Guardians of the Galaxy franchise for Marvel has thrived with PG-13 ratings, aimed for an R-rating here, and he earned it. In fact, the result begs the question as to whether graphic violence, even when often played for humorous intent, can sometimes overwhelm a story.
To be fair, some of the most gruesome scenes have a real poetry to them. Harley Quinn's escape from captivity plays like a ballet of bullets and blood and blossoms, with imaginative cinematography and editing to match. Likewise, King Shark's discovery of an aquarium (and his need for friendship) has a magical quality. Ratcatcher 2 also has a poignant backstory to go with her command of rodents.
The snarky, often subversive, humor does help make the characters more relatable, and more true to the source material. Polka-Dot Man's mother fixation gives the story its best running gag, especially in the visuals. Starro, the cycloptic creature, offers a goofy, extended climax worthy of 1950s horror flicks, only in living color.
Gunn actually honed his impish, irreverent sensibilities as a filmmaker at Troma Entertainment, the really low-budget indie studio known for cultivating the bizarre and outrageous. Here, he gleefully kills off seemingly major characters, while others toss off glib dialogue about pursuing a greater good. In the end, the shock value prevails over any displays of morality and sentimentality. The Suicide Squad's ultimate mission is to push the limits of the superhero genre, to splash heavy doses of cynicism and silliness across the screen, with as much technical virtuosity as possible. In that, it definitely and noisily succeeds.