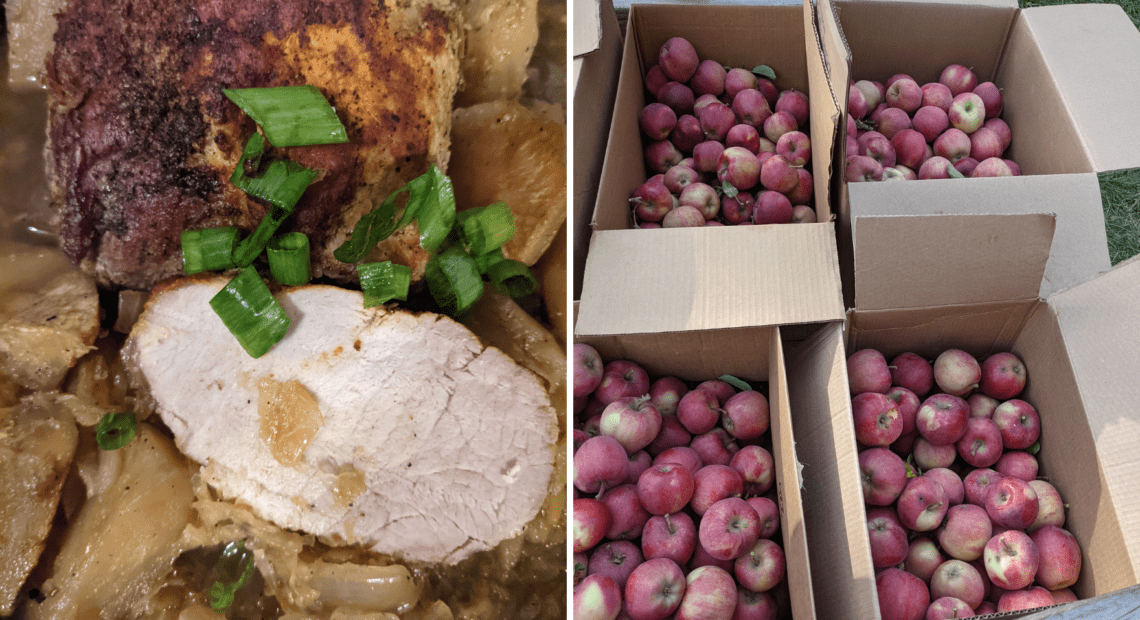 Guinness Stew, Sauerkraut Roast, And Soft Pretzels: NWPB Staff Recipes For Oktoberfest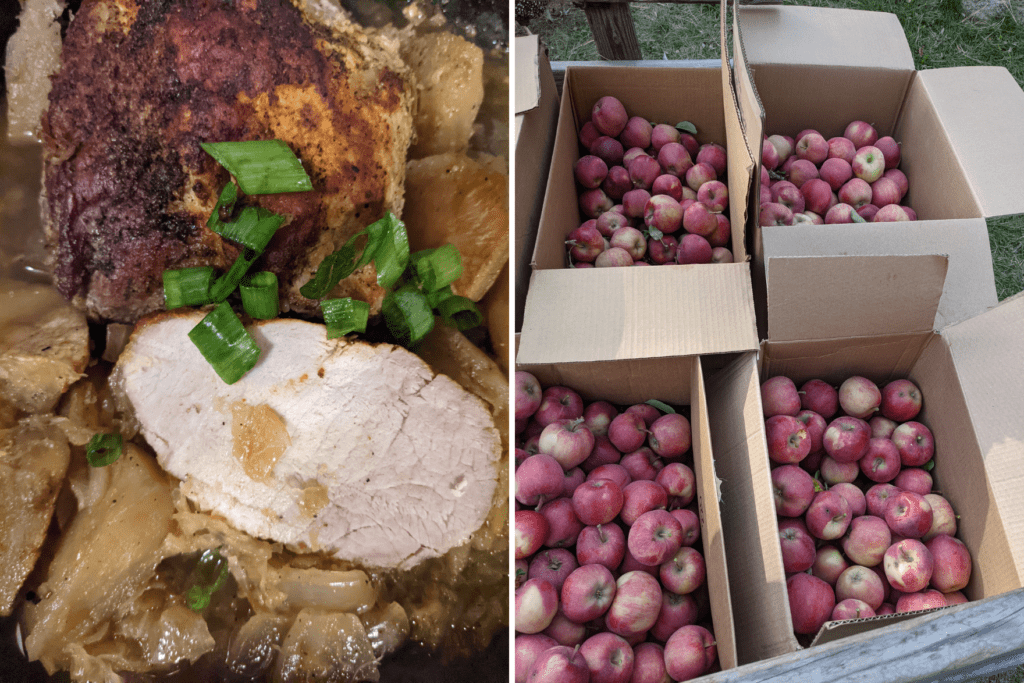 Oktoberfest food. It's the wurst.
Silly puns aside, Oktoberfest in Munich is all about beer and good things to eat with beer. Pretzels, sauerkraut, beef, Spaetzle, and yes, many kinds of wurst. Bratwurst, currywurst, plockwurst, leberwurst, and weisswurst, which is best eaten for breakfast with a morning hefeweizen.
Every beer tent at Oktoberfest has its own take on traditional food. So here are a few (non-traditional) offerings from the NWPB tent, submitted by NWPB staff.
Sauerkraut and Apple Pork Roast – Sueann Ramella, Program Director
Sueann enjoys the complimentary flavors of sour of the kraut and sweet of the apples in this simple pork roast recipe. It goes delightfully with a sturdy stout or hefeweizen. If you choose a larger roast, throw in the apples halfway through the roasting process.
Use a

pork roast

of your choice, salted and peppered for searing. Place it in an oven safe roasting pan.

Dump a

32 oz jar of sauerkraut

into the pan.

Add

3-4 peeled apples, quartered

. I use red delicious apples from my tree. It's honestly a delicious apple – not the mealy ones you had at school lunches. The flesh of the apple needs to be firm to hold up during roasting.

Add

1 small/medium diced onion

.

Add

½ tablespoon granulated garlic powder

.

Add

½ tablespoon of onion powder

.

Cover and roast at 350 degrees for 25 minutes per pound.

Check internal temperature. Once it hits 145F – then take it out and let it rest for 10 minutes or so then cut up and enjoy!
Irish Beef and Guinness Stew – Thom Kokenge, NWPB News Host
There's no greater comfort food than a hearty stew. And Irish Beef and Guinness Stew might be the king of them all!
Though this stew takes time to cook, it's straightforward to make, and your patience is rewarded with beef so tender you can eat it with a spoon.
Prepare your ingredients

Mince

4 cloves garlic

Chop

2 onions

Peel and chop

3 carrots

(half-inch pieces)

Chop

2 celery stalks

(also half-inch pieces)

If your

6 oz bacon (or speck or pancetta)

isn't diced, do it now.

Cut

2.5 lb boneless beef chuck

into 2-inch chunks. Pat dry and sprinkle with salt and pepper

Now that you are done chopping and cutting, set aside your knife and pour yourself a Guinness Beer.

Brown the beef

Heat

2 Tbs olive oil

in a heavy based pot on high heat. Add beef in batches and brown them well all over. This is key to flavour. It's not just the browned beef itself, also the brown bits left on the bottom of the pot (fond) adds extra flavour to the sauce.

Remove onto plate and repeat with remaining beef.

Sauté flavour base

Use the same pot. Reduce heat to medium.

Cook garlic and onions for 3 minutes until softening, then add 6 oz bacon. When the bacon is browned, sir in carrots and celery.

Cook off flour and tomato paste

Add

3 Tbsp flour

to the flavor base and stir for one minute to cook it off. Add

4 Tbsp tomato paste

and stir well.

Add liquids

Open a new Tallboy can of

Guinness Beer (14.5 oz)

and pour it into the pot. Alternatively, if you have bottles of Guinness, pour one bottle (11.5 oz) and about a third of another into the pot, then add the rest to your own glass.

Add

3 cups of beef broth

. If you want to taste more Guinness, use chicken broth instead.

Mix well, then add

2 bay leaves

, and

3 springs of fresh thyme

(or sub 1 tsp dried thyme). Return cooked beef to the pot.

Simmer

Cover and reduce heat so the stew is bubbling gently. Simmer for 2 hours until beef is tender, then simmer for a further 30 to 45 minutes uncovered to let the sauce reduce a bit and for the beef to become "fall apart tender".

Skim any fat off the surface. Remove bay leaves and thyme, and add salt and pepper to taste.

Serve over

creamy mashed potatoes

. Enjoy!
Dodhia Pretzel Recipe – Anjuli Dodhia, Music Director
Using yogurt in this pretzel recipe makes them soft and fluffy, just the way we like it. And yes, there's beer in these pretzels too.
Use a kitchen scale to measure, and mix together the following:

850g all purpose unbleached flour
50g Unsalted butter, softened
Slowly pour in

400 g lukewarm water

and

75g of beer,

and mix

Cover with a damp cloth and let sit in a warm area for 3 to 4 hours

On a working surface, break a 2-3 inch ball from the dough, and elongate the ball into a rope about 10 inches long and about ½ to ¾ inch diameter. Then fold the rope into a pretzel shape. Basically, make a loop and cross the tails so they reach the loop again. Pinch a bit in all places where the two ropes intersect. It's OK to dust a little flour on your surface if the dough is too sticky – it may be hard to manipulate in which case, just oil your hands when you make the ball / rope.

Put all the pretzels on a baking sheet and store in the coldest part of your fridge. You want the surface to get cold and a little hard. Leave them overnight.

Next day, remove pretzels from fridge

Take a potful of water (about a gallon), add

75g Baking Soda

and bring to boil

Turn on oven to 450F

Add one pretzel at a time to the water, boil for 10-15 seconds on each side, and remove on a kitchen towel to absorb the water. Repeat with all pretzels

One a shallow dish, put

salt

and any

seeds

you want

If you want to use

egg

, stir it in a bowl, and brush lightly on the pretzels

Gently press the boiled pretzels on the salt/seeds to embed them into the surface

Put them back on the backing sheet and place in oven. Bake 15 mins, or until they are golden brown

Enjoy the fruits of your hard work.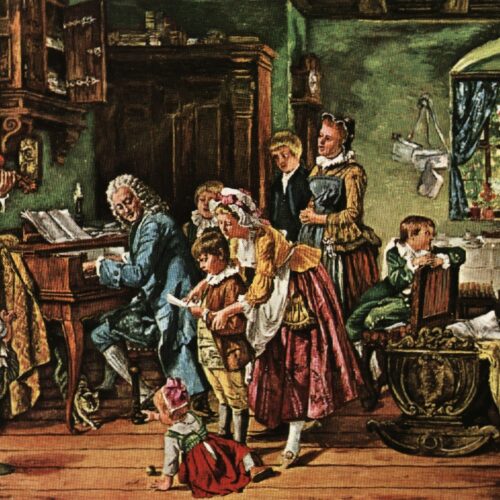 You've heard so much about the sons of Johann Sebastian Bach, but there were daughters, too.
Bach was 23, and his wife Maria Barbara was 24, when the first of their children was born. They named her Catherina Dorothea. CD grew into a singer, and helped out in her father's music work. Fifteen years passed, her mother died, her father remarried, and finally, CD Bach acquired a sister: Cristina Sophia Henrietta, daughter of Johann Sebastian and Anna Magdalena Bach. CSH died at the age of three, just as another sister, Elizabeth Juliana Frederica, was born. EJF Bach would grow up to marry one of her father's students. Continue Reading Women's History Music Moment: Bach's Daughters
Read More »