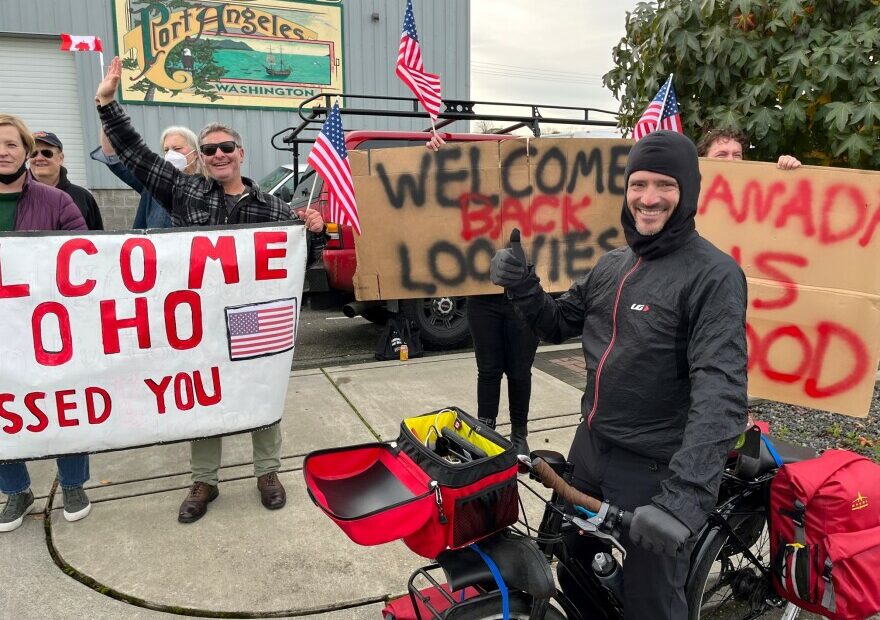 'Welcome Back Loonies': U.S. Reopens Border To Canadian Leisure Travelers
There was cheering, celebration and emotional reunions along the northern border on Monday as the U.S. reopened its land and sea crossings to Canadian leisure travelers for the first time in 19 months. The international ferry between Port Angeles and Victoria began sailing again with all of its initial southbound trips sold out. Some border restrictions remain that could temper the rebound in tourism.
As the M/V Coho ferry docked at midday in Port Angeles, a crowd of townspeople and local business owners gathered at the Black Ball ferry dock to wave American and maple leaf flags and hold up signs with messages like "We Missed U" and "Welcome Back Canadians – Bienvenue". Each car and RV driving out of U.S. Customs was greeted with cheers and applause, which was answered with friendly beeps, honks and grins.
The disembarking foot passengers on the first scheduled southbound trip since March 30, 2020, included a mother from Vancouver Island who received a tearful embrace by her daughter, a Canadian living in Seattle. The pandemic border shutdown separated Barb and Carlene Lebeuf for nearly two years.
"It's been so long since I've seen her," said Barb Lebeuf, the teary-eyed mom. "We're so happy to be able to come back."
"Oh, my gosh it's so nice to see my family again," Carlene added. "I've been in the U.S. for the last two years not being able to see any of them."
Port Angeles and Victoria are just 17 miles apart across the Strait of Juan de Fuca. During the pandemic, the neighbors were tantalizingly in sight of each other, but cut off. Their cultural and economic ties pre-date European settlement and have passed down to residents like Rainy Birch of Port Angeles.
"It feels like we've been amputated and we just got our arms and legs back," Birch said at pier side as she choked up.
Ferry captain Ben Rowland said it was an emotional and celebratory day on both ends of the run after being out of service for so long. In Victoria's Inner Harbour Monday morning, a fire boat sprayed water arcs, a bagpiper played and a festive flotilla of whale watch boats and water taxis escorted the Coho to its berth.
Rowland said the bookings to go north to Canada are light, but the southbound crossings on the roughly 110-car ferry are more or less sold out for the rest of the week.
"A lot of snowbirds going south," Rowland observed. "They've been waiting. It's been 19 months. They missed out quite a bit in the last year. It was really good to see a full boat this morning. There wasn't a space to spare. So, very encouraging to see."
At the land border crossings south of Vancouver and the Canadian Okanogan Valley, traffic backed up in the southbound direction beginning at daybreak Monday, before thinning out to a minimal wait by late morning. Traffic cameras showed a noticeable profusion of RVs in the lines, presumably more snowbirds headed to the sunny American Southwest.
As of Monday, the U.S. is open to all international travelers who can show proof of vaccination against COVID-19. Canada reopened its land and sea border for nonessential visits by vaccinated Americans back in August. People headed north though, must also show a negative COVID test taken within 72 hours using the most accurate PCR testing method. Those molecular virus tests may or may not be covered by insurance if the purpose is for discretionary travel. If paid out-of-pocket, the cost per test can range up to $200.
Cheaper, rapid tests or antigen tests are not accepted by Canadian border officers. Additionally, travelers entering Canada have to upload their health info in advance via a smartphone app the border officers can check called ArriveCAN.
Port Angeles Chamber of Commerce director Marc Abshire said the remaining restrictions could temper vacation travel and spur-of-the-moment trips.
"The days of just deciding on a whim, hey, let's pop on the ferry and go to Victoria for the day. Or for Canadians, coming down here to just go for a hike on one of our great trails in Olympic National Park. Those days are not here yet, because the border isn't really fully open yet," Abshire said in an interview.
Abshire said he is happy to see progress back toward normal, but he hopes Canada removes its negative COVID-19 test requirement soon.
"As long as Canada continues to require the PCR test for anybody going into Canada — and that includes Canadians returning home, as a matter of fact, it's really anybody — you can't consider that border to be fully open," Abshire said.
Another company that operates cross-border ferry service discovered that reality the hard way. The Seattle-to-Victoria jet catamaran relaunched in mid-September with a four-day per week schedule, but suspended service less than a month later due to a lack of bookings. The Victoria Clipper is now slated to resume next spring.
There is no estimate for when Washington State Ferries will resume its international run between Anacortes and Vancouver Island. The state ferry system has multiple problems to solve first, including a severe crew shortage.
Other transportation links are gradually coming back. Canada's second largest airline, WestJet, launched service between Calgary and Seattle last Thursday, beginning with four roundtrips per week for now and gradually expanding to twice daily by next May. WestJet is also ramping up service to Portland from twice weekly at present to daily roundtrips by Christmas.
A U.S. Congresswoman who represents the border communities of Point Roberts, Blaine and Sumas, Washington, said Monday's reopening of the northern border for nonessential crossings was a milestone worth celebrating. But after speaking with small business owners in Blaine whose livelihoods were "severely impacted," Democratic Rep. Suzan DelBene said "our work here is not done."
"I will continue to work with the Canadian government to remove or relax testing requirements that create an unnecessary barrier to short-term travel into the U.S.," DelBene said in a press statement.
Meanwhile, the Black Ball Ferry Line is planning to proceed with two daily roundtrips between Port Angeles and Victoria through the Christmas and New Year's holidays, then suspend service for two weeks while the Coho undergoes annual maintenance in dry dock, before resuming again on January 18, 2022.
Co-owner and vice president of terminal operations Rian Anderson said the ferry line is grateful for a string of loans and government pandemic relief grants that kept the private company afloat.
"We are so excited that the crew is back and working," Anderson said. "We were really fortunate that were able to retain just about everybody over such a long period of time."
Anderson said the ferry line payroll during the restart is being supported by a nearly $4 million federal grant that Black Ball received from a fund Congress created to sustain ferries, cruise and motorcoach companies.